The Handmaid's Tale Season 5: Release Date, Cast, And More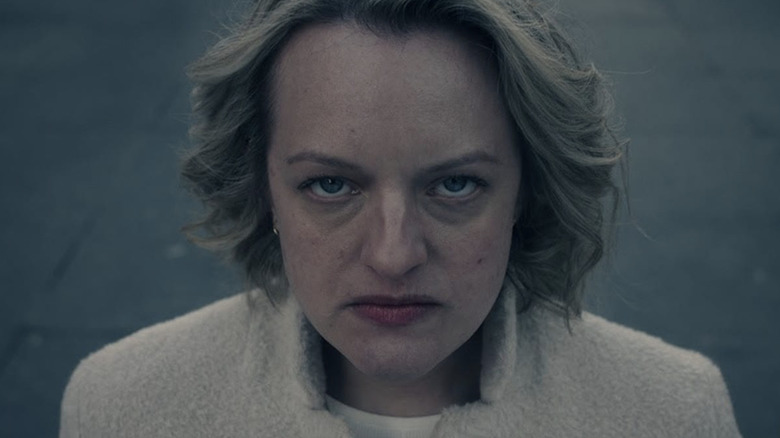 Hulu
(Welcome to ...And More, our no-frills, zero B.S. guide to when and where you can watch upcoming movies and shows, and everything else you could possibly stand to know.)
It's been nearly a year since the fourth season of "The Handmaid's Tale" ended on perhaps the biggest cliffhanger of the series yet, but there's a light at the end of Gilead as Hulu has finally announced the return for season 5. The popular series based on Margaret Atwood's dystopian novel of the same name became the first show produced by Hulu to win major awards, including the first series on a streaming service to win an Emmy for Outstanding Series. Since the show's debut in 2017, "The Handmaid's Tale" has become synonymous with the current political climate in America, with feminist protesters often donning the Handmaid's traditional clothing of the long red dress and oversized white coifs.
For the uninitiated, "The Handmaid's Tale" takes place following a second civil war, where a theonomic government has taken control and established a new totalitarian hierarchical regime based in religious fanaticism. After fertility rates collapsed as a result of sexually transmitted diseases and environmental pollution, women capable of birthing children considered to be "fallen women" (ie: they've had multiple marriages, are single or unmarried mothers, lesbians, non-Christians, adherents of Christian denominations other than the "Sons of Jacob", political dissidents, and academics) are treated as natal slaves, and forced to submit to ritualized rape by their male "masters" in the ruling elite to provide children for them. For someone like Elisabeth Moss' June Osborne (Offred/Ofjoseph), the only option is to fight back against this systemic injustice. 
There are rumors that season 5 may be the series' last, so here's everything you need to know before it arrives.
The Handmaid's Tale season 5 release date and where you can watch it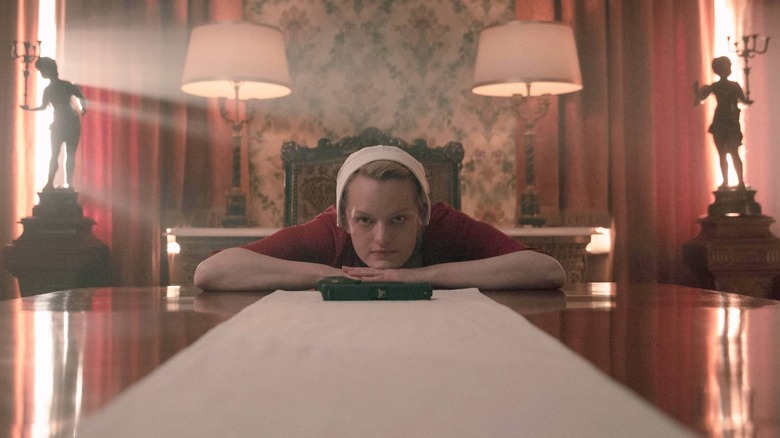 Hulu
The hit Hulu series will return on a Wednesday, September 14, 2022 with a two-episode premiere, with subsequent single episodes following weekly on Wednesdays. Unlike Netflix, which drops entire seasons at once, Hulu continues to follow a more traditional model with "The Handmaid's Tale," releasing weekly episodes to help build buzz and keep the conversation around their flagship show going for weeks and months at a time.
What The Handmaid's Tale season 5 is about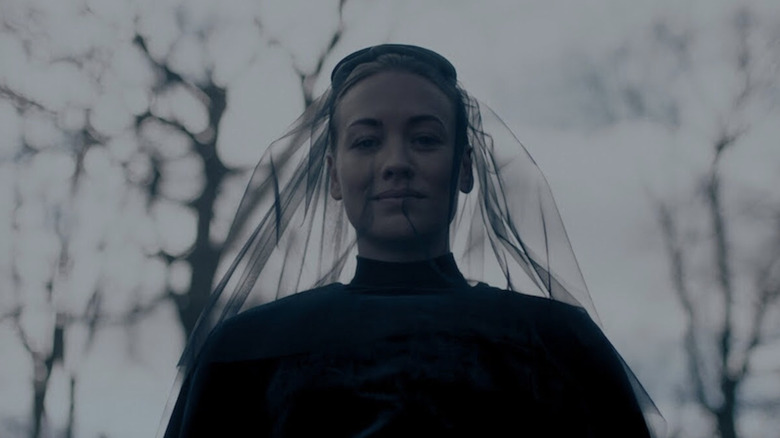 Hulu
A lot has happened over the last four seasons of "The Handmaid's Tale" with the finale ending on a jaw-dropping cliffhanger. After recruiting the assistance of some fellow Handmaid refugees, June orchestrated the murder of her rapist Commander Fred Waterford (Joseph Fiennes). She returns home and holds her baby, with Waterford's decapitated body hanging above the phrase "Nolite te bastardes carburondorum," which translates to "Don't let the bastards grind you down." According to the official logline from Hulu:
"June faces consequences for killing Commander Waterford while struggling to redefine her identity and purpose. The widowed Serena attempts to raise her profile in Toronto as Gilead's influence creeps into Canada. Commander Lawrence works with Aunt Lydia as he tries to reform Gilead and rise in power. June, Luke, and Moira fight Gilead from a distance as they continue their mission to save and reunite with Hannah."
It's been implied that this season would be the conclusion of the story, as Hulu is also hard at work on another Margaret Atwood spin-off series, "The Testaments." It was made known that the series wouldn't arrive until the completion of "The Handmaid's Tale," leading many to believe that the show would end after this season to make way for the spin-off. It's important to note, however, that this has not yet been confirmed.
The cast of The Handmaid's Tale season 5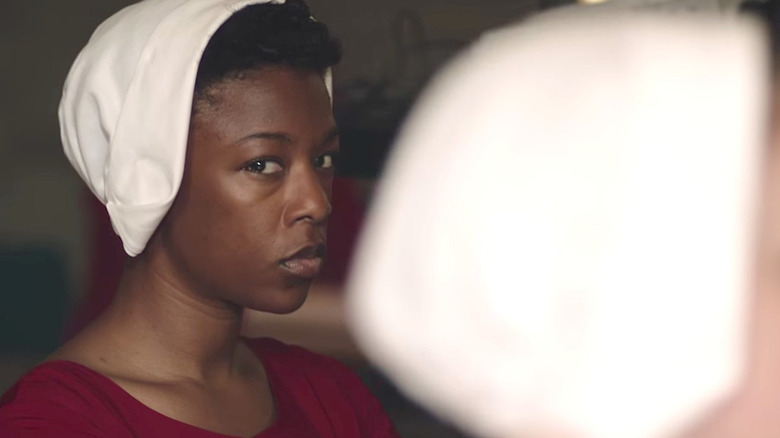 Hulu
Most of the major (still alive) players of "The Handmaid's Tale" will return for season 5, including Elisabeth Moss as June Osbourne, Yvonne Strahovski as Serena Joy Waterford, Madeline Brewer as Janine Lindo, Ann Dowd as Aunt Lydia Clements, OT Fagbenle as Luke Bankole, Max Minghella as Commander Nick Blaine, Samira Wiley as Moira Strand, Amanda Brugel as Rita Blue, Bradley Whitford as Commander Joseph Lawrence, Sam Jaeger as Mark Tuello, McKenna Grace as Esther Keyes, Zawe Ashton as Moira's girlfriend Oona, Clea DuVall as Emily's wife, Sylvia, Charlie Zeltzer as Oliver, and Max Minghella as Commander Nick Blaine Sophie Giraud.
Christine Klo has been reportedly added to the cast as a new character named Lily, said to be a Gilead refugee who has become a leader in a Canadian based resistance movement. She's said to be a former "Martha," the social class ranked higher than Handmaids who are assigned to Commanders as household servants rather than sex slaves. Unfortunately, season 5 will not see the return of Alexis Bledel as Emily, who made the decision to leave the series following season 4. Bledel won an Emmy for her performance, but said, "After much thought, I felt I had to step away from 'The Handmaid's Tale' at this time."
The Handmaid's Tale season 5 writer, director, and more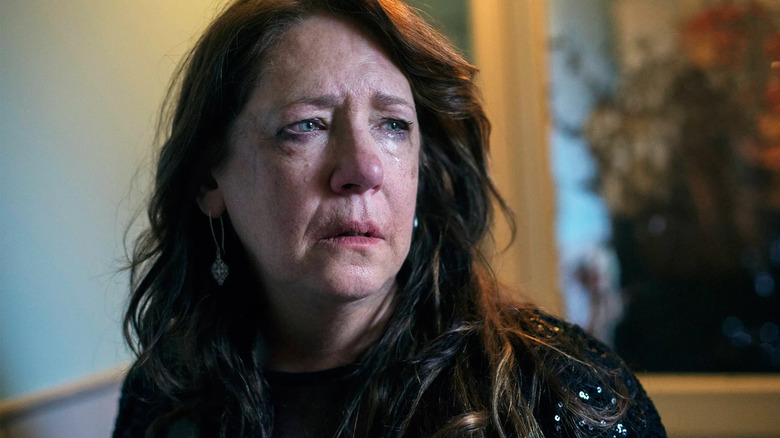 Hulu
"The Handmaid's Tale" is produced by MGM Television and internationally distributed by MGM. Star Elisabeth Moss executive produces alongside showrunner Bruce Miller, Warren Littlefield, Daniel Wilson, Fran Sears, Eric Tuchman, Yahlin Chang, Rachel Shukert, Sheila Hockin, John Weber, Frank Siracusa, Steve Stark and Kim Todd. It's expected that as with previous seasons, a variety of writers and directors will contribute to the season, which means we'll hopefully see more episodes with Elisabeth Moss in the director's chair like we did last season.