Sean Penn Made Brian De Palma Shoot This Carlito's Way Scene 20 Times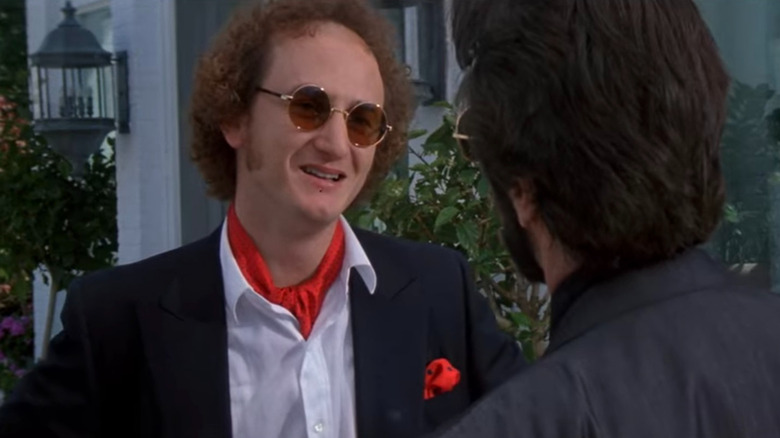 Universal Pictures
Sean Penn is known as a method actor, just like his "Carlito's Way" co-star, Al Pacino. Even before he became a five-time Oscar nominee (and two-time winner, for "Mystic River" and "Milk"), Penn was so dedicated to giving an authentic performance that he went method for his comedic role as the surfer dude Jeff Spicoli in "Fast Times at Ridgemont High." In "Carlito's Way," however, Penn's determination to get a certain scene right tested director Brian De Palma's patience.
"Carlito's Way" was both Penn and Pacino's second collaboration with De Palma. Penn had first worked with De Palma on the 1989 Vietnam movie "Casualties of War," while Pacino was reuniting with him after going out in a hail of bullets as Tony Montana in the enduring gangster flick "Scarface."
In an interview with Esquire, De Palma discussed the "Carlito's Way" scene in question, in which Penn's unsavory lawyer, Dave Kleinfeld, enlists Pacino's character, Carlito Brigante, in a questionable prison-break-by-boat. De Palma said:
"I remember when I was shooting 'Carlito's Way.' There's this scene where Sean is all coked up, and he's trying to get Al to go on the boat trip with him. Because of where the sun was, I was shooting Sean over Al's back for the beginning. I shot ten, fifteen takes, and I thought it looked pretty good. But Sean said, 'No, no, no, no, no.' I said 'What?!' He said, 'We don't have it.' I said, 'I think we do.' He said, 'I need a few more takes.' He said, 'Twenty.' I said, 'Twenty?? Ok...' I shot ten more, I think, and then I said, 'Sean, I have to shoot this two-shot, then I gotta go over and shoot Al. He's been playing to you all morning.' But Sean was never happy with the scene."
The point of no return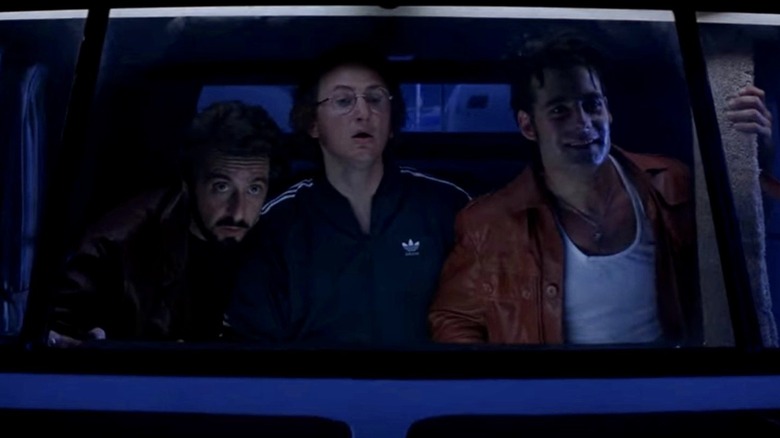 Universal Pictures
The actual boat scene in "Carlito's Way" is a pivotal one, which Carlito himself likens to "a point of no return." It sees him and Dave shoving off with Frankie Taglialucci (Adrian Pasdar), so they can pick up Taglialucci's mob boss dad, who has escaped from a prison barge and is waiting to be rescued on a buoy. Dave winds up double-crossing and killing both Taglialuccis, leaving him and Carlito marked for mob retribution.
In voiceover, Carlito says Dave crossed a line and he's there with him, so that means he's along for the ride "to the end of the line." It's as if he's speaking of the experience of filming that earlier scene leading into the boat trip, too. De Palma continued:
"There's an instance where the actor has a fixation with what his performance is, and it doesn't really make sense to you. And since Sean is such a talented actor, I usually go along with him. But it got to the point where the sun was going down, and I had to shoot another sequence. He was never happy with that scene. Maybe later on, when he saw the movie, he saw it from the correct perspective. But he was not happy that day. I worked with Sean twice, and I think he's done some of his best performances [for me]. But there was that one day where he was not happy with what I was doing."
Penn's performance in that scene has a manic edge, in keeping with his character's cocaine-sniffing, and ultimately, it plays well enough. Though Penn may not have been satisfied that he achieved what he was going for, his curly-haired, chameleonic turn in "Carlito's Way" remains one of the more unique roles in his filmography.