The Daily Stream: The Grown-Up 'iCarly' Revival Is Surprisingly Awesome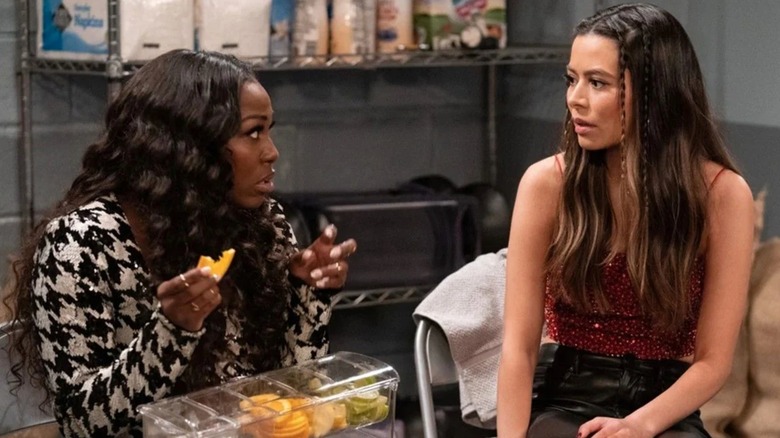 Paramount+
(Welcome to The Daily Stream, an ongoing series in which the /Film team shares what they've been watching, why it's worth checking out, and where you can stream it.)
The Series: "iCarly" (2021 edition)
Where You Can Stream It: Paramount+
The Pitch: Nine years after content creator Carly Shay (Miranda Cosgrove) stopped production of her web show to move to Italy, she's back in Seattle for a new set of decidedly more grown-up hijinks. This adult-oriented revival of the Nickelodeon series begins with Carly — now an endearingly neurotic 20-something — restarting her channel after a bad breakup. Meanwhile, her older brother Spencer (Jerry Trainor, still stealing scenes) has become a millionaire thanks to one of his goofy art installations going viral after being mistaken as a political statement. Friend and producer Freddie (Nathan Kress) is back, too, living with his mom after two failed marriages and one failed startup.
The new "iCarly" also introduces two new main characters, both of whom are utterly winning additions to the show. First, there's fashion-forward, confident bisexual barista Harper (Laci Mosley), who's Carly's roommate and non-Sam best friend. Then there's Freddie's precocious yet savage adopted daughter, Millicent (Jaidyn Triplett), the rare sitcom 11-year-old who manages to be more hilarious than annoying. And while a stream of guest stars from the original series appear, the show is also populated with fresh faces, with appearances from Poppy Liu, Rachel Bloom, Josh Peck, and several "RuPaul's Drag Race" alums. Most impressively, though, this version of "iCarly" is self-assured, original, and wildly entertaining. It's more enjoyable than not just most sitcom sequels, but also most modern multi-cam sitcoms in general.
Why It's Essential Viewing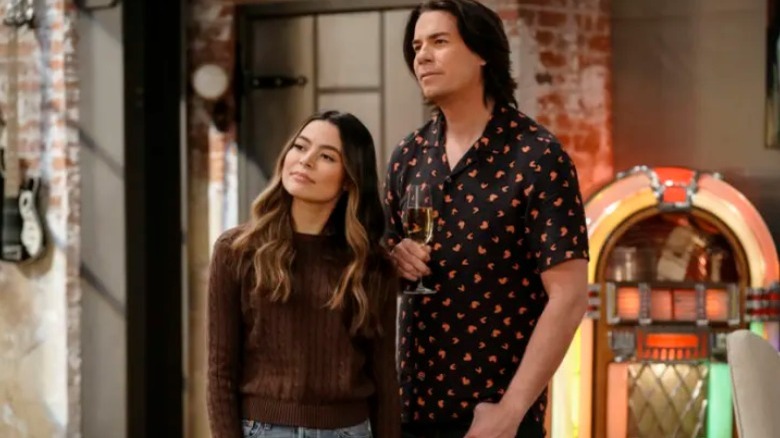 Paramount+
"iCarly" 2.0 is so much better than it needed to be. The original "iCarly" was a goofy, offbeat kids show that ran on Nickelodeon from 2007 to 2012. The new "iCarly" is, believe it or not, a clever and cheeky sitcom about Younger Millennial anxieties and the absurdity of late capitalism — one that's fundamentally progressive and unabashedly queer to boot.
Few recent shows have successfully transitioned from the realm of childrens' entertainment to a more adult audience, but "iCarly" sets the bar with a seamless pivot. Characters joke about sex and dating, but they also don't carry the exhausting traditional rom-com baggage that makes so many of their sitcom contemporaries feel outdated. "iCarly" reflects modern dating — from proudly queer Harper, to awkward and unlucky Carly, to Freddie, who keeps accidentally ending up in near-threesomes. The show also weaves casual LGBT+ representation into the fabric of its world, frequently populating episodes with queer, trans, and non-binary characters.
The new "iCarly" is also a smorgasbord of wild plot points. In one episode, Harper and Spencer compete to woo the most wedding guests, all while Carly tries to figure out if the bride is a robot. In another, Spencer dates a woman who runs a coworking space that turns out to be a data mining cult. The show hinges its off-the-wall plots around stuff like multi-level marketing schemes and internet trolls. It's of-the-moment every second, covering topics that would feel forced in the hands of lesser writers. Instead, it's joyful and funny, slyly infusing the wacky spirit of its predecessor with fresh commentary about the bizarre nature of 21st-century life.
Kooky, original, and all-around entertaining, the new and improved "iCarly" is a reboot that's more than justified its existence. It's also just a damn good sitcom.