Ms. Marvel Showrunner Is 'Desperate' To Make The Ant-Man Podcast Real: 'Paul Rudd, Let's Do It'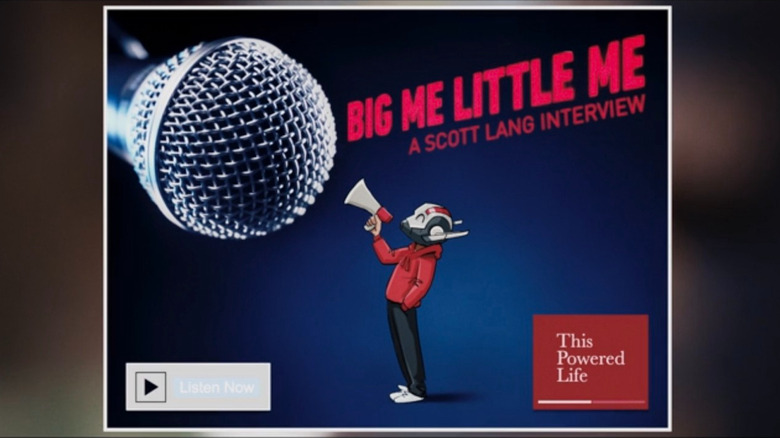 Disney+
When we first meet Kamala Khan in the opening moments of "Ms. Marvel," it's immediately obvious that she's an Avengers super fan. Specifically, she's working towards becoming an expert on Captain Marvel, her favorite member of Earth's Mightiest Heroes. But how does this young high schooler from Jersey City know about the intricate details of Carol Danvers' heroics and the team's efforts to defeat Thanos in "Avengers: Endgame?"
The latest Marvel Studios series to debut on Disney+ reveals that Kamala extracted this information by diligently studying Scott Lang's podcast interviews, including the episode of "This Powered Life" titled "Big Me Little Me: A Scott Lang Interview." The idea that Paul Rudd's size-shifting superhero is out there pulling back the curtain on his adventures (to maybe get some fame and notoriety) is hilarious and pretty on-brand for the character. But seeing as he's no stranger to the "go big or go home" philosophy, it's likely that he may have exaggerated a few details in these tell-all conversations. For example, the creative team behind the Broadway sensation "Rogers: The Musical" might have heard one of his stories and mistakenly included Ant-Man in their retelling of the Battle of New York.
While True Believers like Khan and the "Rogers" crew may have heard this podcast in the Marvel Cinematic Universe, Lang's podcast interviews are unfortunately unavailable in our part of the multiverse. However, if "Ms. Marvel" executive producer and head writer Bisha K. Ali has her way, this podcast will become a reality.
A bug's life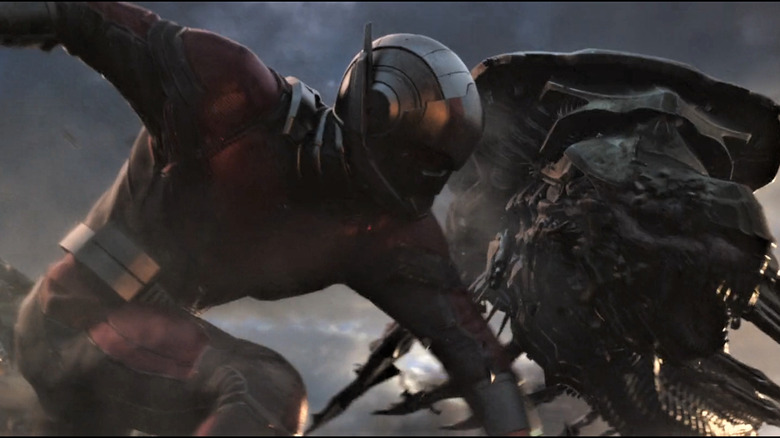 Marvel Studios
While speaking to The Wrap, Ali made a strong case for bringing Scott Lang's podcast interviews to life. Not only that, but she shared that she's just as "desperate to make it" as fans are desperate to hear it:
"Why shouldn't the MCU expand into podcasting? Like fiction podcast? I mean, Paul Rudd, what's up? Let's do it. I'll write it, you just sit in a booth. It'll be a good time. I would love to hear it. [...] For me, podcasts are my relaxed space. Like I'm obsessed with podcasts. So yeah, I can see Kamala just sitting around listening to it all the time. I'd love to make it."
As Ali implies, it is a bit of a no brainer for the House of Ideas to bring this idea to life. If Rudd is down, then why not? But also, Scott Lang does have another movie coming out soon. Imagine the synergy Marvel could create by bridging the gap between "Ms. Marvel" and "Ant-Man and the Wasp: Quantumania" with this podcast. They could even take it a step further by tying the interview into the previously established viral marketing like "WHIH Newsfront with Christine Everhart" featuring Leslie Bibb reprising her role from the "Iron Man" movies or "The Daily Bugle" with JK Simmons as J. Jonah Jameson.
This also wouldn't be new territory for Marvel either as the comic branch of the company has been dabbling with scripted podcasts since 2018. They've largely centered on Wolverine in one way or another with "Wolverine: The Long Night" starring Richard Armitage and the "Wastelanders" series, but they've recently switched things up with "Squirrel Girl: The Unbeatable Radio Show," which features the lovable Doreen Green hosting her own call-in show on her college's radio station.
Back to the drawing board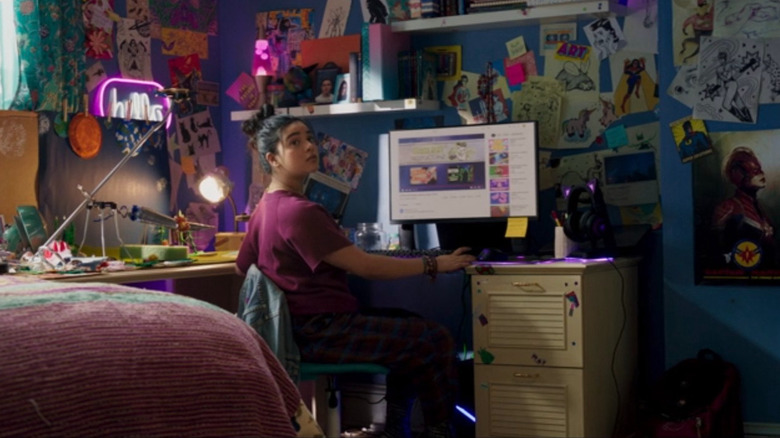 Disney+
Additionally, Ali revealed that Scott Lang's podcast appearances weren't originally the sources of Kamala's research. The "Ms. Marvel" team initially had thrown around a number of ideas for how their young hero received her information, but they didn't fly with Marvel Studios President Kevin Feige.
"At one point, like early days before we kind of expanded the creative team out, I was like, 'Kevin, what if there was like, drones and a live stream of the battle of 'Endgame?' And he [was] like, 'Bisha, no.' I'm like, there wasn't one Twitch streamer around for the final battle of 'Endgame?' Are we kidding? I think I lost my mind at that point, [trying] to solve this riddle. So it was really a big iterative journey. And it was something that kind of changed and moved all the way through."
I get what Ali is saying here. If Mysterio could broadcast his "battles" with his army of drones in "Spider-Man: Far From Home," who's to say that someone else couldn't have done the same in "Avengers: Endgame?" True, Thanos' attack happened pretty swiftly and the Avengers Campus is in a remote location in upstate New York — even if your average streamer with a drone could get up there, they probably didn't realize that something was going down until it was too late. And honestly, what Earthly drones available to consumers could keep up with Captain Marvel anyway? 
The Scott Lang podcast makes sense, and is a very funny moment that we're all clearly still thinking about well after watching the episode. Now all that's left is to make the interview a real thing. So, to reiterate Ali's sentiments: Paul Rudd, let's do it!
New episodes of "Ms. Marvel" premiere every Wednesday on Disney+.