Listen To The Full Song From Hawkeye's Rogers: The Musical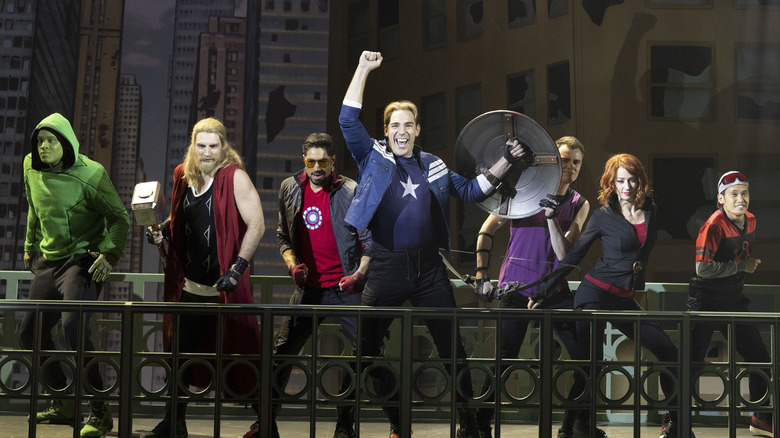 Disney Press Site
If you've watched the first episode of "Hawkeye," Marvel's latest Disney+ offering, you've seen a bit of "Rogers: The Musical." Even if you've only checked out the trailer, you've seen a glimpse of it. In my former musical theatre world, it's been speculated on more than the plot of the show. I'm pretty sure it wasn't just my friends talking about it. If you're dying for more, we have great news for you — you can listen to the entire song. Sadly, there is no video of the whole thing on stage, but you can feel free to pause the series for yet another look at the gang dancing their hearts out. 
Honestly, this is Disney, and they pretty much own Broadway these days. How much do you all want to bet that we're going to see an actual production of "Rogers: The Musical" in a year or so? I'd put good money on it at least getting the amateur treatment or a school production. 
Save the City
If you weren't aware, the song is entitled "Save the City." Clint Barton (Jeremy Renner) takes his kids to a performance of "Rogers: The Musical," a retelling of the Avengers' battle in New York from 2012. Clint and fam aren't very impressed by the show, though we as audience members definitely are. Clint watches Natasha's musical counterpart and we can see how much he's still grieving for his best friend. His kids can see it as well, and they leave the theater. Whatever your thoughts on the series are, it's a pretty great juxtaposition. We're loving it, marveling at the buckets of cheese that are flowing off that stage, all the while understanding what Clint is going through. 
Getting a selfie request while at a urinal mid-show didn't help, of course. 
"Save the City" was written and composed by Marc Shaiman and Scott Wittman who brought us "Hairspray," "Smash," and "Mary Poppins Returns." It certainly explains why it's such juicy goodness. The performance is funny for the audience, but it's still a super solid musical song.
Rogers: The Musical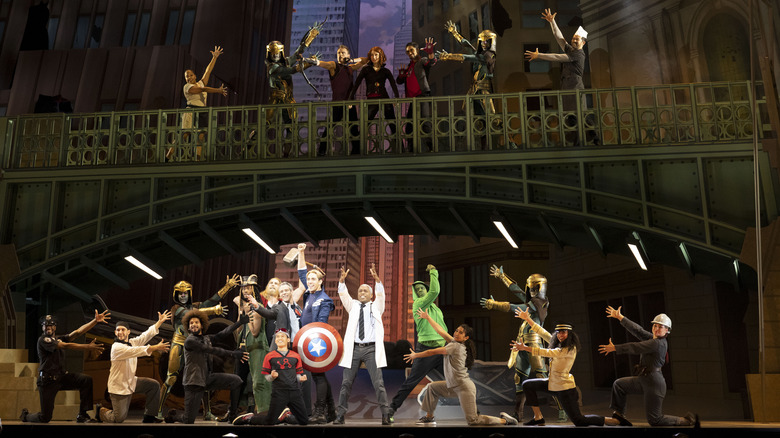 Disney Press Site
As we reported previously, "Rogers: The Musical" came about when Kevin Feige wanted to meet Shaiman and Wittman at an Academy Awards dinner. Marvel.com reported:
"Turns out Kevin is a film score nerd. He started talking about [the scores I've written] one by one and I was like, I cannot believe this is happening. We started trading emails about scores and this and that, and when I would see [Marvel movies] I would send him an email. I guess when this idea came up for Hawkeye, for there to be a musical on Broadway, he luckily thought of us, and [Scott and I] couldn't be more ecstatic about it."
Neither one of them was very familiar with the MCU, however. Wittman said in the interview that he watched the movies during the pandemic to up his Marvel knowledge. Shaiman's husband is a "total Marvel nerd," so he got help from that corner.
So, will we see the full musical? /Film interviewed Executive of Production & Development at Marvel Studios Trinh Tran who said: 
"I hope everybody is as excited when they see it. And then who knows, more can come down the line."
"Hawkeye" is currently streaming week by week on Disney+.