Why Bryce Dallas Howard Isn't Giving Up Acting (Despite Being An Awesome Director)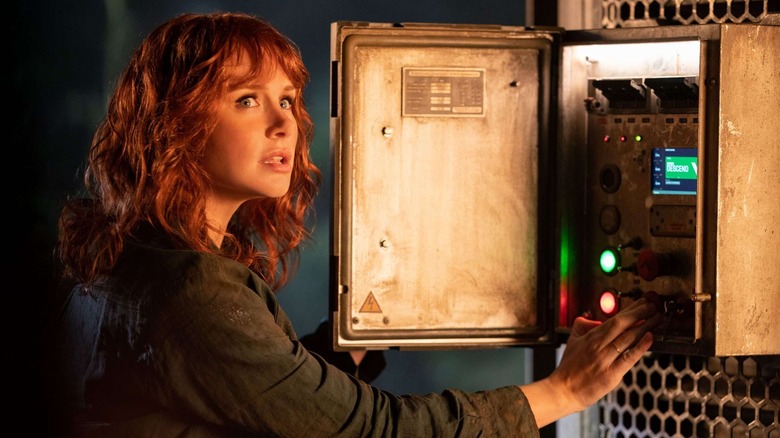 Universal Studios
Having an eye for the movies must be genetic; "Jurassic World Dominion" star Bryce Dallas Howard seems poised to transition from acting to directing, just like her father, Ron Howard, did before her. 
The actress directed two episodes of the highly cinematic "Star Wars" television series "The Mandalorian," as well as an episode of "The Book of Boba Fett" — with the latter largely being regarded as the highlight of the show's debut season. Howard understands how to use the visual medium to tell a story, paying special attention to the pacing and pathos. "The Mandalorian" episode "Chapter 11: The Heiress" expertly balanced its action sequences with moments of introspection and character development. Similarly, "The Book of Boba Fett" episode "Chapter 5: Return of the Mandalorian" presented Din Djarin (Pedro Pascal) at his most vulnerable, humanizing him with very clear stakes — both physical and emotional. It's no wonder fans want Howard to direct a "Star Wars" movie.
Based on her success behind the scenes, it's clear Bryce Dallas Howard has a future in directing — like her father. Ron Howard rose to fame as a child star in the 1960s, going on to star in notable '70s projects like "American Graffiti" and "Happy Days." Today, he may be best known for directing 2000s-era hits like "How The Grinch Stole Christmas," "A Beautiful Mind," and "Cinderella Man."  According to his daughter, however, he has some regrets about giving up acting to focus on directing — and she plans to learn from her father's experiences.
Acting is an opportunity to learn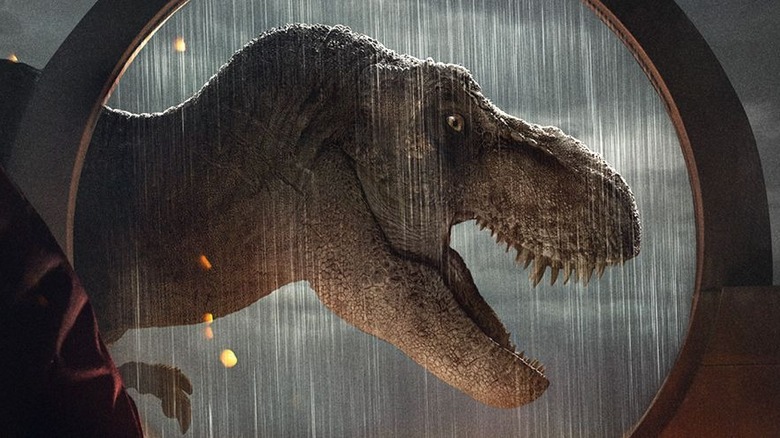 Universal Studios/IMAX
Speaking at the IMAX exclusive Q&A panel that aired before select screenings of "Jurassic World Dominion" on June 9, 2022, Bryce Dallas Howard stated she has no plans to give up acting completely, even as she pursues more opportunities to direct. The panel, which was hosted at New York's AMC Lincoln Square and live-streamed at various IMAX theaters, featured "Jurassic World Dominion" actors BryceDallas Howard, Jeff Goldblum, and DeWanda Wise, as well as screenwriter Emily Carmichael and director and writer Colin Trevorrow. 
During the Q&A, Bryce Dallas Howard was asked about her future as a director, and if she plans to continue acting. She answered emphatically that ideally she wanted to be able to do both:
"What's so wonderful about getting to be an actor who's interested in directing ... is that you get to see a lot of other directors work. And that's something that my dad — he started off as an actor ... — when he started directing he stopped acting and he said that's the thing he misses the most, getting to see how different directors solve problems.

"...The more you learn, the more you understand, but the more you're enlightened by each filmmaker that you get to encounter. And so that's why I hope to get to continue to direct but I also hope to get to continue to act — because it's the best way to learn."
Bryce Dallas Howard is an absolute gift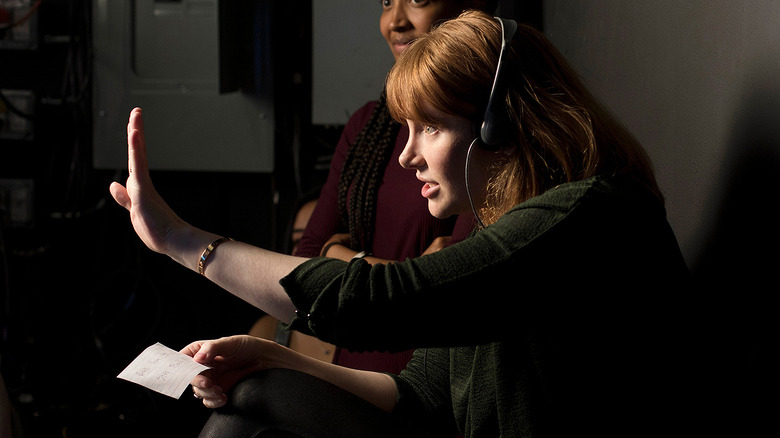 AppleTV+
Similarly, when speaking to The LA Times, Howard said that directing a narrative feature in the future is "really, really, really important to [her] because there's more to learn." Developing her skills and expanding her knowledge is clearly a priority; in the same interview, she discusses how much she loves just being on set, and always has since childhood. Colin Trevorrow is even quoted as saying, "She's a director at heart" (apparently she would join him at the monitors as early as 2015's "Jurassic World").
Having been in attendance at one of the live-streamed screenings of the Q&A, I can attest to the energy in the room being largely ... tepid. The biggest reactions were to Jeff Goldblum's unapologetically "cool Grandpa" energy; however, a highlight of the mostly forgettable panel (at least for me) was Bryce Dallas Howard charming the pants off of everyone with her sweet demeanor and undeniable wisdom. It's clear that a lifetime in the industry has given Howard an exceptional insight into the craft of filmmaking; more importantly, however, she's remained humble — seeking out knowledge rather than developing an oversized ego.
I'm grateful that she will continue to work both behind and in front of the camera. We definitely need more female directors working in Hollywood, and Bryce Dallas Howard has the right stuff to become one of the greats.