Jurassic World Dominion Stars Chris Pratt And Bryce Dallas Howard On Owen And Claire's Evolution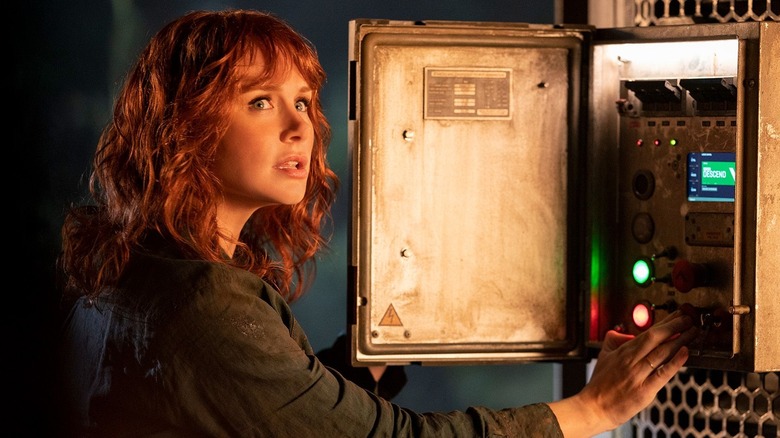 Universal Pictures
All good things must come to an end, and the "Jurassic World" trilogy is no exception. While the "Jurassic" movies may well continue for years to come, this summer's "Jurassic World Dominion" is the culmination of a journey that, in some ways started back in the summer of 2015, but in many others, dates way back to 1993 when Steven Spielberg first brought Michael Crichton's beloved novel "Jurassic Park" to life on the big screen.
Throughout this new trilogy, we've largely focused on Chris Pratt's Owen Grady and Bryce Dallas Howard's Claire Dearing, not to mention a whole bunch of dinosaurs. In a recent conversation with Looper, both Pratt and Howard spoke about the new film and how the relationship between these characters has evolved across multiple movies. In short, viewers will no longer need to wonder: Owen and Claire are firmly in a relationship now and have started a family. Here's how Howard described the new status quo:
"Well, I think it's the first time in the Jurassic World franchise when the question isn't between Owen and Claire, will they or won't they. It's pretty clear that they're a couple, they're together. There's actually a hilarious line that Justice Smith says where he's like, 'Aren't you guys still a weird thing?' And we are. And now, we're parents."
Not that they had a kid in the traditional sense, though. Rather, they have adopted Maisie Lockwood, the clone girl who we met in 2018's "Fallen Kingdom." Life finds a way, as it were.
The evolution of Claire and Owen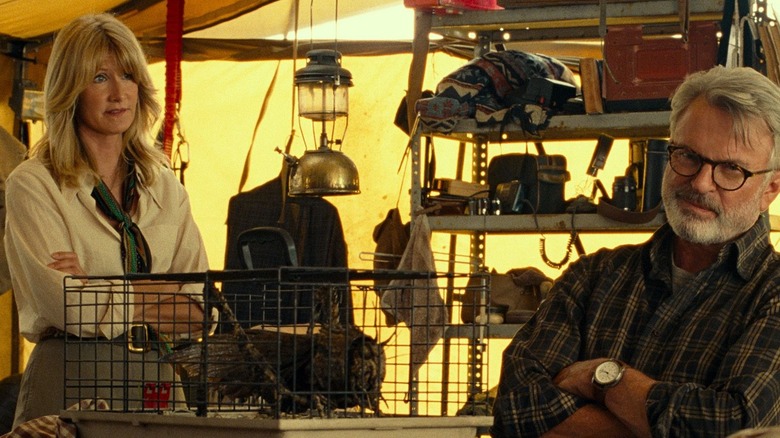 Universal Pictures
"Jurassic World" saw Owen and Claire as people on opposite ends of the world, so to speak, with Claire as a company woman heading up the park, and Owen, a working man training raptors. They tried to date, but it didn't work out. In "Fallen Kingdom," we see that they had given it a more honest go, only for things to fall apart once again. It appears the release of dinosaurs into the real world, with the creatures now living alongside humans, was the catalyst their relationship truly needed.
But they aren't the only characters returning for director Colin Trevorrow's "Jurassic World Dominion." The original trio of Sam Neill, Laura Dern, and Jeff Goldblum will be back as Alan Grant, Ellie Sattler, and Ian Malcolm, respectively. Pratt, for his part, explained that the "will they, won't they" tension will come from those returning characters.
"It's kind of nice because beautifully, that sort of 'will they, won't they' sexual chemistry that many of these films have is left to two real pros with Sam Neill and Laura Dern, and boy, talk about some red hot chemistry right there. Watching them on screen is amazing. Our relationship is actually and wonderfully evolved in a way that it's not just about a guy getting a girl or whatever, as it was in the first movie. It's really turned into a relationship and a couple that have to put the needs of their youngster before themselves and who desperately care about the wellbeing of one another. Yeah. It's an equal team."
"Jurassic World Dominion" arrives in theaters on June 10, 2022.
From Jurassic World architect and director Colin Trevorrow, Dominion takes place four years after Isla Nublar has been destroyed. Dinosaurs now live—and hunt—alongside humans all over the world. This fragile balance will reshape the future and determine, once and for all, whether human beings are to remain the apex predators on a planet they now share with history's most fearsome creatures.