The 15 Best Jeff Goldblum Movies, Ranked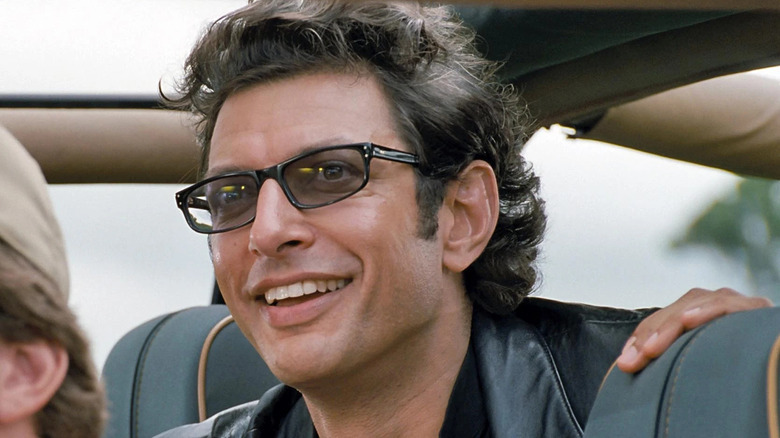 Over the course of his wildly successful career, Jeff Goldblum has starred in some of Hollywood's biggest and most enduring hits. Thanks to his unique blend of charisma, intelligence, and oddball energy, he represents a specific kind of geek-chic cool that audiences simply can't get enough of. Whether he's playing a doctor, a scientist, an alien, or even a dog, Goldblum's roguish and playful persona shines through in almost every context, charming and disarming everyone in its wake.
Throughout his long and varied time in the spotlight, the actor has worked with some of the most talented directors and stars around in a number of truly great films, which range from arthouse darlings to mega-blockbusters. It's not easy to decide which of his movies are "the best," never mind actually ranking them, but that's exactly what we've been tasked to do. So, without further ado, here are the 15 best Jeff Goldblum movies.
15. Earth Girls Are Easy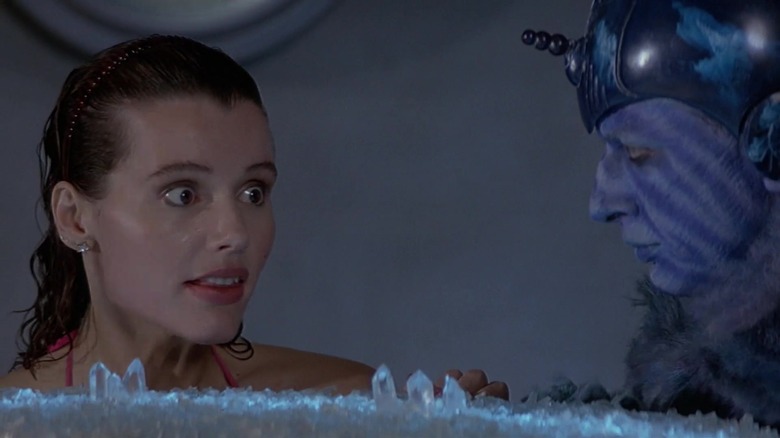 Vestron Pictures
When you're looking for a sci-fi flick that pairs Jeff Goldblum with Geena Davis, you might first think of 1986's "The Fly." However, two years later, the pair teamed up again for the less critically-acclaimed but wackily entertaining "Earth Girls Are Easy".
This very '80s musical comedy stars Goldblum, Damon Wayons, and Jim Carrey as Mac, Zeebo, and Wiploc, three furry, horny aliens who crash-land into the swimming pool of unhappily married housewife Valerie (Davis). Eager for interspecies mingling, the aliens shave off their fur and hit the San Fernando Valley nightclub scene, where they quickly find a female fan base. Meanwhile, an intergalactic romance blossoms between Mac and Valerie.
"Earth Girls Are Easy" and its plot were inspired by the song of the same name by Julie Brown, who has a role in the film as well. It's a wild bit of fun that could have only happened in the '80s.
14. The Adventures of Buckaroo Banzai Across the Eighth Dimension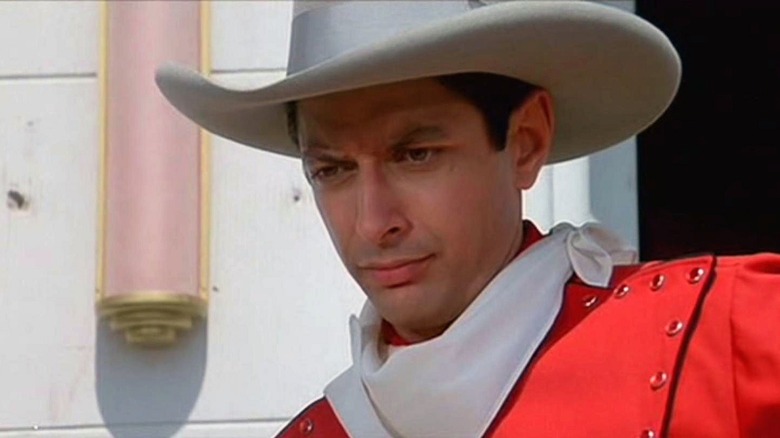 20th Century Fox
Speaking of an unhinged bit of sci-fi fun that could have only happened in the '80s, "The Adventures of Buckaroo Banzai Across the Eighth Dimension" is another Jeff Goldblum-starrer that simply shouldn't be missed.
This wild sci-fi adventure film stars Peter Weller in the titular role of Buckaroo Banzai, who travels through dimensions using a device called an Oscillation Overthruster. With the help of his band of crime-fighting friends the Hong Kong Cavaliers (which includes Goldblum as the cowboy-outfitted Dr. New Jersey), Buckaroo must try and defeat his nemesis, Dr. Emilio Lizardo (John Lithgow).
"Buckaroo Banzai" is a bold and singular throwback sci-fi parody. While something this zany clearly isn't for everyone, we think it's one of Goldblum's great films, and we're not alone. The film has attained cult status amongst an ardent fan base, with film critic Peter Sobczynski calling it his all-time favorite movie.
13. Igby Goes Down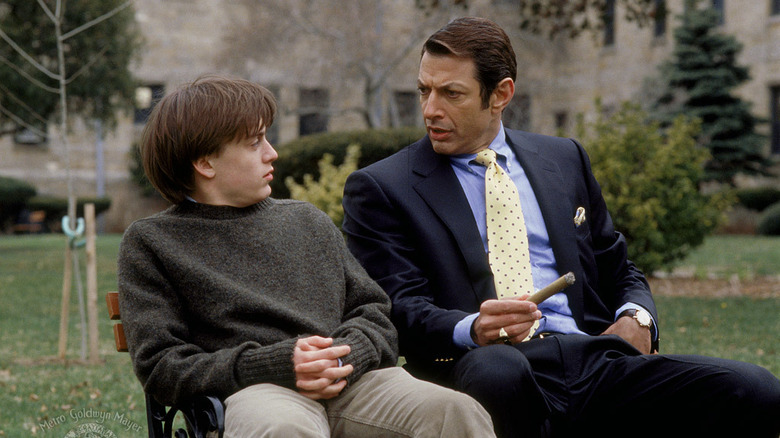 MGM
Fans of J.D. Salinger's "The Catcher in the Rye" should find much to appreciate in "Igby Goes Down," as director Burr Steers was clearly influenced by Salinger's classic tale of youthful rebellion and identity.
Much like "The Catcher in the Rye" hero Holden Caulfield, the titular Igby (Kieran Culkin) is a sarcastic, misanthropic teen who is bored and resentful of his life as the son of a wealthy but self-absorbed mother (Susan Sarandon) and a schizophrenic father (Bill Pullman). His "Young Republican" brother (Ryan Philippe) is no help, so mom sends Igby to hang with his godfather, the wealthy real estate magnate D.H. Banes (Jeff Goldblum), in the hopes that he can be a role model for the boy.
It may not be Jeff Goldblum's biggest or most well-known role, but it's one he handles with aplomb. Personally, I'd take being the godson of an ultra-rich Jeff Goldblum any day, but that's just me.
12. The Life Aquatic with Steve Zissou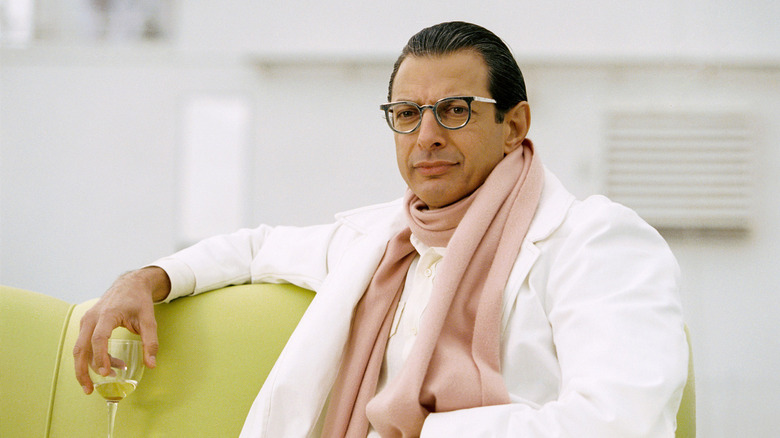 Buena Vista Pictures
Director Wes Anderson tends to lean on a recurring cast of actors for his films, and luckily for us, Jeff Goldblum seems to be one of his faves, with Anderson having cast him in multiple movies, including 2004's quirky "The Life Aquatic with Steve Zissou."
In signature Wes Anderson style, the film features a host of idiosyncratic characters, including Bill Murray as the titular Steve Zissou, a Jacques Cousteau-esque oceanographer who is out for revenge against the rare Jaguar Shark that ate his friend and partner, Esteban. Goldblum, meanwhile, plays Zissou's arch nemesis, the debonair Alistair Hennessey. Other standouts in the cast include Owen Wilson and Anjelica Huston.
"The Life Aquatic with Steve Zissou" isn't one of Anderson's most highly-rated films, though it's garnered reappraisal through the years and has a strong fan base that considers it underrated.
11. Thor: Ragnarok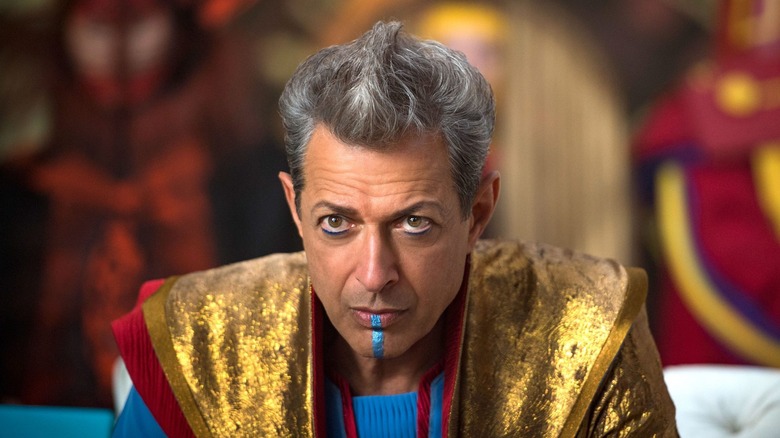 Walt Disney Studios
Certainly one of the most flamboyant roles Jeff Goldlbum has taken to date is that of the colorfully-costumed Grandmaster in the Taika Waititi-directed Marvel film "Thor: Ragnarok." In Marvel lore, the Grandmaster is an Elder of the Universe, and Goldblum has described his character to Empire as a "a hedonist, a pleasure-seeker, [and] an enjoyer of life and tastes and smells."
"Thor: Ragnarok" finds Thor (Chris Hemsworth) racing to save Asgard from a series of destructive events known as Ragnarok, which are set to be unleashed by Hela (Cate Blanchett). Complicating matters is the fact that Thor is being held prisoner on the planet Sakaar by the aforementioned Grandmaster, and must also fight against Hulk (Mark Ruffalo) and deal with his ever-irritating brother, Loki (Tom Hiddleston).
"Thor: Ragnarok" is a funny, fresh, and reinvigorating film in the Marvel Cinematic Universe, and it proved Taika Waititi to be a competent director for the franchise, leading to him being given the reins for the follow-up, "Thor: Love and Thunder."
10. Independence Day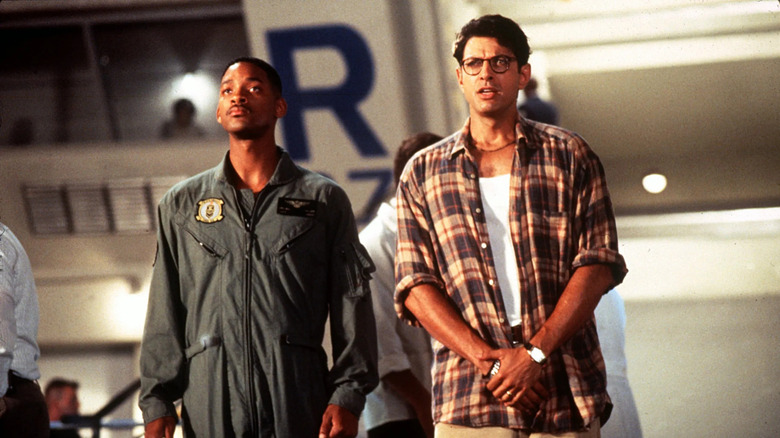 20th Century Fox
As far as large-scale disaster films and big summer movie draws are concerned, director Roland Emmerich's "Independence Day" is one of the most entertaining and most successful. The sci-fi action blockbuster spent years among the list of the top-grossing films of all time, and still ranks in the top 50 when adjusted for inflation. The reasons for its success are many and varied, but certainly some of it has to do with its stellar cast, which includes Bill Pullman, Will Smith, and, of course, Jeff Goldblum.
The plot is fairly simple: Aliens are set to destroy Earth and it's up to a random cohort of individuals including the president (Pullman), a marine captain (Smith), and a satellite technician (Goldblum) to save the planet. The big showdown naturally happens on 4th of July weekend; hence, the film's double entendre title.
"Independence Day" kicked off a spate of disaster films in the late '90s and early '00s, which included the likes of "Armageddon" and "Deep Impact," and helped reinforce Jeff Goldblum's reputation as a reigning king of '90s blockbuster fare.
9. The Big Chill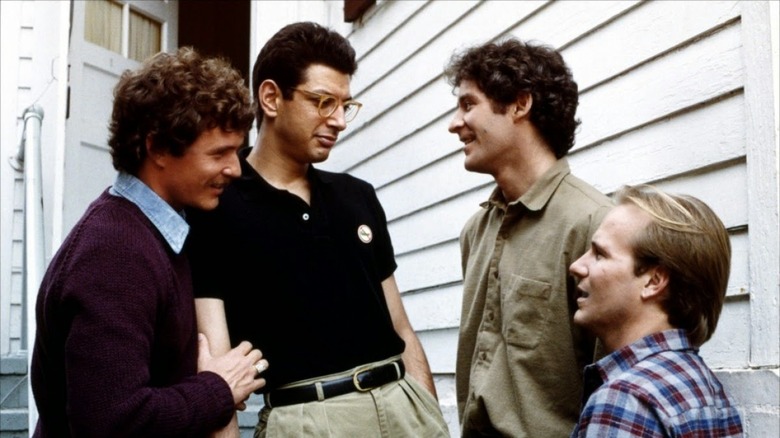 Columbia Pictures
Wes Anderson is but one big name filmmaker that Jeff Goldblum has worked with multiple times. Prolific screenwriter and director Lawrence Kasdan is another. Kasdan, who is known for co-writing "Raiders of the Lost Ark" and "The Empire Strikes Back," first directed Goldblum in the classic 1983 ensemble film, "The Big Chill."
"The Big Chill" revolves around a group of college friends from the '60s who reunite for the funeral of one of their former classmates. Now "all grown up" and sporting job titles like doctor, lawyer, shoe magnate, mom, and — in the case of Goldblum's character — a journalist for People magazine, the friends grapple with their various regrets, life choices, and how their values have changed since their more idealistic younger days.
In addition to Goldblum, the stacked cast includes Kevin Kline, Glenn Close, and William Hurt, among others. Their formidable talents, along with a great script and excellent soundtrack, helped make "The Big Chill" a box office hit and earned it three Academy Award nominations, including one for best picture.
8. Silverado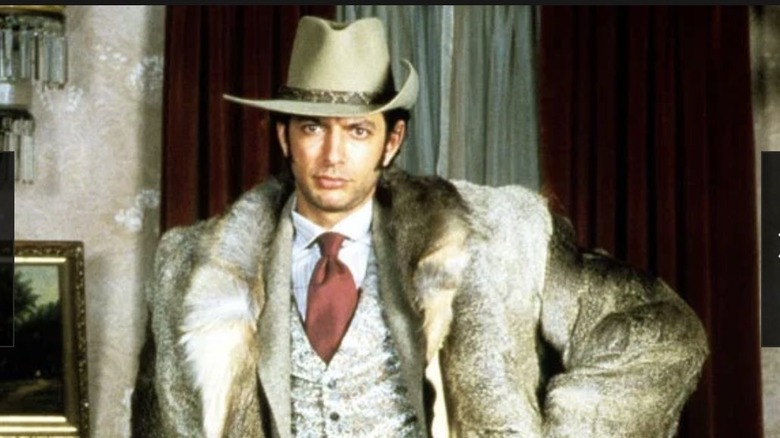 Columbia Pictures
Two years after starring in "The Big Chill," Jeff Goldblum would once again appear in a Lawrence Kasdan film, this time in the throwback western adventure "Silverado." "Silverado" was Kasdan's attempt at reviving the classic western, and critic Roger Ebert noted it had "the same reckless brilliance" as the Kasdan-written "Raiders of the Lost Ark."
"Silverado" also reunited both Kasdan and Goldblum with fellow "The Big Chill" alumnus Kevin Kline, who plays Paden, one of four misfit cowboys who travel to the town of Silverado, where they face off against the corrupt sheriff, Cobb (Brian Dennehy).
While Jeff Goldblum's role in "Silverado" is a smaller one (he plays a gambler named Slick), he does get to wear a sweet fur coat and a cowboy hat, so that's something. The sleek and well-received "Silverado" was nominated for two Academy Awards: best sound and best original score.
7. The Right Stuff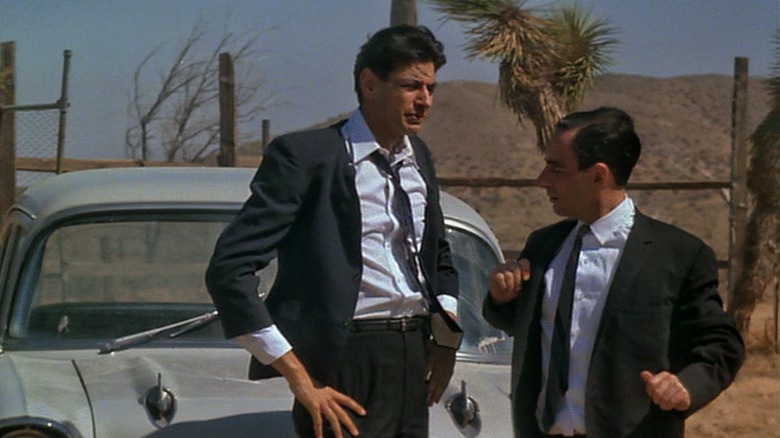 Warner Bros.
Another great film in which Jeff Goldblum plays a small but memorable role is 1983's epic drama about the Mercury Seven astronauts and the early years of the U.S. space program, "The Right Stuff."
Adapted from Tom Wolfe's novel of the same name, "The Right Stuff" chronicles the lives and times of early U.S. astronauts, including John Glenn (Ed Harris), Alan Shephard (Scott Glenn), and Chuck Yeager (Sam Shephard). Goldblum, who was reunited here with director Phillip Kaufman after having worked with him in "Invasion of the Body Snatchers," plays a recruiter alongside Harry Shearer, two roles that offer a bit of comedy relief in the film (their lines were actually improvised).
"The Right Stuff" is a sprawling and ambitious film that failed to draw in big box office numbers upon its release, but which subsequently received much critical praise. It was nominated for eight Academy Awards, including best picture.
6. Isle of Dogs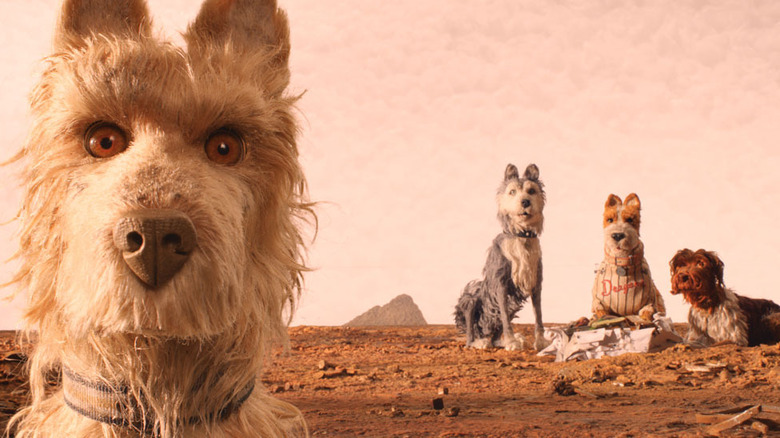 Fox Searchlight
Jeff Goldblum seems to fit in with ease no matter what role he plays, even if that's a dog named Duke, as in Wes Anderson's whimsically heartfelt stop-motion animation film "Isle of Dogs."
The film follows the adventures of a boy named Atari (Koyu Rankin), who travels to Trash Island (aka, the Isle of Dogs) in search of his dog Spots after all pet dogs are banished due to an outbreak of dog flu. While there, Atari is helped by a pack of dogs led by Chief (Bryan Cranston), which also includes Rex (Edward Norton), King (Bob Balaban), and Duke (Goldblum).
Inspired by the films of Japanese filmmakers Akira Kurosawa and Hayao Miyazaki, the charmingly bittersweet and beautifully rendered "Isle of Dogs" received two Academy Award nominations: one for best animated feature and one for best original score.
5. Nashville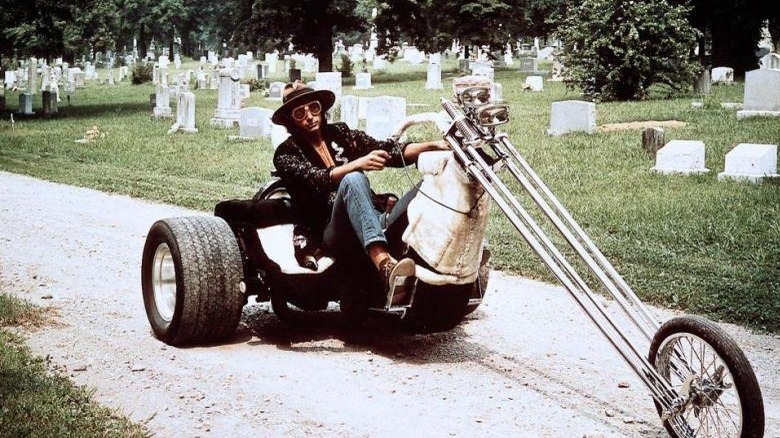 Paramount Pictures
Yet another esteemed filmmaker that Jeff Goldblum worked with repeatedly over the years is the great Robert Altman, the man responsible for "M*A*S*H*" and "The Long Goodbye" among others. Goldblum appeared in two of the late director's films, including the highly regarded "Nashville."
Featuring the type of large ensemble cast that's typical of Altman's work, "Nashville" explores the intersecting lives of a wide variety of characters involved in the titular city's music scene over the five-day lead up to a political gala.
The film's masterfully orchestrated plot manages to carefully interweave the characters' stories in a way that both critics and audiences agreed is simply fantastic. Here, Goldblum plays "Tricycle Man," a figure who rides around and serves as a sort of connecting thread between the various stories. It's a smaller but notable role in a great film that helped Goldblum transform into the mega-star he would eventually become.
4. Invasion of the Body Snatchers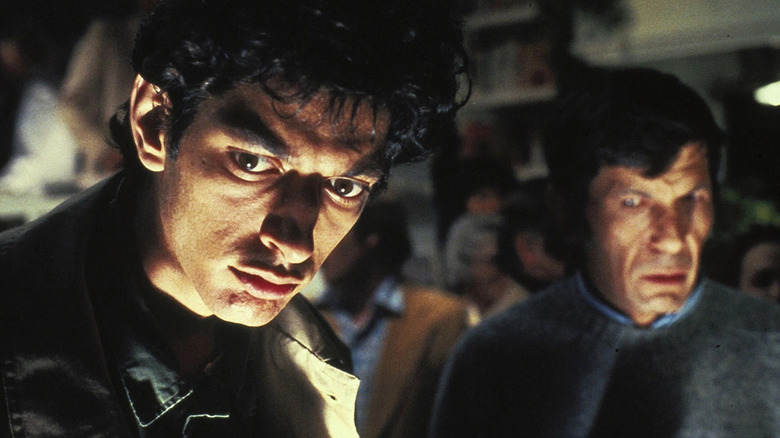 United Artists
1978's "Invasion of the Body Snatchers" is an enduring horror classic, terrifying and thought-provoking in equal measure thanks to its all-too-relevant themes of contagion, conformity, and paranoia.
Directed by Phillip Kaufman, this adaptation stars Donald Sutherland as Matthew Bennell, a San Francisco-based health inspector who ends up trying to save himself and the world after alien pods fall to Earth and begin covertly taking over. Their method? Invading human bodies and replicating them, leaving only a dead husk behind. The paranoid Matthew begins to suspect that something is wrong, but it's only with the help of his colleague Elizabeth (Brooke Adams), his friend Jack (Jeff Goldblum), and his wife (Veronica Cartwright) that he's able to confirm his worst suspicions.
"Invasion of the Body Snatchers" still holds up today. Kino Lorber recently released the film on a 4K disc, too, so audiences can watch the memorably horrifying last shot in high definition.
3. The Grand Budapest Hotel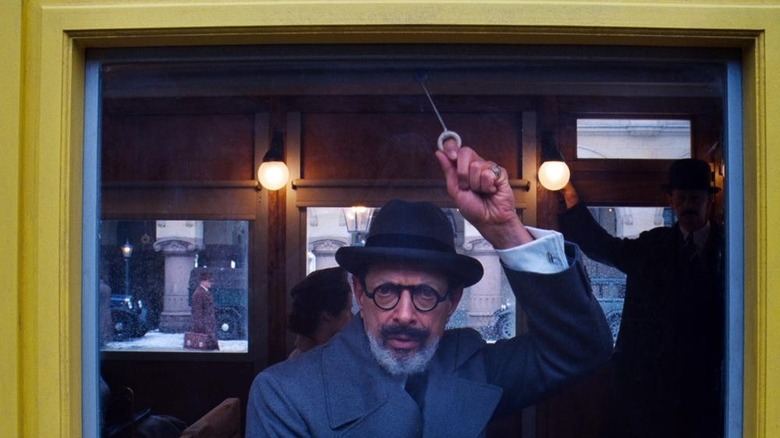 Fox Searchlight Pictures
Of the several Wes Anderson films that Jeff Goldblum has appeared in, 2014's "The Grand Budapest Hotel" is the grandest of all. A dazzling achievement from both a visual and storytelling perspective, and with an unforgettable performance by Ralph Fiennes at its center, it's a funny, poignant, meticulously crafted, and thoroughly engrossing work that is widely considered a masterpiece.
The story is recalled by a former lobby boy, Zero Moustafa (Tony Revolori), who was hired at the now-faded titular hotel during its 1930s heyday. During that time, the hotel was immaculately run by concierge Monsieur Gustave H. (Fiennes), whose commitment to service included having affairs with wealthy older clients. When one of his long-time lovers, Madame D (Tilda Swinton), dies, Monsieur Gustave H. finds himself the recipient of a priceless painting, as well as accused of her murder.
"The Grand Budapest Hotel" sees Anderson's immense talents firing on all cylinders. That the beloved Jeff Goldblum stars in it is simply the cherry on top of the sundae. The film earned nine Academy Award nominations, winning four.
2. The Fly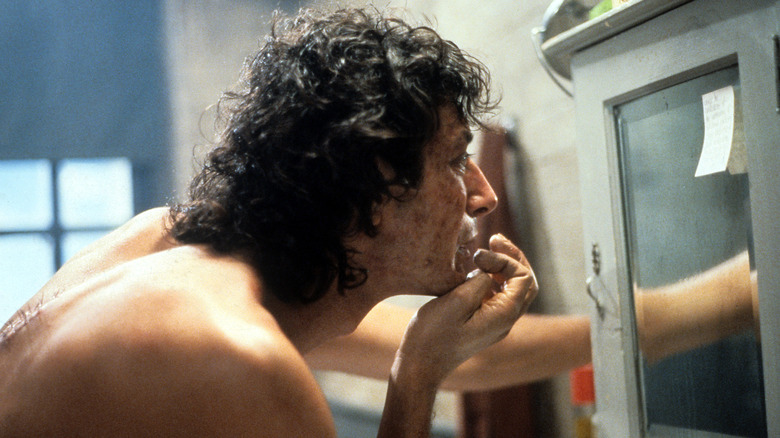 20th Century Fox
One of two career-defining roles for Jeff Goldblum is that of unlucky scientist Seth Brundle in David Cronenberg's 1986 adaptation of "The Fly." The tragically horrifying tale of science gone awry is also one of body-horror master Cronenberg's most widely hailed and commercially successful works.
A loose remake of the 1958 B-movie of the same name, "The Fly" co-stars Geena Davis as a reporter, Ronnie, who the brilliant but eccentric Brundle brings home to show off his sweet new invention: a teleportation device. But when Brundle boldly decides to teleport himself, a fly ends up inside the machine with him, and it's all downhill from there.
As Brundle's body slowly but surely melds with the fly's, the film becomes a gross-out fest deluxe, with Academy Award-winning special effects that stand up even today. Goldblum and Davis' performances are fantastic as well. But what really makes "The Fly" such an enduring work are the psychological and thematic implications it explores, as Brundle must face the hubris of his own attempts to play God and discovers science's limits the hard way.
1. Jurassic Park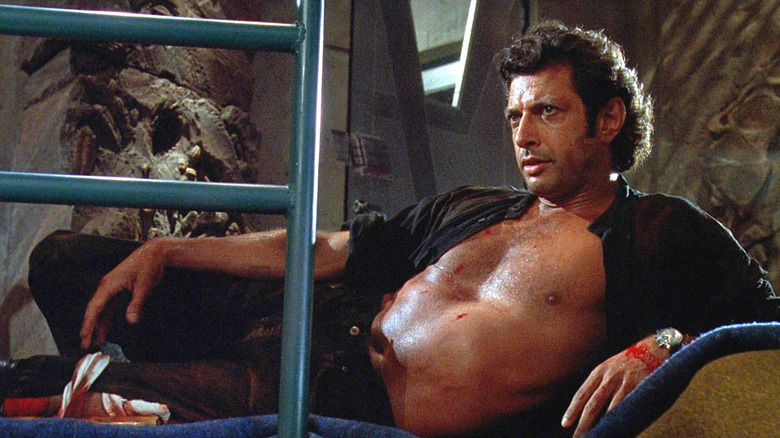 Universal
Including the new "Jurassic World: Dominion," Jeff Goldblum has appeared in four movies in the wildly successful Jurassic franchise, but it's the original "Jurassic Park" that tops this list as the absolute best Jeff Goldblum movie, hands down.
Based on Michael Crichton's novel of the same name, this Steven Spielberg-directed classic gave audiences a sense of magic, spectacle, wonder, terror, and adventure in its tale about an amusement park in which cloned dinosaurs are the main attraction.
"Jurassic Park" stars Sam Neill and Laura Dern as two scientists who are brought to the park, finding themselves first amazed and then horrified as the prehistoric creatures, including the terrifying T-Rex, escape. But in the film's thematic exploration of the man's hubris, it's Goldblum's character, the chaos theory-specializing mathematician Dr. Ian Malcolm, who delivers one of its most memorable lines, astutely noting that "Life, uh, finds a way."
Goldblum's role, and one particular shot of him shirtless, is so iconic that it has spawned a viral meme, its own Funko Pop, and even a massive statue. Sorry, but it simply doesn't get any more epic than that.