Sarah Snook Had Some Fears About Shooting Succession's Third Season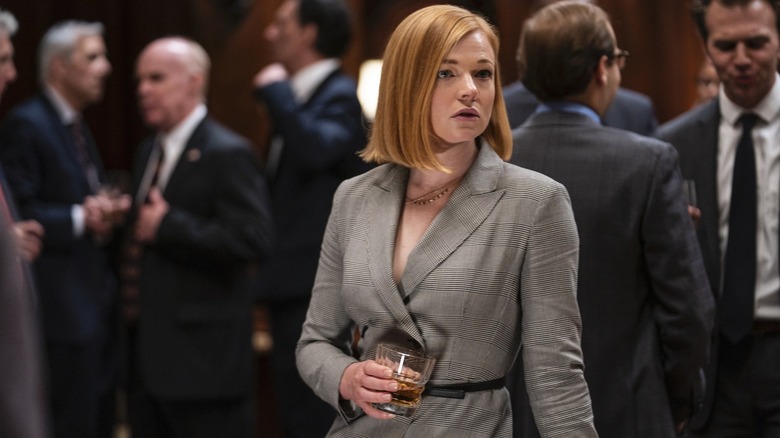 HBO
HBO's "Succession" has maintained unmatched levels of wit and suspense for three full seasons now, but good things rarely last for long. Many fans are skeptical that the show will remain consistent, and some already argue that the quality is dropping. Going into season 3, Sarah Snook counted herself among the skeptics, but a surprising new development made her change her mind.
"Succession" follows the family of Logan Roy (Brian Cox), who runs a global media empire. When Logan's health begins to decline, he must choose one of his four children as his successor. The only woman of the four is Shiv (Sarah Snook). She is perhaps the most logical and ambitious of Logan's offspring, and "quite clearly his favorite child," Cox told THR. Her one fatal flaw? "She can't keep her big mouth shut. She's a hopeless poker player," according to Cox. This quality creates a formidable obstacle for her character, who might otherwise be the obvious successor.
Season 2 of "Succession" ended with Snook's character, Shiv, putting her foot in her mouth. Other major events transpire, including a very revealing legal trial that culminates with Kendall (Jeremy Strong) calling their father out publicly. Season 2 was incredibly successful, but this made Snook worry that the success would burden herself and her co-stars with a "sense of awareness," she told Variety. "Succession" definitely has a very naturalistic appeal, so it is safe to assume that a heightened sense of self-awareness could damage the authentic flavor of the actors' performances.
The cast had to overcome major obstacles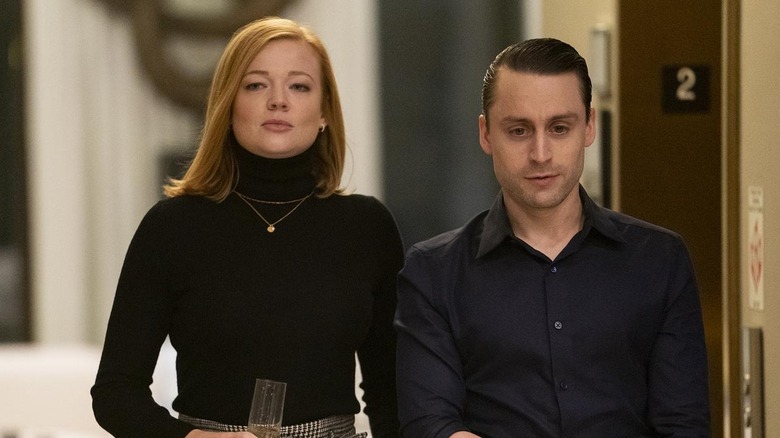 HBO
Snook finds that obstacles can be beneficial to acting, particularly when it comes to developing a bond with her co-stars. Despite the tension between their characters, the cast and crew of "Succession" are a tight-knit group. However, one thing, in particular, brought them together while shooting Season 3. "Because of the restrictions we had with COVID, we had an obstacle... something to overcome together," Snook explained. The actress believes that "in a weird way," the pandemic helped the "Succession" team to "band closer together ... to create something we're proud of."
This newfound bond deepened the familial dynamic on set, particularly between the actors who played family members themselves. Snook and Kieran Culkin, who plays her brother Roman, have "very much of a sibling vibe," the actress said in an interview with Harper's Bazaar UK. The real life sibling dynamic certainly comes through in their performances, since the scenes they share include some of the snappiest dialogue in the series. Their characters are both self-interested and prickly and spend most of their time together verbally (and sometimes physically) sparring. Snook and Culkin deliver cutting insults with a comedic flair that only siblings could manage. Dynamics like these imbue the series with a texture of authenticity.
Snook was able to find her character through the instability created by the pandemic. In Season 3 of "Succession," Shiv's world is thrown out of whack, and she's "having to be okay with volatility" Snook explained to Variety. Snook herself had to adjust to the changed world post-Covid, but found solace in sharing the discomfort of this experience with her cast members. Overcoming these obstacles built a newfound trust between the actors that strengthened their performance in their most challenging season yet.