Succession's Sarah Snook Thinks Tom And Shiv's Relationship Isn't So Black And White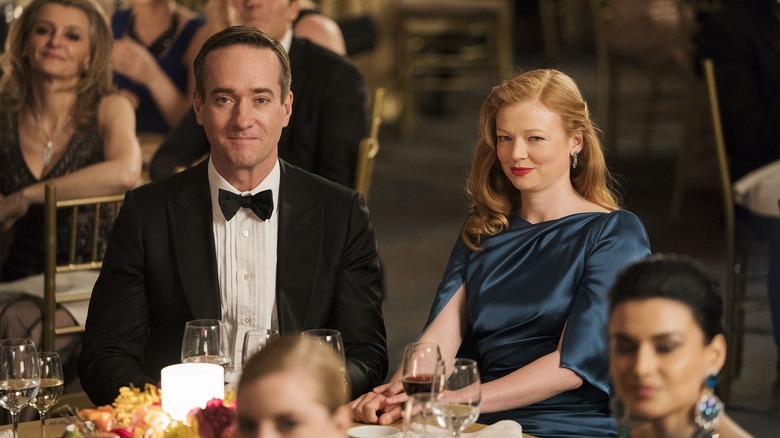 HBO
HBO's hit series "Succession" is overflowing with uncomfortable power dynamics, and the resident married couple are no exception. In fact, their seemingly stable relationship may be rifer with tension than any other on the show. The only female Roy sibling, Shiv (Sarah Snook) is also the only member of her family that has managed to hold down one romantic partner through all three seasons, thanks to the forgiving nature of her husband, Tom (Matthew Macfadyen). A therapist would probably call it exceedingly unhealthy, a cynic might see it as mutually beneficial, but we can all agree that it is anything but straightforward.
Tom is a fish out of water in Shiv's upper crust family. His comparably modest upbringings give him the appearance of a trophy husband that lets Shiv takes the reigns. They have "mutual needs [that] cancel out each other," Sarah Snook told BBC 1. She sees Shiv as "a person who struggles with being vulnerable," and finds that Tom will love her "without [her] having to stretch into the vulnerability of love." Tom, on the other hand, gets the inside track to a major seat at a gigantic media conglomerate and a life of opulent wealth.
Lack of communication allows for power play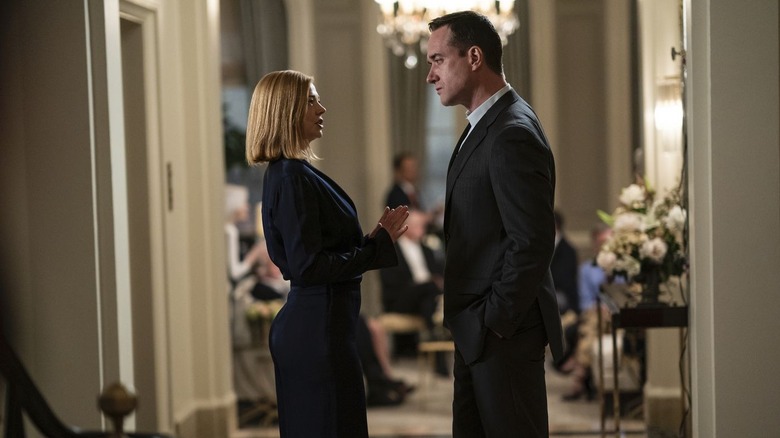 HBO
In Season 1, Shiv works in politics while Tom acts as her mole inside Waystar Royco, her family's company. When Shiv enters the business as a prospective CEO, their interests start to clash. Sarah Snook sees this as a major challenge for their relationship in the later seasons. Tom was meant to be the one "inside the business" and on the path to CEO-ship, Snook explained to THR. "They're planners, and they've had their 10-year plan corrupted by Shiv being offered the CEO-ship." A wrench in their plans made for a wrench in their dynamic as well, prompting Tom to make major grabs for power behind Shiv's back.
Despite betraying one another in actions, Shiv and Tom continually reaffirm their commitment to one another in words. Snook finds these moments where Tom and Shiv are dishonest with each other to be "funnier" than scenes with direct insults. The couple thrives in a "grey" area of communication and decision-making, "rather than in the black and white [of] yes, Shiv and Tom are united, they're going to do this." This lays the foundation for emotionally potent scenes like the finale of Season 3.
Each stab in the back tests their marriage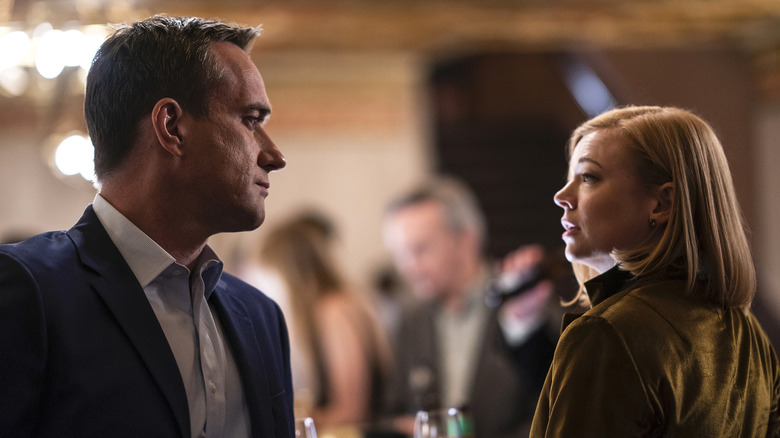 HBO
With each new move against each other, the couple tests their commitment to one another. As for Snook, she believes their relationship can withstand quite a bit. "The longer we get to play these characters the more I understand the history ... and who they are together," the actress told Glamour, adding that "what's really fun about that is it's constantly evolving." Whether or not Tom and Shiv will continue to evolve together or grow apart will be a major question in Season 4.
Regardless, Shiv is not likely to take Tom's betrayal lying down. Although they may continue to put up a united front, the Wambsgans-Roy partnership is a battlefield. "Succession" is nothing if not unpredictable, so the idea of the couple splitting up is never off the table. However, as such a potent source of dramatic tension, the writers would be remiss to push them apart.