The Cuphead Show Season 2 Trailer: Who Drugged My Coffee This Morning?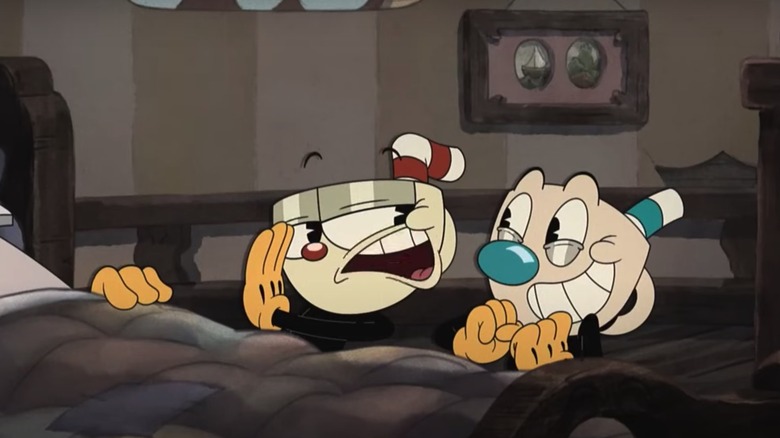 Netflix
If it feels like your brain is in a blender these days, you are not alone. Maybe it's why watching the trailer for season 2 of the Netflix animated series "The Cuphead Show!" sort of fits into a world where (gestures wildly at everything out there) is happening. I don't mean that to sound negative. Well, the world stuff I do, but the series is the weirdest of delights. I'm not sure what I just watched, but I'm grinning like a madwoman with pudding running out of my ears or something. Between the old timey slang, the talking worm, and whatever else I just watched, I'm not sure that I didn't just hallucinate the entire thing. 
I ... did not know there were so many words for prison. "The old hooba dooba?" That's a thing that people say? I mean, sure. I'll call it that. The more I watch this trailer, the more I suspect my cats drugged my coffee this morning. I'm fairly certain I saw two frogs on a seesaw wearing boxing gloves, and someone said, "Ah, banana royale" as a curse. You can see this too, right? 
'We're just a couple of dumb dumbs'
The voice cast for "The Cuphead Show!" includes Tru Valentino ("The Rookie") as Cuphead, Frank Todaro ("Transformers: Prime Wars Trilogy") as Mugman, Wayne Brady ("Whose Line Is It Anyway?") as King Dice, Grey DeLisle ("Avatar: The Last Airbender") as Ms. Chalice, Joe Hanna ("Robot Chicken") as Elder Kettle, and Luke Millington-Drake ("Best Friend Fix") as the Devil. 
The whole thing is based on classic Fleischer rubber hose-style animation, and is the story of a couple of talking cups whose souls are in danger from the Devil. If you're into these episodes, and how could you not be, fear not. Netflix has ordered a total of 48 episodes total. Season 1 had 12, and I assume that will continue to be the case. Here is a synopsis for "The Cuphead Show!:"
"The Cuphead Show!" follows the unique misadventures of the impulsive Cuphead and his cautious but easily swayed brother Mugman. Through their many misadventures across their surreal home of the Inkwell Isles, they've always got one another's backs. The new series will expand on the characters and world of Cuphead, with an animation style inspired by the classic Fleischer cartoons from the 1930s.
"The Cuphead Show!" season 2 will hit Netflix this summer. We'll keep you updated when there is a firm release date.