Don't Expect The Stranger Things Season 4 Finale To Have A Happy Ending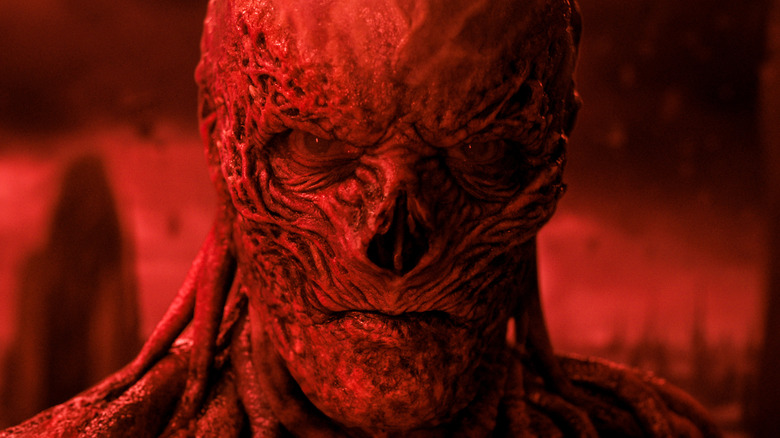 Netflix
Warning: Spoilers ahead for "Stranger Things" Volume 1.
"Stranger Things" fans are obviously waiting for Volume 2 with bated breath, especially after the huge reveal at the end of Volume 1, which recontextualizes a lot of Vecna's motivations throughout this season. While every season of "Stranger Things" has ended on a mostly good note (or bittersweet, in the case of season 3), fans should not expect the season 4 finale to have a happy ending — or to be an "ending" at all.
No, that's not stray speculation from my end, but rather a reminder by the Duffer Brothers, who told Empire that there will be no "reset" button at the end of the season, as things will definitely approach darker, sadder territories:
"Volume 2 really takes what we did in Volume 1 and ramps everything up. Usually, at the end of a season, we tie things up with a nice bow, before a little tease that says, 'Hold on, something is unraveling.' As we move into season 5, we don't have to do that. There won't be a reset from where we finish this season."
Wait, does this mean that some of our favorite characters might get killed off? While it is difficult to imagine the beloved gang not taking it back in one piece, the sheer number of characters this season might be an indication that at least one character might meet a not-so-happy ending. Moreover, the big baddie of "Stranger Things" season 4 is an entity they have never dealt with before, and the extent of Vecna's powers remains unknown.
Volume 2 has a lot of ground to cover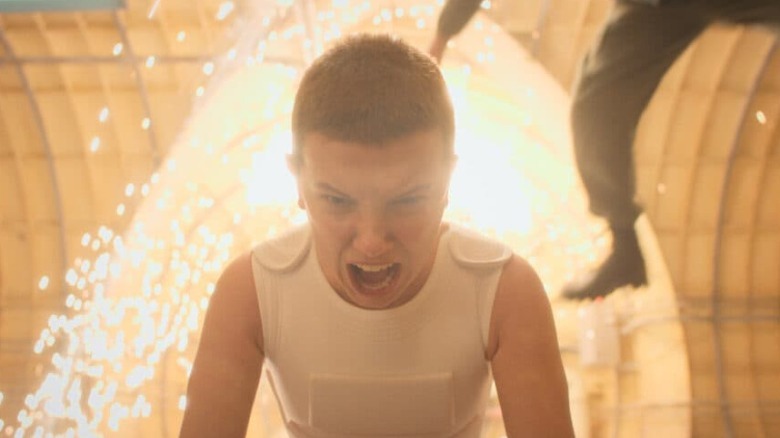 Netflix
The stakes are higher than ever by the end of Volume 1 — Nancy is under Vecna's control, Eleven has learned the truth about Vecna's identity, and the rest of the gang needs to figure out a way to band together. While Mike, Will, Jonathan, and Argyle are attempting to locate Eleven, the rest try and get Steve, Eddie, and Robin out of the Upside Down, although Nancy finds herself targeted by Vecna. Will Nancy make it out alive, after all, especially now that she knows who Vecna truly is? 
Even if Eleven gets her powers back by Volume 2, it will be interesting to see her finally channel all of her trauma and rage via this supernatural outlet — which is something the Duffers refer to in the Empire issue, explaining that she will be "pushed to the brink." There are a zillion storylines to resolve, from the jocks back in Hawkins perpetuating Satanic Panic, to the mystery behind why time stopped in the Upside Down when Will had disappeared back in 1983. The Duffers told Empire that the bullying storyline that revolves around Eleven was created to mirror real-life experiences, so I'm guessing that Volume 2 will also tackle some aspects of that as well:
"For us and most of the writers, because we're all a little on the nerdy side, high school wasn't a great time for us. So we're reflecting that."
Apart from this, there's the big question about Vecna, and what his ultimate goal is in terms of targeting traumatized kids in Hawkins. As Vecna has been opening a series of gates with each murder, there must be some sort of reason behind why he is doing so. Does he wish to remake Hawkins according to his twisted vision, to reflect the way in which he views humanity as a whole? Only time will tell.
Volume 2 will see characters be more 'proactive'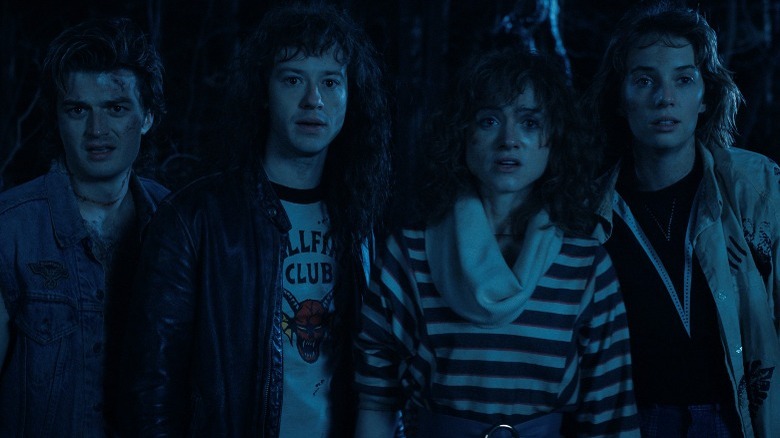 Netflix
Back to the finale, the Duffers also hinted at the emotional nature of the ending, commenting that members of the creative were in tears when they pitched what lies ahead to the Netflix execs (this could indicate a major character being killed off, or something really traumatic unfolding). This makes sense, as the emotional stakes this season are pretty high too, with the gang being mostly separated or distant from one another in the beginning, but set to reunite to fight Vecna. 
However, whether a united front will be enough is still up in the air, as this season also forces the characters to deal with their individual demons and baggage, making friendship and communal healing a major motif to look out for. While there will be tearful reunions (with Hopper's return), there might also be sudden, abrupt losses that further push the group into the caverns of loss and grief.
While the Duffers kept the details under wraps, they did reveal that Max, Dustin, and the gang at Hawkins will "take the fight to Vecna" (brave, but worrying) and that the protagonists are more "proactive" than ever:
"You know in 'The Lost Boys' when they decide to go after the vampires? It's fun to see people come up with a plan and try to outsmart the villain. That's what Volume 2 is about. But of course, not everything goes to plan..."
That's ... concerning. Well, I guess we will find out what happens in "Stranger Things" Volume 2 when it premieres on July 1, 2022, on Netflix. Empire's July 2022 issue is currently on sale.