The Dragon Prince Season 4 Trailer: The Incredible Fantasy Series TV Series Finally Returns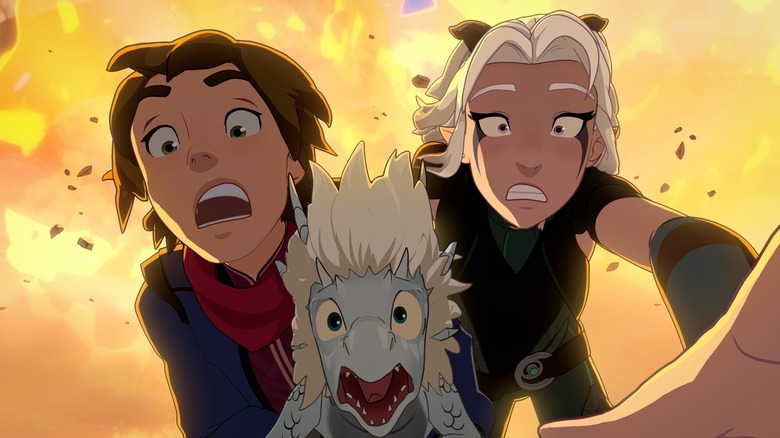 Netflix
Ever since "Game of Thrones" ended, everyone has been looking for the next big fantasy TV show. Of course, we've got some good candidates, from "The Witcher" and "Shadow and Bone," to "The Wheel of Time," and now the upcoming "House of the Dragon" and the "Lord of the Rings" TV show.
While the search has focused on live-action, the unfortunate and still very wrong assumption that animation is somehow a "lesser" medium meant for kids has made people miss out on the best fantasy TV show currently on TV — "The Dragon Prince." The spiritual successor to "Avatar: The Last Airbender" is an epic tale of political intrigue, romance, adventure, action, and magic set in a fleshed-out world with a vast mythology.
The show follows two prince half-brothers and an elf assassin as they set out to bring the last infant dragon to its kind, in an attempt to end a thousand-year-old conflict between elves and humans. 
After what feels like 84 years (it's been three, but feels much longer), "The Dragon Prince is finally coming back with new episodes this year, and we have a new trailer to prove it.
The next phase of the saga
Last season ended on a rather conclusive note, with the villain defeated, the dragons reunited, a seemingly peaceful truce between both sides of the war, and a new crowned king. While this first trailer is rather thin on plot details, it does seem to tease the focus of this next season. 
After all, Netflix is describing it as "the start of the next phase of 'The Dragon Prince' saga," meaning we're likely to see a sort of reset button being hit while the new status quo is established. That being said, the focus on the mysterious villain Aaravos, who gives the season its title, is rather intriguing since we know extremely little about it. The other tease in the trailer is that Aaravos continues to hold a tight grip on Viren, the dark mage, and his purpose will presumably be revealed this season. Last we saw Aaravos, he was in a cocoon, metamorphosing into a new form. What will that be? We'll find out soon enough.
"The Dragon Prince: Mystery of Aaravos" returns later this year on Netflix.
"Many questions remain following The Battle of the Storm Spire, but only one continues to haunt the very heart of Xadia: "Who is Aaravos?" Where did this enigmatic Startouch elf come from? What does he want? And what price will our heroes have to pay to stop him?"