New 2022 Star Wars Hallmark Christmas Ornaments Celebrate The Mandalorian, Attack Of The Clones & More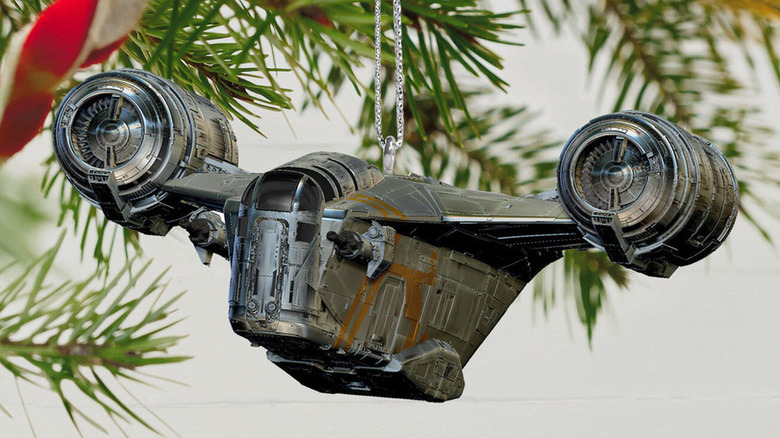 Hallmark
Even though Christmas is still a long way off, Hallmark always gets the party started early by revealing the new wave of Keepsake Ornaments that collectors can add to their Christmas tree each year. As always, there's a huge assortment of ornaments inspired by pop culture, and that includes a new line-up of "Star Wars" ornaments. This year, the collection includes moments from "The Mandalorian," with plenty of Grogu to go around, as well as celebrations of "Star Wars: A New Hope" and "Attack of the Clones" in honor of their respective milestone anniversaries. 
Let's check out the new 2022 "Star Wars" Hallmark ornaments below.
For the love of Grogu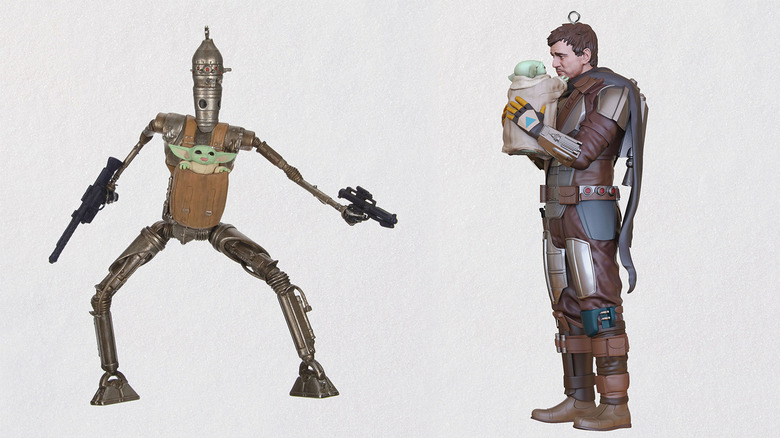 Hallmark
If you're looking to load up your Christmas tree with as much Grogu as possible, Hallmark has you covered. There are two ornaments with the little guy in the hands of bounty hunters. First, he's being held up by Din Djarin, who removes his helmet to reveal his face to the tiny creature. Then we also have Grogu securely fastened in a harness on IG-11, who is protecting him from Moff Gideon's forces. 
The Din Djarin ornament will cost you $24.99 while IG-11 is $19.99, and both will be released on October 8, 2022.
These aren't canon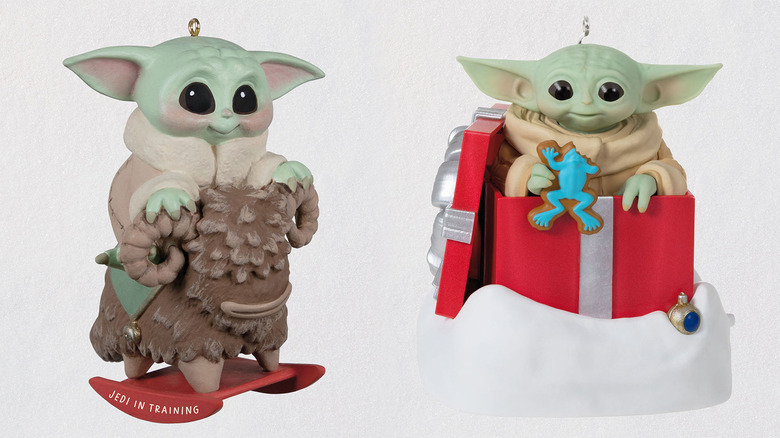 Hallmark
Not every "Star Wars" ornament is going to bring a moment from the films or TV shows to life. In this case, Grogu gets in the Christmas spirit with a couple of stylized ornaments that aren't canon. 
In one, a cartoonish version of the characters is riding a little rocking bantha that has the inscription "Jedi in Training" on the base, and that'll cost $19.99. The other takes the TV version of Grogu and puts him inside a gift box, complete with a mythosaur-branded bow on top. He's also munching on a frog-shaped holiday cookie. Yum! That ornament, which also has sound and motion, will cost $39.99. Both will be available on July 9, 2022.
RIP Razor Crest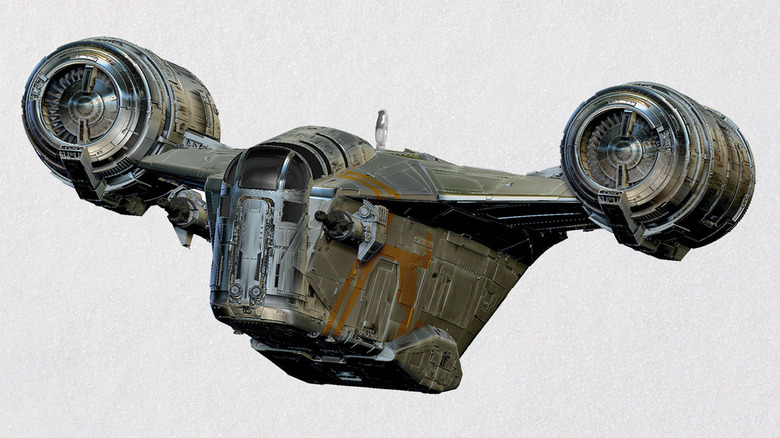 Hallmark
The Mandlorian's original ship, the Razor Crest, may have met its demise at the hands of Moff Gideon, but you can let it live forever on your tree with this new ornament. In addition to sitting on your Christmas tree, the ornament also plays the theme song from "The Mandalorian." It's available for purchase right now for $34.99.
Return of the Jedi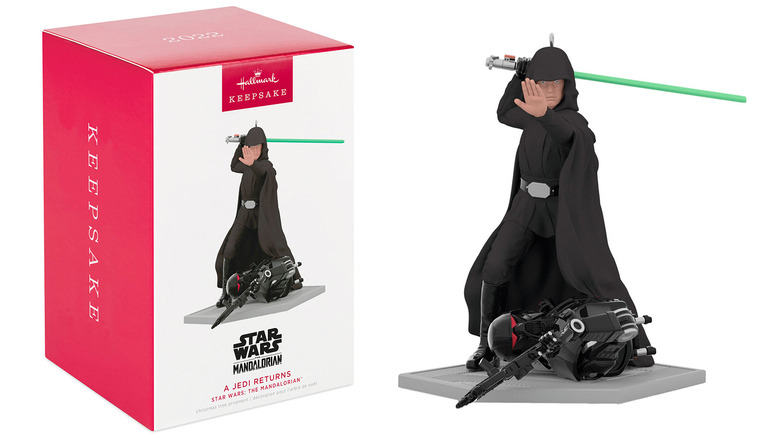 Hallmark
After Luke Skywalker's return at the end of the second season of "The Mandalorian," he's bringing the Christmas spirit to your home in the form of this new ornament. Armed with a lightsaber that won't cut through your tree branches, Luke has sliced through the body of a Dark Trooper, which can be seen lying at his feet. This ornament is $29.99 and will be available on October 8, 2022.
Christmas is a time for (A New) Hope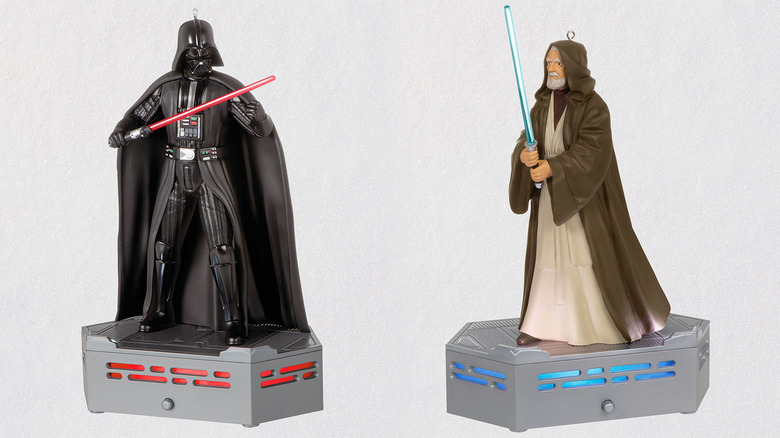 Hallmark
This year marks the 45th anniversary of "Star Wars: A New Hope," and what better way to celebrate than by lighting your tree up with this collection of "Storytellers" light and sound ornaments that will interact with each other, recreating memorable scenes from the film.
Luke Skywalker, Obi-Wan Kenobi, C-3PO and R2-D2, Princess Leia Organa, Darth Vader, Han Solo and Chewbacca (as well as the pricey Death Star tree topper) have continuous lighting effects as well as interactive sounds that will play out sequences from "Star Wars." Each of the ornaments costs $39.99, and they'll be released on July 9, 2022.
Attack of the Clones
Hallmark
Speaking of anniversaries, it's also the 20th anniversary of "Attack of the Clones," and there are a few new ornaments that will help you celebrate this Christmas. 
First up, there's a mini ornament set featuring Obi-Wan Kenobi's Jedi starfighter and Jango Fett's Slave I, which engage in a chase through the asteroid field surrounding Geonosis. These mini ornaments are much smaller than your average Hallmark Keepsake Ornament, as you can see by the size comparison to a penny. The only thing that would make this better is a third ornament that looks like an exploding seismic charge. 
Meanwhile, Samuel L. Jackson gets a new ornament as Jedi Master Mace Windu (which is not to scale with the penny), who is clearly ready to cut off Jango Fett's head. Fun fact: the actor who portrayed young Boba Fett had no idea that his on-screen father was decapitated until he saw it happen at the movie's premiere.
The "Attack of the Clones" starfighter ornament set costs $19.99 while Mace Windu is $21.99. They'll both be released on October 8, 2022.
Hello there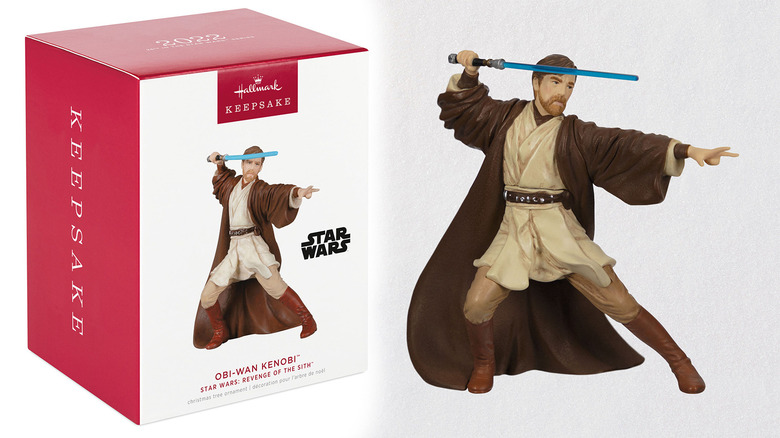 Hallmark
Finally, even though we haven't gotten word of any ornaments tied to the new "Obi-Wan Kenobi" series on Disney+, we're still getting our Obi-Wan fix with a new ornament inspired by "Revenge of the Sith." Kenobi is in his famous fighting pose as he prepares to take on General Grievous. This one will cost $21.99 when it gets released on July 9, 2022.
Stay tuned for more of the Hallmark ornaments inspired by some of our pop culture favorites that will be arriving this year.