Young Boba Fett Actor Daniel Logan Learned Jango Fett Got Decapitated At The Attack Of The Clones Premiere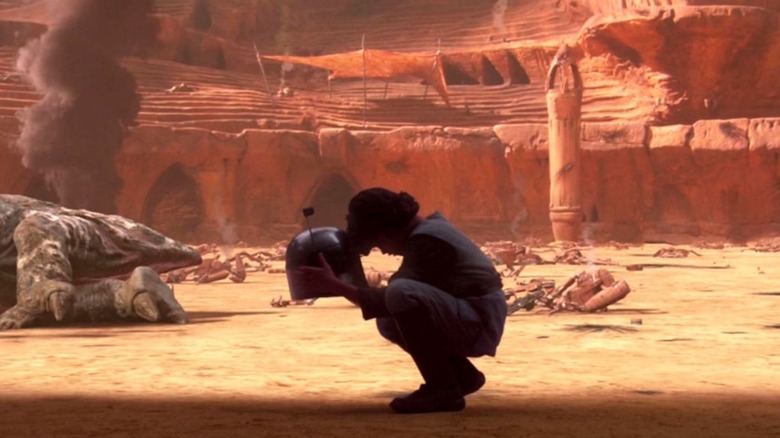 Lucasfilm
With "Attack of the Clones" celebrating its 20th anniversary (he types before he crumbles into an ancient pile of old man dust), there's a big focus on the often derided second prequel at this year's "Star Wars" Celebration. There are panels, signers on the autograph floor, "Attack of the Clones" merchandise, Hayden Christensen and Ewan McGregor taking a victory lap in the wake of "Obi-Wan Kenobi," the works. 
Part of this focus was a panel that included "Attack of the Clones" cast members Temuera Morrison and Daniel Logan, who played Jango and Boba Fett in the second film, respectively. Logan was only 13 when he shot this movie and as such some small details might have been kept from him — namely that his on-screen dad lost his head.
Logan recalled that George Lucas almost overlooked the shot of young Boba picking up his father's helmet and had to find the actor as he was changing out of his wardrobe, getting ready to head home. The scene was just Lucas, Logan, and the camera and the direction was "I'm going to need you to crouch down and put the helmet to your head as softly as you can."
Laughing, Logan said when Lucas demonstrated the scene he only crouched down on one knee, which is something he understands now that he's in his 30s. But back then he had a young man's knees and "I kinda did it like I was taking a number two."
Lucas kinda left out an important detail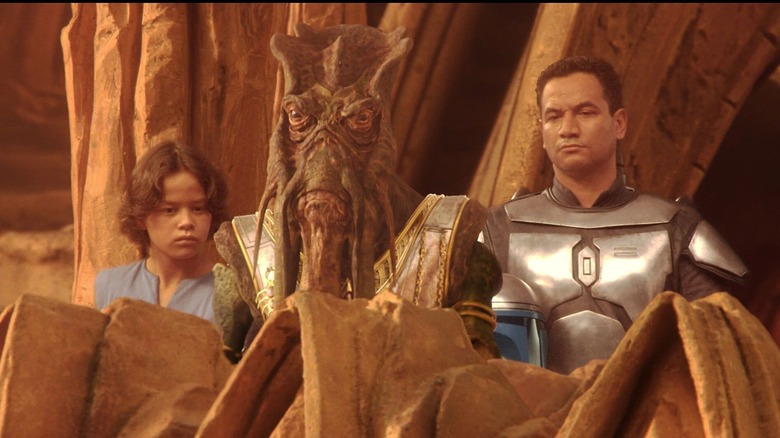 Lucasfilm
The kicker to this story is that Lucas neglected to tell the young actor just how his character's dad's helmet ended up on the ground in the arena scene and Logan didn't learn until the premiere that Jango Fett got his head chopped off.
While everybody else at the premiere was somber at the moment, Logan said he cheered because one, it was a surprise to him, and two, this opened the door for him to be in "Star Wars: Episode III — Revenge of the Sith." 
Or so he thought.
The only one of the two to be invited back for "Revenge of the Sith" was Morrison who came back as "another clone," much to Logan's chagrin.
However, he did repeatedly call the beheading scene "the greatest scene in 'Attack of the Clones'" despite it not leading to a bigger role for him in the next film. Morrison interjected a quiet "unbelievable" at this declaration, by the way, which got huge laughs from the "Star Wars" Celebration audience.
It definitely feels like the prequels are entering a major re-evaluation phase in pop culture, spurred on by the coming of age of its target audience upon release and the way storytellers like Dave Filoni, Jon Favreau, and Deborah Chow have been adding on to and enriching the mythology George Lucas set up. For a whole generation, this is their "Star Wars," and they're not being quiet about their fandom.