Sam Neill Agrees That Jurassic Park III Is Good, Actually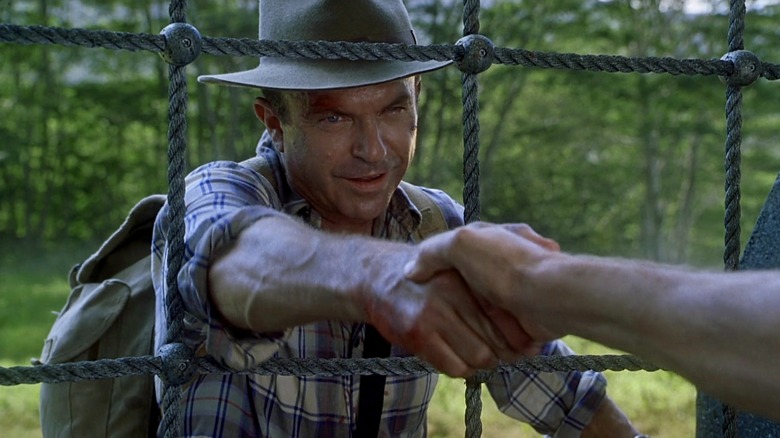 Universal Pictures
As we near the stateside release of Hollywood's latest legacy sequel, "Jurassic World Dominion," (which has already opened in some countries), the predictable flow of nostalgia for past films in the franchise has even Sam Neill looking back at "Jurassic Park III" through rose-colored glasses. To be fair, Neill — who is returning for "Dominion" with original "Jurassic Park" stars Laura Dern and Jeff Goldblum — was responding to an interview question when he shared his thoughts on the threequel. But I have it on good authority that, somewhere out there, there do exist "Jurassic Park III" fans, or at least people who think the movie is worth rewatching for its talking raptor scene.
If you are one of those people, then perhaps Sam Neill speaks for you in his comments to Den of Geek, defending "Jurassic Park III" from the culture vultures and pterosaurs who would seek to besmirch its good name. Referring to his costar, William H. Macy, as "Bill," Neill said:
"I in fact enjoyed Jurassic III, mostly. There were one or two cast members who weren't particularly happy. Bill Macy was pretty clear that he wasn't happy while making it. But me and Alessandro [Nivola] got on really well, and Joe Johnston is a terrific director, and I was along for the ride."
'A much better film than a lot of people say'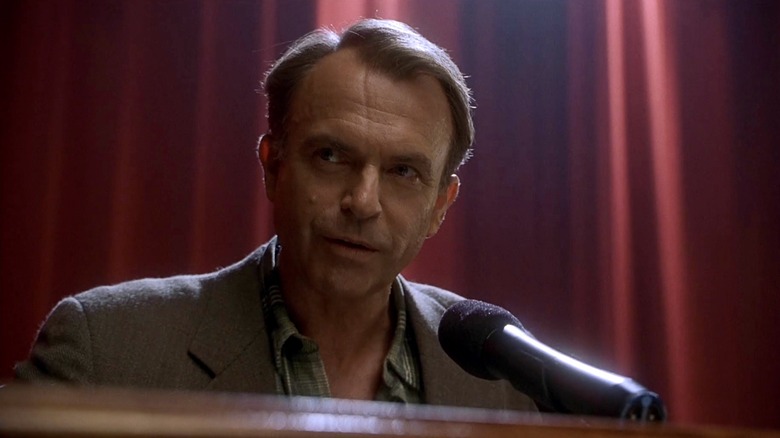 Universal Pictures
On the flip side of Neill's "Jurassic Park III" defense are the critics and audience members who want to tell you the film is a subpar sequel. Since citing Rotten Tomatoes scores has gotten to be downright boorish, I'll resist the urge to do so with "Jurassic Park III," but suffice it to say, it's the second-lowest rated film in the franchise, behind only the most recent entry, "Jurassic Park: Fallen Kingdom." Neill continued:
"I know ['Jurassic Park III'] has its critics, but I actually think it's a much better film than a lot of people say. I think it's a really good action film. It ends abruptly; it didn't really have as satisfactory an end as I would have liked. But other than that, I think the film works really well and I enjoyed making it."
Personally, it's been over 20 years since I saw "Jurassic Park III." I haven't ever felt the urge to rewatch it since I dragged a friend along with me to a packed theater for a front-row screening back in 2001.
I do remember that "Jurassic Park III" marked the point when the franchise felt the Tyrannosaurus rex was no longer good enough and it had to start introducing new big bads like the Spinosaurus. Hearing all this love for it, I'm half-tempted to go back and watch "Jurassic Park III" again. Or maybe I'll just go and watch a non-franchise Neill film like "Possession." Choose whichever one of those scenarios makes you feel best, and imagine we're doing it in jeeps in front of a little drive-in screen in the same pterosaur aviary.