The Boys' Jensen Ackles Took Inspiration From Golden Age Actors To Portray Soldier Boy [Exclusive]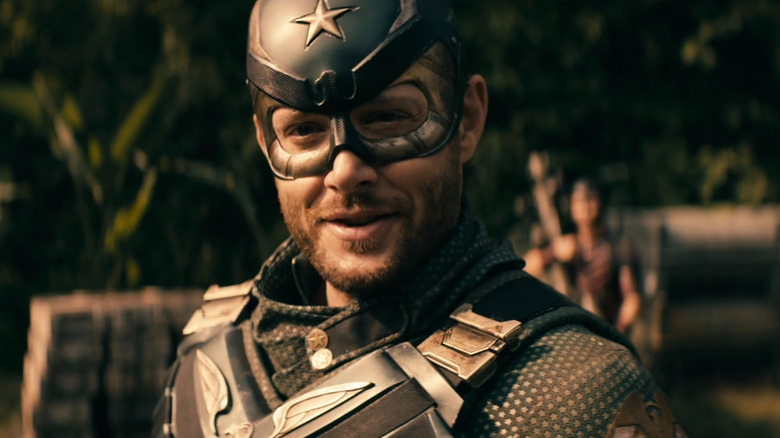 Amazon Studios
This article contains potential spoilers for the first three episodes of "The Boys" season 3.
Based on the first three episodes, it looks like the search for Soldier Boy, America's first superhero (and "the most idiotic of them all"), will be the main plot line driving "The Boys" season 3. If Homelander (Anthony Starr) is the show's Superman analog, then Soldier Boy, played by Jensen Ackles, is its Captain America. Since Soldier Boy is thought to be dead in the present — though he was seemingly un-killable like Homelander — Billy Butcher (Karl Urban) wants to find out what killed him and use that same weapon against Homelander.
To do so, Butcher has to excavate the past. It's something that Ackles found himself doing, too, as he got into character as Soldier Boy for "The Boys" season 3. /Film's Rafael Motamayor recently spoke with Ackles about his role on the show, and the actor said this about his inspiration for Soldier Boy:
"I kind of went back to, not anyone specifically, or any actor, any character specifically, but some of those old movies and those old movie stars from the '40s, the '50s and stuff, and just how they carried themselves, how they spoke, it was a different ... it had a different cadence to it. I just tried to do something a little different than, I think, what we're normally used to hearing, just to give him a little slight variation."
Everyone's a hero at Voughtland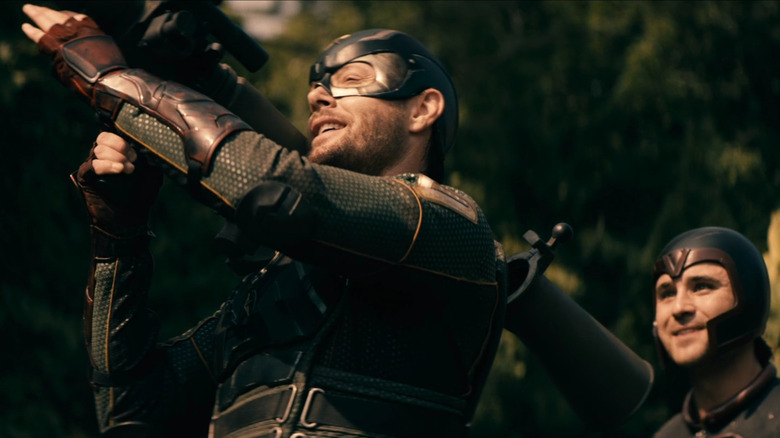 Prime Video
So far, Soldier Boy has been more of an offscreen presence, spoken of if not always seen, in "The Boys" season 3. In episode 3, "Barbary Coast," he did finally show up in a flashback, as former CIA director Grace Mallory (Laila Robins) related her experience dealing with him in Nicaragua during the Cold War.
In this scene, Soldier Boy does speak with a different cadence, as Ackles mentioned, while loading up a bazooka and making sexist comments to Grace. Though Ackles shied away from naming a specific actor or character as inspiration for Soldier Boy, his costume consciously evokes the one worn by Chris Evans in "Captain America: The First Avenger." 
That movie, helmed by Joe Johnston, the same director behind "The Rocketeer," was steeped in Golden Age nostalgia, but "The Boys" is far less sentimental about America's past and present. Soldier Boy's NRA-friendly sidekick, Gunpowder, is all the more disturbing in light of recent real-life shootings, which have only served to hammer home the same message, again and again, that the country's gun culture is out of control. That's just the tip of the iceberg in a show that explores the dark underbelly of a crumbling capitalist society where "everyone's a hero at Voughtland" and superheroes are the opium of the people.
The first three episodes of "The Boys" season 3 are now streaming on Prime Video.