The Umbrella Academy Season 3 Clip: Welcome To The The Hotel Obsidian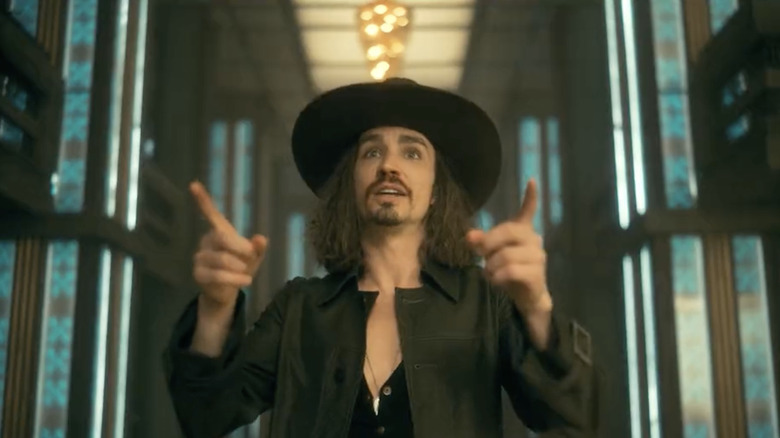 Netflix
The Hargreeves Siblings are back for yet another adventure, and by adventure, I mean "massive problem that could destroy the entire universe that is partially their fault for causing in the first place." 
Returning for its third season, the hit Netflix comic book series "The Umbrella Academy" centers on a set of seven adopted superpowered siblings all born on the same day and taken under the wing of Sir Reginald Hargreeves, who is apparently Charles Xavier's biggest fan, as he started his own superhero training academy to help the Hargreeves kids harness their skills. Luther (Tom Hopper), Diego (David Castañeda), Allison (Emmy Raver-Lampman), Klaus (Robert Sheehan), Five (Aidan Gallagher), Ben (Justin H. Min), and Viktor (Elliot Page) couldn't be more different from one another, but at the end of the day, they're a family ... no matter how dysfunctional or potentially world-destroying they can be when all together.
We were already given a first-look at what we can expect with season 3, with the Hargreeves siblings ending up in an alternate timeline where they were never adopted by Sir Reginald Hargreeves (save for Ben). Instead, he adopted six other super kids, forming the Sparrow Academy. Now the Hargreeves kids have to find a way to get the timeline set correctly, without causing any additional problems that could lead to a blitz, or rather the full implosion of existence as we know it. Unfortunately, with the Sparrow Academy existing, they've got to find a new home base. Enter the Hotel Obsidian.
Welcome to the Hotel Obsidian
As the Hargreeves siblings enter the rotating door, Klaus exclaims, "Hotel Obsidian, I've missed you, you slutty old dame!" According to the most eccentric of the Hargreeves family, Hotel Obsidian has allegedly housed some of the most notorious world leaders in history, such ass Roosevelt, Gandhi, Stalin, Gorbachev, Castro, King Olaf of Norway, "one of the Kim Jongs," Tedo, the Dalai Lama, Elvis, and not one, but two Kardashians. Unfortunately, the Hotel Obsidian is well past her glory days, and it now serves as a "flop house."
The hotel is a clear reference to the third series in Gerard Way's original comic run, "The Umbrella Academy 3: Hotel Oblivion," but as the third season of the Netflix show looks to be focusing heavily on the Sparrow Academy storyline, it's possible that we won't see the events of "Hotel Oblivion" until future seasons. Then again this introduction may be laying the groundwork for future seasons, or Netflix has gotten really, really good at hiding massive fan-favorite reveals from us.
Season 3 of "The Umbrella Academy" hits Netflix on June 22, 2022.