How Avoiding Streaming Made Yellowjackets A Huge Sleeper Hit [ATX]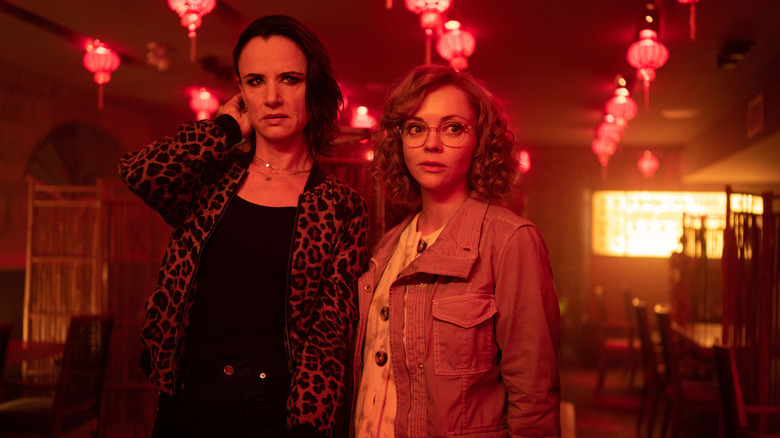 Showtime
When Showtime's "Yellowjackets" first made it on our TV screens, I felt like I was screaming into the void with my love. The gripping survival-horror mystery series encapsulates everything I love in entertainment, which is why when I first wrote about the show for /Film I titled it, "Why Isn't Everyone Obsessed With Yellowjackets, Showtime's Multi-Timeline Cannibal Thriller?" I was insufferable online with my fandom. I found ways to bring up the show in any possible conversation for the entire winter of 2021-2022. I am a proud worker bee in the "Yellowjackets" hive, which meant watching the show slowly snowball into an avalanche of rabid fans gave me a sick sense of pleasure.
If you ask me, a self-proclaimed "Yellowjackets" professional, the reason the show succeeded in developing a fan base was due to its weekly episodic releases. The core of the show is solving the mystery of what really happened in the 1996 Canadian Wilderness after a plane filled with a high school girls' soccer team crashed and stranded them without resources for 19 months, and forcing us to wait a week between episodes birthed a powder keg of fan speculation. We couldn't shut up about it, and the constant discussions absolutely helped lure new fans into the hive. 
If you ask "Yellowjackets" executive producer Drew Comins and eOne EVP of Scripted Programming, Jacqueline Sacerio, they'd agree. /Film's own Ryan Scott was in attendance for the "Reinventing the Watercooler" panel at the ATX Television Festival, where Comins and Sacerio provided their theories on the show's success.
The secret is Showtime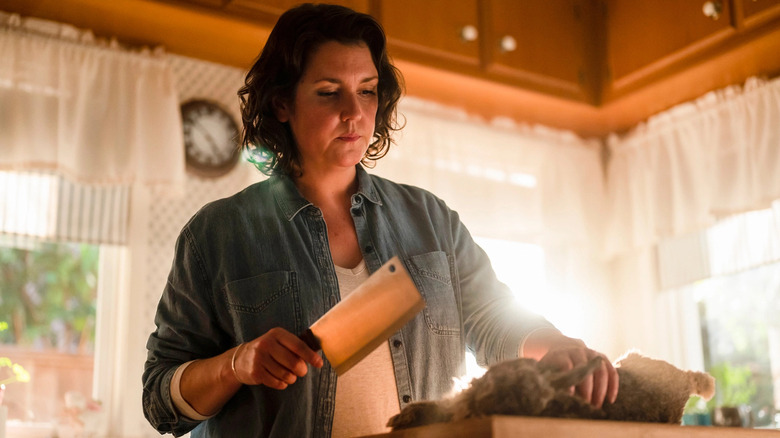 Showtime
"There's so much content, like, we're all watching the same things, but we're not watching them at the same time," Sacerio said. "So the fact that you can be like 'Oh my god, what did I just see ...what does it all mean?' and you can go online and you're able to engage in a conversation in real time, I feel like that's so powerful." Jacqueline Sacerio explained that as much as the crew would like to say that it was all part of the bigger plan and that they're all "geniuses," the success really came down to which platform wanted the show. As it turns out, when "Yellowjackets" was on the market, a variety of places wanted to give the show a home. However, Showtime was the only one that was willing to release each episode weekly, rather than drop it all on the market in one shot for binge-watching.
Drew Comins said that the Showtime release model was beneficial for the series as it exists in its current form, but that a different, more binge-watchable version of the show could have existed had they decided to go with a platform like Netflix, where "Yellowjackets" could have existed alongside "Stranger Things." However, that would have also changed the creative execution of the show. Showtime gave the creators the ability, as Comin said, to have "tone defining moments." Part of the allure of "Yellowjackets" is its boldness to allow a predominantly female cast to be violent, vulgar, and forward with their sexuality.
The Squid Game connection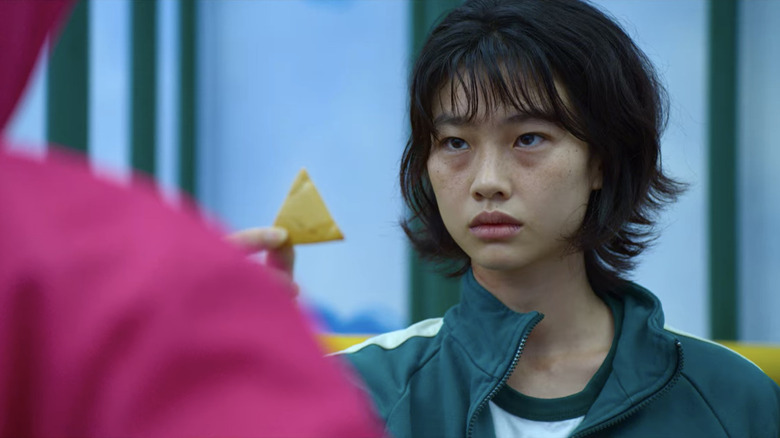 Netflix
As creators Ashley Lyle and Bart Nickerson described it to Comins, "The goal of 'Yellowjackets' was always to fundamentally subvert the expectations of what a show about women could be, and what a show about teenagers could be." Safe to say–mission accomplished. In addition to the smart release model, an unlikely ally emerged that the creative team also saw as a benefit to the success of "Yellowjackets," "We came out shortly after 'Squid Games,' which came out at a time where the prevailing wisdom in Hollywood was that 'people want hopeful, people want light and bright," said Drew Comins. The massive popularity of the South Korean survival-horror series "primed the pump" for "Yellowjackets" to be able to swoop in and continue the trend of challenging, provocative, and morally complex television. 
Season 2 of "Yellowjackets" is due to begin production later this summer as the remaining members of the New Jersey state champion soccer team heads toward their first winter in the Canadian wilderness, where teen girls may or may not hunt one another for survival.