Star Wars: The Bad Batch Season 2: Release Date, Cast, And More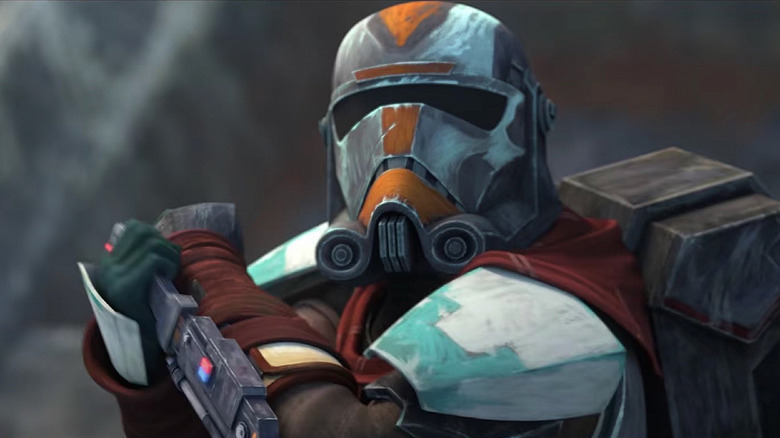 Disney+/Lucasfilm
(Welcome to ...And More, our no-frills, zero B.S. guide to when and where you can watch upcoming movies and shows, and everything else you could possibly stand to know.)
The animated side of the "Star Wars" universe has certainly come a long way since the 1980s "Ewoks" and "Droids" cartoon TV series — or, for that matter, "The Faithful Wookiee" segment from the 1978 "Star Wars Holiday Special" (somewhere, just now, George Lucas felt a great disturbance in the Force). Starting with the 2008 film "Star Wars: The Clone Wars," animated "Star Wars" projects have gone from being flashy if slight entertainment geared mostly towards audiences of a younger age to offering some of the most mature and spiritual storytelling in the franchise.
That trend has so far peaked with "Star Wars Rebels" and the later seasons of the "Clone Wars" series, with the shorter-lived "Star Wars Resistance" acting as a brighter, lighter, and more kid-friendly alternative to those shows' darkest outings. "Star Wars: The Bad Batch," which is both a narrative spinoff of and thematic sequel to "Clone Wars," doesn't fly as high as its predecessors in its first season, but it also has a firmer grasp on its tone and the story it wants to tell than they did starting out. That alone is reason enough to anticipate what lies ahead when "The Bad Batch" returns for season 2.
The Bad Batch season 2 release date and where you can watch it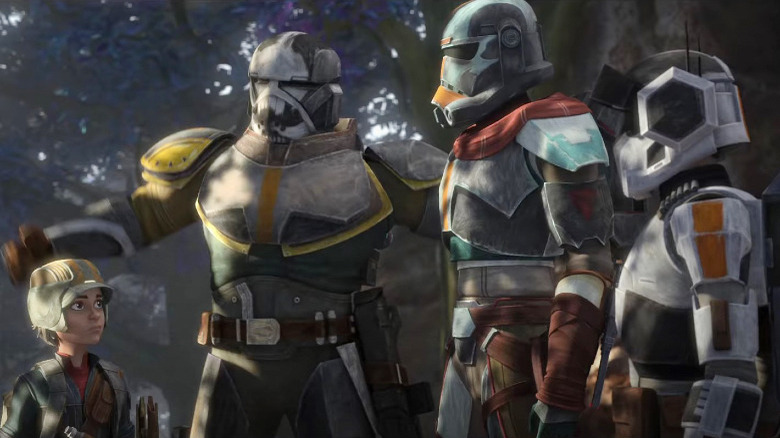 Disney+/Lucasfilm
"The Bad Batch" season 1 centers on the titular group aka Clone Force 99, a squad of clones with genetic mutations that made their debut in the final season of "Clone Wars" (in an episode fittingly titled "The Bad Batch"). While the team's original members — Hunter, Wrecker, Tech, and Crosshair — were deemed "defective" by their creators on Kamino, it turns out their alterations afford them more agency than regular clone troopers (whom The Bad Batch refers to as "regs"). This, in turn, allows them to resist gunning down any Jedi near them when ol' Palpy-head, Darth Sidious, issues Order 66, as seen in "The Bad Batch" series premise.
Season 2 will pick up the current members of Clone Force 99 (Hunter, Wrecker, Tech, Echo, and Omega) when it arrives on Disney+ on September 28, 2022. That also means it will drop about four weeks after the live-action "Rogue One" prequel series, "Andor," kicks off, and presumably right before the animated anthology show "Tales of the Jedi" launches on the streamer this fall. Between all that and "The Book of Boba Fett" and "Obi-Wan Kenobi," 2022 is shaping up to be quite the year for different types of "Star Wars" storytelling. It's been bumpy at times, but I've overall enjoyed the ride so far and even suspect the best is yet to come.
What is The Bad Batch season 2 about?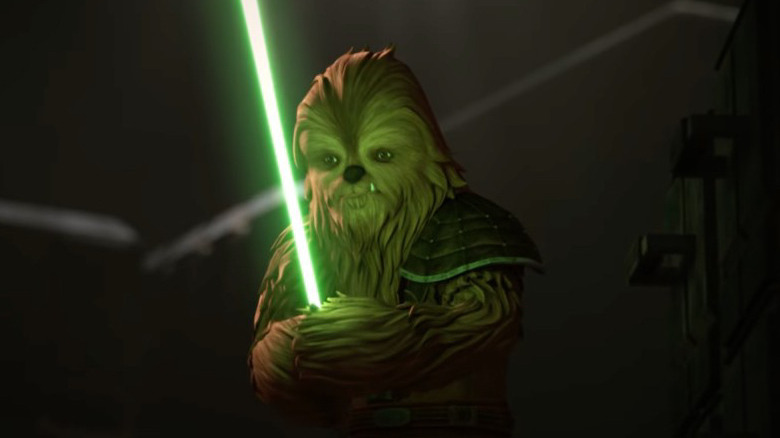 Disney+/Lucasfilm
At its core, "The Bad Batch" is a show about just how hard it is to start a much-needed revolution during times of great duress and turmoil (nothing relevant about that, nope). Building on this idea, most of season 1 focuses on Hunter, Wrecker, Tech, and Echo (a clone with cybernetic modifications who joined their squad on "Clone Wars") constantly having to balance their growing desire to get involved in the budding Rebellion with their need to survive after defecting from the Galactic Empire. If that wasn't enough, they also have to deal with being hunted by Crosshair, who chooses to stay loyal to the Empire, and protecting Omega, a female clone whose unusual genetics make her of great value to the Imperials.
Season 2 will pick up those various plot threads some as-yet-unknown number of months after the destruction of the cloning facilities on Kamino at the end of season 1. Both the official trailer and an extended preview shown at Star Wars Celebration further reveal the season will feature appearances by Commander Cody (a fan-favorite clone first portrayed in live-action by Temuera Morrison in "Star Wars: Revenge of the Sith") and the Wookiee Jedi Gungi from "Star Wars: The Clone Wars." It also seems Emperor Palpatine will have a role to play in season 2, which you know can't be good for our heroes.
The Bad Batch season 2 producers, crew, and more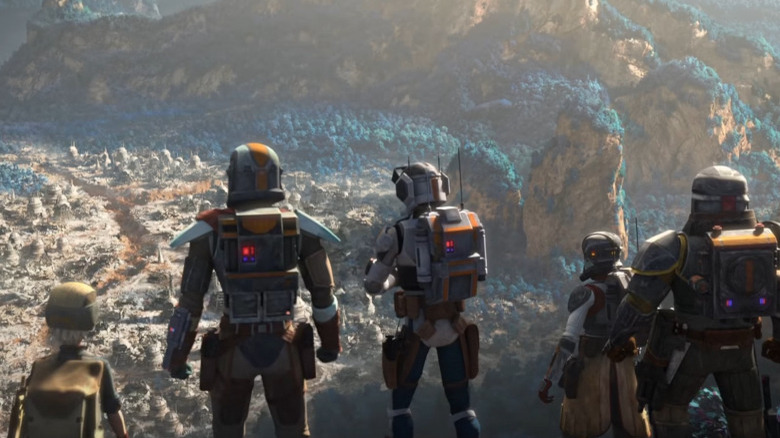 Disney+/Lucasfilm
"The Bad Batch" was crated by Dave Flioni, the cowboy hat-wearing Lucasfilm Animation boss who started out as George Lucas' protege on "Star Wars: The Clone Wars" and has since evolved into a key architect on the live-action series "The Mandalorian" and its spinoffs. (Believe me when I tell you: The man can talk about "Star Wars" like it's nobody's business.) Of course, the downside to having his finger in so many pies is that Filoni is far less involved with the creative process on "The Bad Batch" than he was for much of "Clone Wars" and "Star Wars Rebels."
Thankfully, the team behind "The Batch Bad" season 1 — supervising director and executive producer Brad Rau, head writer and executive producer Jennifer Corbett, and story editor Matt Michnovetz — did a fine job crafting a unique personality for the show to go with its visuals (which are more polished than any other CGI-animated "Star Wars" series so far). Lucasfilm has officially confirmed the whole gang's back for season 2, so, hopefully, they'll be all the more capable and daring in their storytelling after surviving their trial by fire with season 1.
The Bad Batch season 2 cast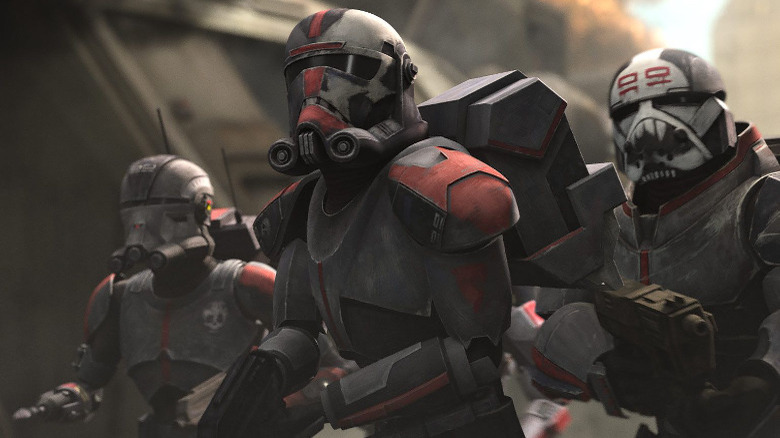 Disney+/Lucasfilm
Dee Bradley Baker will once again voice approximately 5,000 different characters on "Star Wars: The Bad Batch," including all the clones except for Omega (Michelle Ang). Jokes aside, though, it's genuinely mystifying at times how good Baker is at giving Hunter, Tech, Wrecker, Echo, and Crosshair their own unique vocal textures while also finding subtle ways of distinguishing the voices of the many other clones that've popped up on the show so far ("Clone Wars" alum Rex among them). As for his ongoing efforts to emulate live-action clone actor Temuera Morrison's native Kiwi accent, well, I leave that to all you New Zealanders out there to judge as you will.
Beyond that, the always-welcome Rhea Perlman looks to be back for season 2 as the voice of Cid, the Trandoshan cantina owner from Ord Mantell who employs The Bad Batch for various jobs that may not be strictly legal but are ultimately more good than bad (at least, when Hunter has any say in the matter). Gwendoline Yeo may also return as Nala Se, the Kaminoan scientist who, when last we saw her, was being taken to a secret Imperial facility to put her cloning know-how to work. A mystery, you say? In my "Star Wars" show?
The Bad Batch season 2 trailer and synopsis
Months have passed since the events on Kamino and the Bad Batch continue their journey navigating the Empire after the fall of the Republic. They will cross paths with friends and foes, both new and familiar, as they take on a variety of thrilling mercenary missions that will take them to unexpected and dangerous new places.