Jackie Chan Thought This Supercop Stunt Sounded A Lot Better In The Script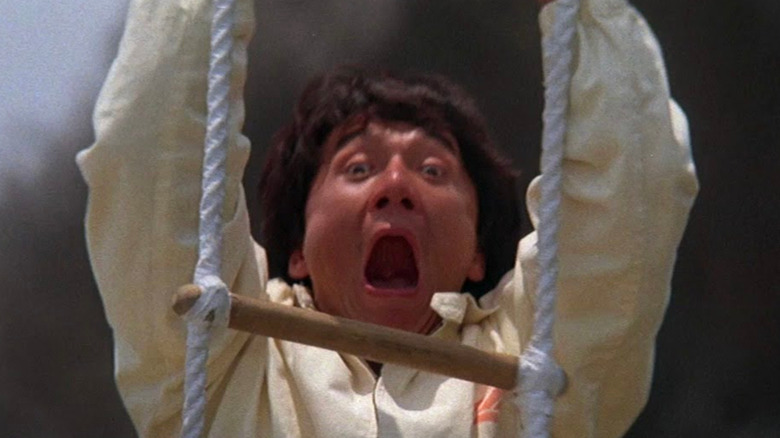 Miramax
Jackie Chan is world-renowned for his incredible stunt work, but if you've yet to see his action in the Hong Kong-based "Police Story" films, you might have no idea how far Chan is willing to push himself. The saga of films star Chan as Ka-kui, a good-hearted cop who just can't help but go vigilante mode at the first sign of danger. The first installment alone opens with Chan dangling from a moving bus by an impossibly-strong umbrella hook — and ends with him breaking every pane of glass in a shopping mall. Most of the "bloopers" that roll during the credits are actually just stunts gone terribly wrong. It's an immensely far cry from the films that became Chan's calling card in the States, simply because he seems so determined to put himself through hell on his home turf.
Naturally, the stunts got even more ridiculous (in a good way, of course) with each subsequent "Police Story" film. By the time the third installment (aka "Supercop") came around in 1992 — and the marvelous Michelle Yeoh joined the series — Chan was jumping from buildings to helicopters. Watching him perform, you'd think the actor were completely fearless, especially considering that multiple takes are required to get the perfect shot. But to hear Chan tell it, every stunt brings a certain level of fear — and there's one particular stunt that he remembers more than others.
Stunt work favors the prepared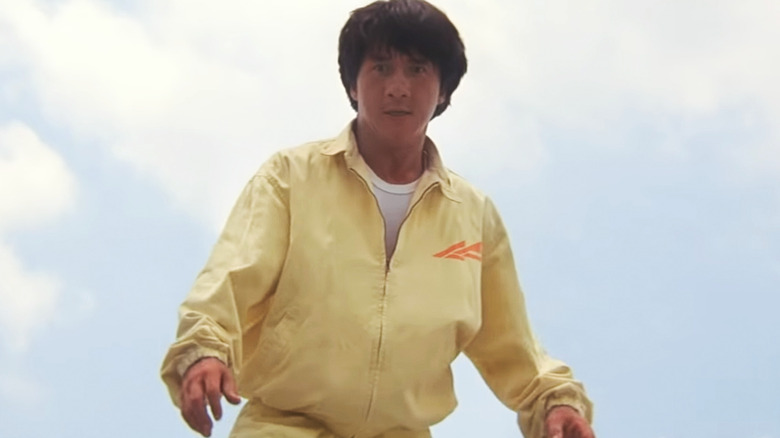 Miramax
Chan has always set a precedent for performing his own stunts, which obviously comes with a certain amount of risk. That's why he and his team often plan stunts far in advance — but no amount of foresight can really prepare anyone for some of the actor's most dangerous moves. Ironically, Chan himself often found himself scared to perform certain tricks from time to time. At an Academy-hosted tribute in 2013, Chan confessed that "every stunt" he's pulled has made him "really, really scared," though he never feels particularly worried during the planning stage.
"The problem is when we design, that's for 'Okay, next year we'll do a movie. Okay, let's sit down,' and they talk about 'Oh, we have an idea to jump down to a helicopter,'" Chan said. Chan had no problem agreeing to that particular "Supercop" stunt in pre-production, but things got a bit more real when it actually came time to film.
While most stunts will always make Chan nervous, the actor revealed that he gets particularly scared with jumps. "I got hurt in Yugoslavia because of a jump," Chan explained, referencing a failed stunt that nearly killed him in 1986. When filming "Armor of God" in Yugoslavia, Chan fell from a tall tree and fractured a few bones — one of which pierced his skull and even grazed his brain. Even with that terrifying accident behind him, Chan still committed to similar stunts afterwards. With "Supercop," though, he was determined not to make the same mistakes if he could help it.
Jackie in the sky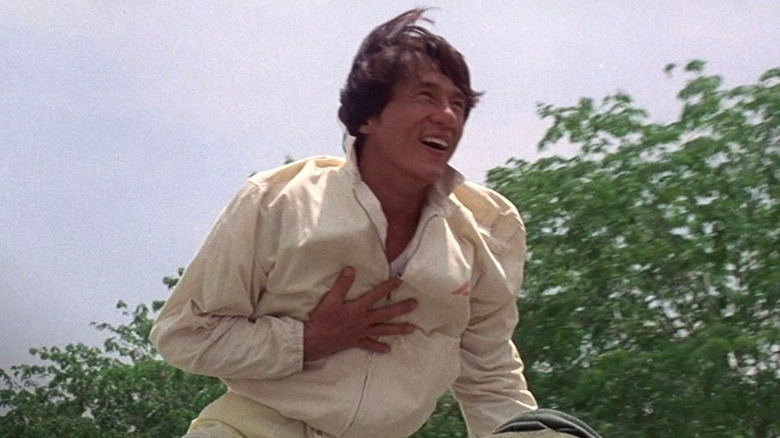 Miramax
The helicopter stunt sees Chan leaping from the roof of a six-story building and onto the rungs of a rope ladder. Chan is then dragged through the city as the chopper tries to shake him off — behind the scenes, he was likely dangling for over 45 minutes. Chan was even critically injured when filming the latter half of this sequence — he was struck in the back by that same helicopter, which tore one of his shoulders and fractured a rib — but to this day, it's that initial jump that he remembers the most.
"The difficult stunt is the jump," Chan explained, "unless you have something stopping you. Otherwise you swing. And after the swing, if I let go, then I would go to the street." It didn't help that "Supercop" director Stanley Tong intended to shoot without blocking off any traffic — which meant that if Chan were to fall, he could risk getting clipped by a car on top of any other injuries.
'At least I die for myself, not die and cars keep going on'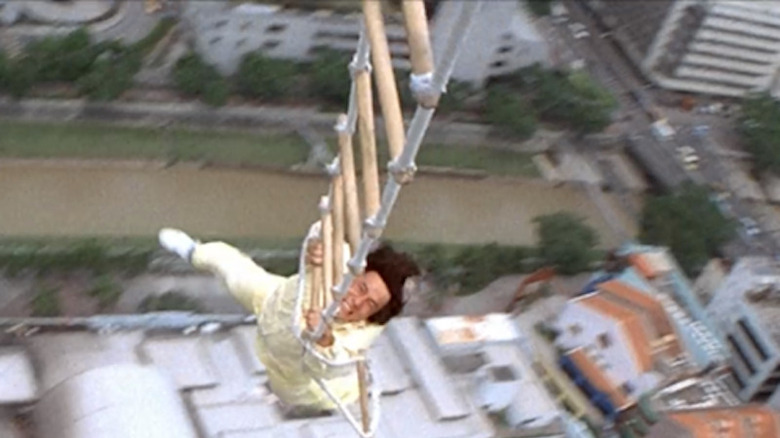 Miramax
Though Chan remembers the crew placing an apple box below to catch him if he fell, he was so high up that the box looked "like tofu. That small." Chan's obviously no stranger to risk, but he still advocated for a bit more safety before filming the jump. "I tell them, 'When I shoot that moment, can you block the street? At least I die for myself, not die and cars keep going on.'"
Despite his fear, Chan still approaches his work with insane dedication, not to mention levity. Of course, you've gotta have a crazy sense of humor to get back up after so many devastating injuries — and to keep risking your life to create such an unforgettable experience for your audience. Chan's scariest stunts are likely behind him, but their every detail has been immortalized on film, ready for us to revisit (or watch through our fingers) whenever the urge arises.