One Stunt Gone Wrong Wasn't Going To Stop Supercop's Michelle Yeoh
It's entirely possible that you've only just learned about the majesty of Michelle Yeoh. She's currently starring in the fantastic "Everything Everywhere All at Once," where she gets to indulge in drama and action in equal measure. Or perhaps you've recently seen her as Shang-Chi's aunt in "Shang-Chi and the Legend of the Ten Rings" or as Philippa Georgiou in "Star Trek: Discovery" on Paramount+. Michelle Yeoh has always been with us, she's just now getting the much larger shine she deserves.
Prior to all these Hollywood roles, Yeoh was one of the biggest Hong Kong action stars. She got her start in the industry as a supporting character in the 1985 action-comedy "The Owl vs Bombo," directed by Sammo Hung. By her third film, 1985's "Yes, Madam," Yeoh was already taking on starring roles. This would ultimately lead her to share the screen with Jackie Chan in 1992, as the co-lead of "Police Story 3: Super Cop."
Which one is the Super Cop again?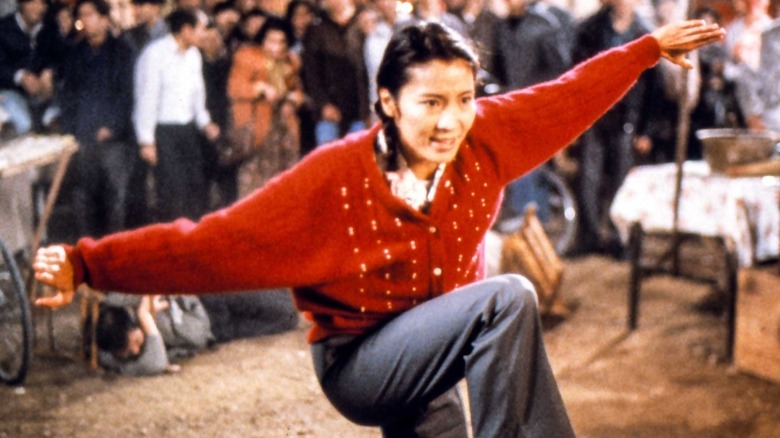 Miramax
Known in its Western release as "Supercop," the 1992 film was the third installment in the popular "Police Story" franchise. Chan stars in the first three films as Chan Ka-Kui, a hot-tempered and driven cop who also has the martial arts and acrobatics prowess to keep himself alive. The film places Inspector Chan in a partnership with Interpol Inspector Jessica Yang, who's hunting down a local drug lord named Chaibat.
"Supercop" is the first "Police Story" entry to not be directed by Chan himself, with Stanley Tong sitting behind the camera instead. Despite that, the action scenes are still fantastic. Not only are both actors showcasing tight martial arts choreography, but they're also doing their own stunts. This adds a heightened sense of danger and tension to the action, like when Chan hangs off a helicopter on a rope ladder as it flies over the cityscape of Kuala Lumpur.
Prior to that scene though, there's a car chase through the streets, with the tenacious Jessica Yang hanging off a moving van.
The ultimate trust fall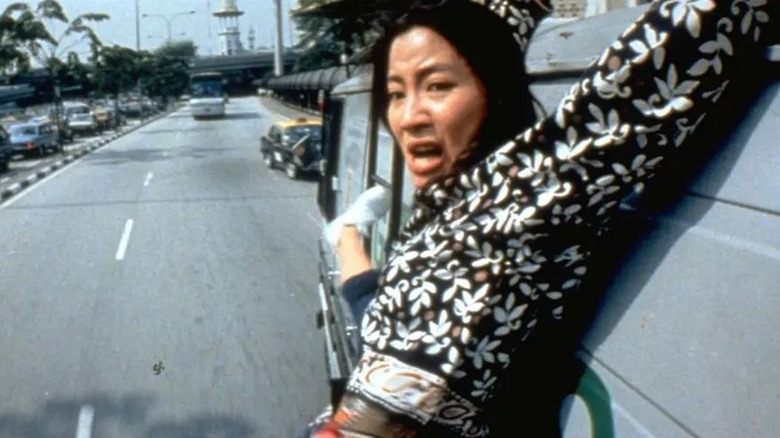 Miramax
The scene in question has Yang holding onto the van containing their target, while Inspector Chan races behind them in a red sports car. Yang is holding on for dear life as the van careens through traffic, sometimes with only a single arm on the van. She also has to dodge other cars and even a bus to stay alive. The culmination of the scene sees Yang jump off the van onto a moving car driven by Chan. Once she lands on the hood of the car, it breaks, throwing her into the street.
It's one of the craziest stunts in a Jackie Chan film and Yeoh does the entire thing herself. No stunt double and no visible wires. The danger was real and in a recent interview with Entertainment Weekly, Yeoh admitted that the stunt almost killed her.
"In Asia at that time, we don't really do rehearsals, we don't have weeks of preparation. We learn the stunt and we do it. So you park the [truck] and Jackie's car next to each other and you look at it and it's about a six-foot fall, it's not much, and you think, 'I could do this.' But once the two cars are moving you go, 'oh, wow, this is a completely different experience. I'm not standing still, the car isn't, nothing is still.' I don't know whether it was crazy, a moment of insanity, [but] the thought that went through my head was, you're never going to know how it feels until you try it."
It takes two ... takes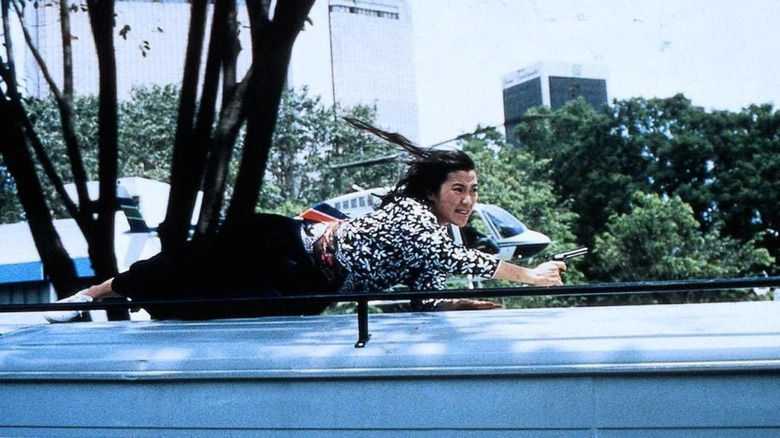 Miramax
Yeoh recalls that the first time the crew tried the stunt, it didn't go so well. She jumped off the van and hit the car, but the windshield was supposed to shatter and slow her momentum a bit. Instead, it didn't, giving her nothing to hold onto. So she slid right off the car. It was enough that Chan himself almost called off the stunt.
"Then I hear Jackie. He was like, 'Okay, okay, that's it! Enough! We are finished for the day! We're not doing anymore! This is stupid! This is ridiculous! We're not doing it!'" she explained.
Instead, Yeoh got back up and convinced Chan and director Stanley Tong to try again. "Stanley and I go back a long way [to] when he was a stuntman," added Yeoh. "So he understands the level of who I am and what I can and am willing to do. So we went up and got it in the next take."
Luckily, Yeoh not only survived the stunt, but she went on to have a long career. And that's why you can catch her doing her amazing work in "Everything Everywhere All at Once." And maybe go watch "Supercop," which is available to stream for free on Pluto TV.