Everything Everywhere All At Once Wasted No Time Getting Weird With Its Stars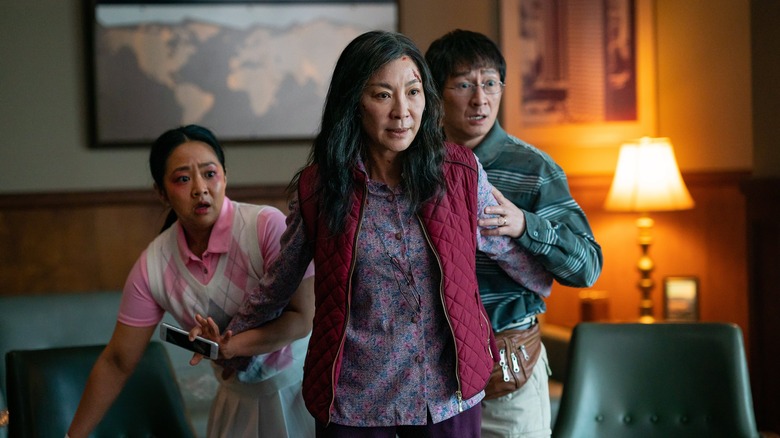 A24
When you hear that "Everything Everywhere All At Once" is a weird movie, that's putting it lightly. The latest project from the filmmaking duo behind "Swiss Army Man" known as Daniels is absolutely bonkers and completely absurd. However, underneath all the madness that comes with a multiverse filled with different versions of Michelle Yeoh trying to save the world, you get a truly perfect sci-fi action comedy vessel for a heartwarming story about generational trauma in an immigrant family. 
Part of the reason why this works so well is the commitment from the cast. And though they knew what they were signing up for when they read the script, I don't think anyone can truly be prepared to wield a pair of massive dildos against a cinematic legend on the day that cameras are supposed to roll.
Cock of the walk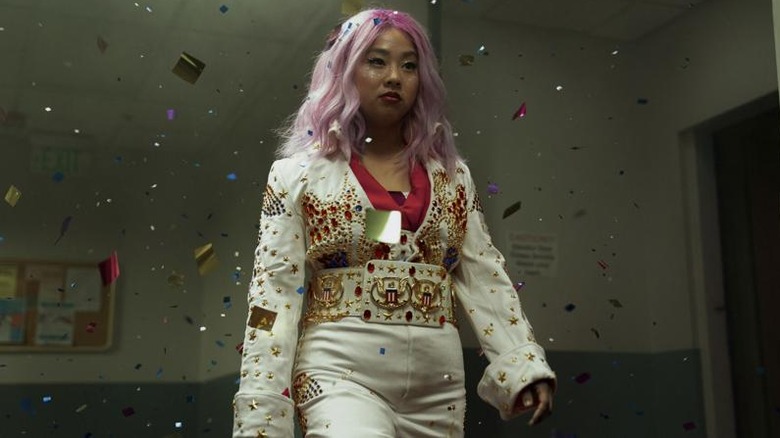 A24
In an interview with the Los Angeles Times, Stephanie Hsu of "The Marvelous Mrs. Maisel" fame discussed one of the first times she met co-star Michelle Yeoh on set. Having worked with Daniels before on "Nora From Queens," Hsu was unphased by their humor, which included butt plugs, dildos, and hot dog hands this time around. But growing up as a fan of Yeoh, it's understandable that she was a bit intimidated by the star known for her roles in "Crouching Tiger, Hidden Dragon," "Crazy Rich Asians," and "Shang-Chi and the Legend of the Ten Rings," among many others. And rather than easing into the wild world of "Everything Everywhere" with a more straightforward scene between Hsu's Joy and Yeoh's Evelyn, it turns out that they had to break out some comically large artificial penises for the introduction of Joy's nihilistic multiversal counterpart, Jobu Topaki.
"One of the first scenes we shot was the introduction of Jobu in the hallway — the 'swinging dildo' scene. That was an audition scene, so I had done it with [the directors] and they would often give me the direction, 'Now, just blow it up! Do anything you want in front of us.' They had seen me be crazy, but Michelle had never, ever seen me be crazy before and I was so nervous because, oh my God, Michelle Yeoh is a legend. My mom loves her.

"Michelle's very silly and loving and humble, but she plays all these incredibly put-together characters. So I told the Daniels, on the day of the hallway scene, can you announce it to everybody, 'OK! Stephanie's going to be crazy now!' because I don't want to scare Michelle. I was nervous to get weird in front of her. But I was lucky to learn that she is also such a little weirdo. I think if anyone's swinging dildos at you, you're going to have a certain kind of response. But Michelle was so supportive ... like, 'Throw it at me. Give it to me.' And I felt so lucky for that to be one of the first scenes that we had together. [Pausing] It could have gone horribly wrong."
While this is all very funny and actually kinda sweet, Yeoh's next comment is even funnier. As the interview continued, she said (in what I imagine as a matter-of-fact motherly tone), "I wasn't prepared for such big dildos. Like, what the heck? Please be careful you don't hit yourself!"
So yes, just insanely weird every step of the way. Yet, I'd say that this movie is well worth the watch and probably one of the most important Asian-American movies ever made. There's so much that audiences can take away from it if they just give it a chance. Luckily, you can experience it for yourself when "Everything Everywhere All At Once" starring Michelle Yeoh, Ke Huy Quan, Stephanie Hsu, James Hong, and Jamie Lee Curtis hits theaters nationwide on April 8, 2022.