Beavis And Butt-Head Do The Universe Trailer: The World's Dumbest Duo Are Back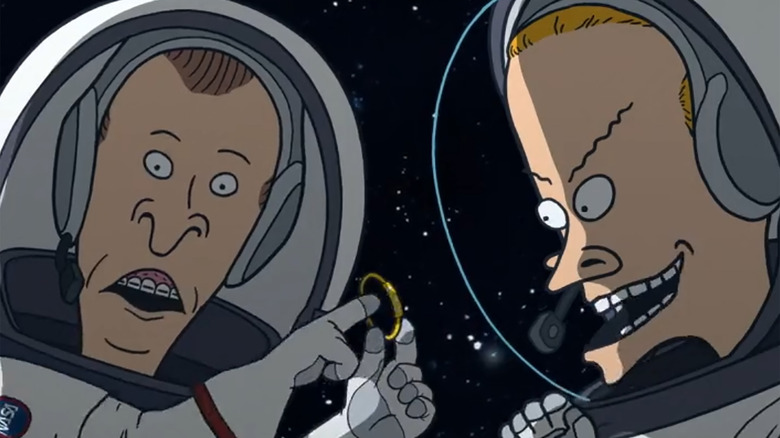 Paramount
Earth's two biggest giggling cartoon morons are about to go where no two-dimensional doofus has gone before, because Paramount+ has released a trailer for "Beavis and Butt-Head Do the Universe." While there has been talk of a sequel to the 1996 film "Beavis and Butt-Head Do America" for awhile now, the trailer presents something wildly different than anything we've heard before. Previously, creator Mike Judge had shared some drawings of an older Beavis and Butt-Head, and there was talk of a live-action version, but now the boys are simply ... heading to outer space?! While there are plenty of idiots I wish we could launch into the sun, these boneheaded boys aren't among them, so it will be wild to see what they get up to once they leave the atmosphere. 
The movie will premiere exclusively on Paramount+ on Thursday, June 23, 2022. Fans of the series will also be stoked to discover that the entire library of more than 200 remastered "Beavis and Butt-Head" episodes will also be made available to stream exclusively on the service, along with a new series coming later this year. But for now, you can check out the trailer for their new movie.
Beavis and Butt-Head Do the Universe Trailer
Here's the official synopsis from a press release:
A tale that technically spans two centuries, "Beavis and Butt-Head Do The Universe" promises to sit atop all future lists of the Dumbest Science Fiction Movies Ever Made. The saga begins when Beavis and Butt-Head wind up at space camp through "creative sentencing" from a juvenile court judge in 1998. Mistaking a docking simulator for something else (huh huh), Beavis and Butt-Head excel at it and are asked to join the space shuttle mission in a PR move. After ruining the mission, they are left for dead in space and end up going through a black hole and reemerging back on Earth in 2022, only to discover a very different world – and find themselves considered Buttholes of Interest by the NSA, the governor of Texas, and a highly intelligent version of themselves from a parallel universe. Also they almost lose their virginity, but don't.
The film will feature the voices of Judge, Gary Cole, Chris Diamantopoulos, Nat Faxon, Brian Huskey, Chi McBride, Tig Notaro, Stephen Root, Andrea Savage, Martin Starr and Jimmy O. Yang, and an exclusive peek at the movie will air during the 2022 MTV Movie & TV Awards airing live on Sunday, June 5, at 8 P.M. ET/PT. 
The original "Beavis and Butt-Head" series aired on MTV from 1993 through 1997 and skewered suburbia, popular culture, and crass commercialism. Despite having two of the dumbest protagonists ever, the series itself was surprisingly smart and inspired two successful spin-offs, "Daria" and "King of the Hill." 
Check out "Beavis and Butt-Head Do The Universe" when it hits Paramount+ on June 23, 2022, and make sure you keep plenty of TP around... you never know when Cornholio might show up.