Anything's Possible Trailer: Prepare To Fall In Love With Billy Porter's Joyful Directorial Debut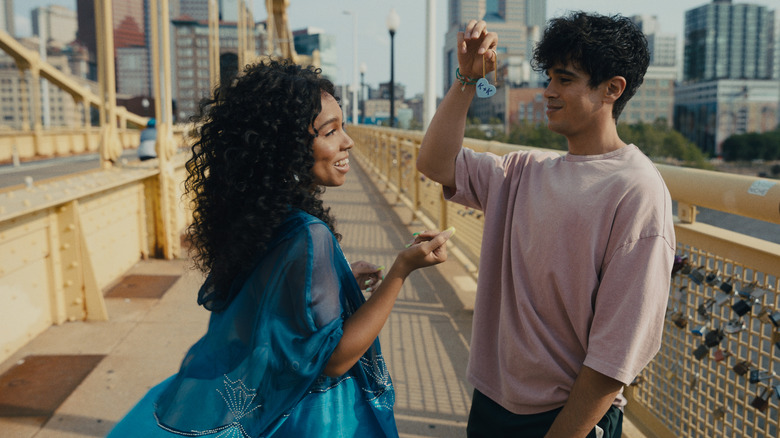 Prime Video
Billy Porter is stepping behind the camera to bring us a love story from his heart and soul — which is no big surprise for anyone who has ever seen him shine on stage or on screen. Porter is known for pouring emotion into every performance, a talent that regularly saw him heralded for the role of Pray Tell on FX's "Pose." But this time around, he's found a new way to channel that love by telling a story about two blushing teens and their budding love, trying to survive the dramas of high school with their hearts intact. Billy Porter's directorial debut, "Anything's Possible," is a Prime Video original, set to arrive in July 2022. The coming-of-age tale has previously been compared to the likes of "Superbad" and "Booksmart" but dubbed a modern Gen-Z romance.
If all this sounds vaguely familiar but the title is throwing you off, it's probably because the upcoming film has gone through a few title changes. Previously known as "What If?" and "To Be Real," Porter's directorial debut has found a suitably joyful title in "Anything's Possible." In true high school fashion, the teens at the center of this story begin to feel the truth of that statement when they fall for one another and discover that their mutual crush has all the makings of an epic young love story. You can see it for yourself in the trailer below!
Anything's Possible trailer
Portrait painting, puppy love, and first dates — "Anything's Possible" already looks too cute to handle. The film stars follow Kelsa (Eva Reign), a trans high school senior, and her crush Khal (Abubakr Ali), as they navigate the beginnings of young love that has the potential to be so much more. Their journey won't be without a few obstacles — we see hints of high school drama and shaken confidence, but given the way they look at each other and the palpable sparks when their arms brush together, I have a feeling things will work out for the better. After a couple of weeks spent swooning over "Heartstopper," the call for joyful LGBTQ+ stories should be louder and clearer than ever, but Billy Porter got the message long before Netflix's hit YA love story even premiered. Porter has described "Anything's Possible" as everything from "aspirational" to "a fairytale." It's a look at romance across the rainbow spectrum that puts joy front and center.
Ironically, "Anything's Possible" was once expected to star Yasmin Finney, who was cast before her star officially launched with "Heartstopper." Finney ended up dropping out of the project due to Covid-related work visa complications but this allowed actress, artist, and activist Eva Reign to step into the spotlight as Kelsa. Reign previously starred in the web series "Sideways Smile" and takes the lead of this story with Abubakr Ali ("Ghost," "The Walking Dead: World Beyond"). The film also stars Renee Elise Goldsberry ("Hamilton") as Kelsa's mom.
"Anything's Possible" arrives on Prime Video on July 22, 2022.
Anything's Possible is a delightfully modern coming-of-age story that follows Kelsa, a confident high school girl who is trans, as she navigates through senior year. When her classmate Khal gets a crush on her, he musters up the courage to ask her out, despite the drama he knows it could cause. What transpires is a romance that showcases the joy, tenderness, and pain of young love.