Why Top Gun: Maverick Didn't Use Kenny Loggins' Danger Zone Remake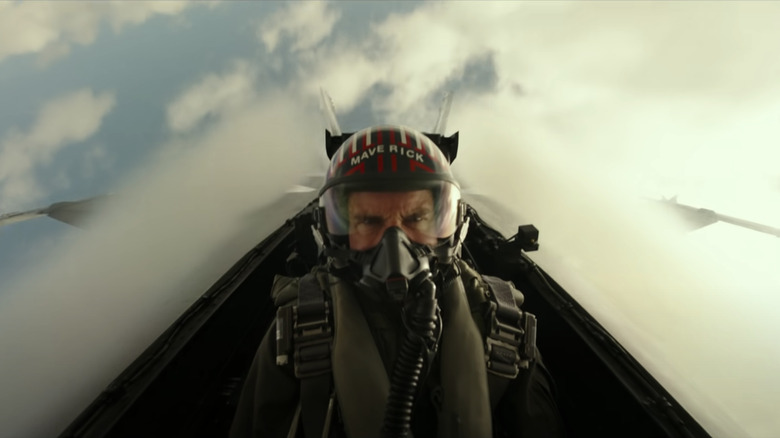 Paramount
Back in the 1980s, songs that were written specifically for movies often became gigantic hit singles. Movie soundtracks were a truly viable enterprise at the time, and songs like "(I've Had) The Time of My Life" from "Dirty Dancing" and "Flashdance ... What a Feeling" from "Flashdance" could top the Billboard Hot 100. We occasionally get a "Shallow" from "A Star Is Born," but these only happen once in a blue moon. In the '80s, it was commonplace, and nobody dominated the movie song game like Kenny Loggins.
Before he became a staple of cinematic music, Loggins made his name in the soft rock duo Loggins and Messina with songs like "Your Mama Don't Dance." They were never the biggest act in the world, but they had a few singles that really connected. If you ask your mom about Loggins and Messina, she will unquestionably tell you that she loves them, as my own mom does. But then in 1980, he writes a little ditty called "I'm Alright" for the golf comedy "Caddyshack," a huge hit song that peaks at seven on the charts. A couple of years later, he writes the titular song from "Footloose," which hits the top of the charts. Then, he performs the Giorgio Moroder and Tom Whitlock penned song "Danger Zone" for "Top Gun" that reaches #2 on the Hot 100.
"Danger Zone" is exactly the right brand of cheeseball rock song that would only make sense in the equally cheeseball "Top Gun." You honestly cannot imagine the movie without it. So, when it came time to make "Top Gun: Maverick," it was a given that the song be included on the soundtrack. It's a requirement. Kenny Loggins was prepared to do an updated version of the song for the sequel, but director Joseph Kosinski wanted the classic.
Using the original to set up the new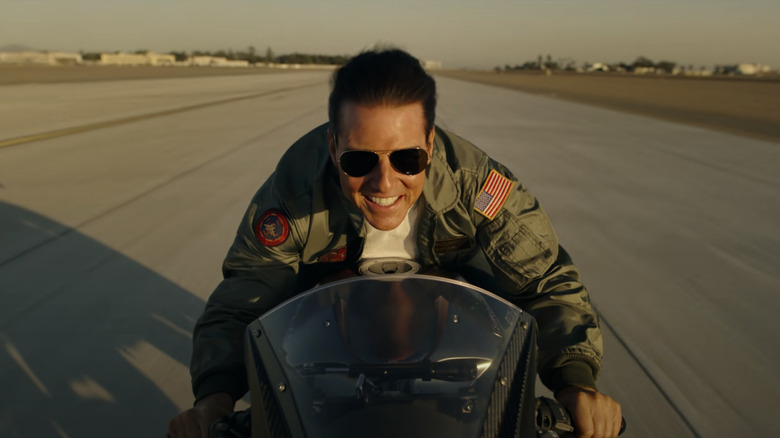 Paramount
The opening of "Top Gun: Maverick" is where we find "Danger Zone." It's a rip-roaring opening title sequence of planes landing and taking off from an aircraft carrier. In Dolby, I felt like the sound was blowing my hair backwards. Not only does it give you a jolt of pure energy, it acts as a nice way to settle into this new chapter, a way of saying, "Yes, it is still the 'Top Gun' you know and love." 
Talking with Variety, Kenny Loggins explained why he would have been happy to do a new version of the classic song but understood why the filmmakers felt that was not the best decision:
"No, I tried to do a re-recording where it was sounded, if not exactly like the original, as close as possible — but with better audio and sounds. Because that was 36 years ago and the audio had only gone so far. But he wanted the original vibe that song had. It was recorded at Musicland Studios so it was well-recorded, but it would have had a lot more punch if I could have done it in 5.0 But that said, he wanted to keep it reminiscent of the first 'Top Gun' and set that mood right from the beginning."
Joseph Kosinski essentially uses "Danger Zone" purely as tone setting. Had it been this revamped version that sounds somewhat familiar yet slightly different, something would feel a little bit off when the film is trying to thrust you straight back into the world of "Top Gun." Also, using modern techniques for recording might clash with the actual new song for the film, Lady Gaga's "Hold My Hand," which they want to stand on its own two feet. 
However, Loggins did record another song.
Playing with the boys (and girls)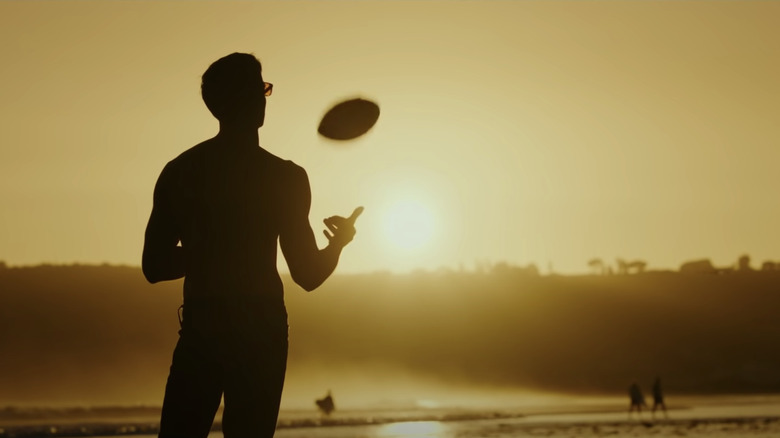 Paramount
"Danger Zone" was not the only song Kenny Loggins worked on for the original "Top Gun." He also co-wrote and performed "Playing with the Boys," which plays during the infamous scene where all the pilots play beach volleyball together. "Top Gun: Maverick" features its own version of this scene, where they play a version of beach football in which both teams play offense and defense simultaneously. When coming up with this scene, the first instinct was to use "Playing with the Boys" again, and Joseph Kosinski approached Loggins about a new version that would be inclusive to the female pilots in the picture. He recorded it, but ultimately, they passed on the song. As Loggins put it:
"[H]e wanted to try a remake of "Playing with the Boys" because now there are female pilots. So, I did a duet with Butterfly Boucher, who's an Australian punk rocker, but it didn't fit the movie. It's out there streaming ... somewhere."
I don't know why Loggins sounds so mysterious about its whereabouts. You can easily access it on Spotify or wherever you listen to music. Listening to it, I am glad they decided against using it. The new recording flattens out the sound, totally missing the punch that the 1980s excess gives you. Plus, the football sequence happens fairly late in the movie, and we have been invested in all these new characters by this point. Having us ripped out of that and into something purely nostalgic would be distracting. We already know the scene itself is an homage. Playing the song would be a hat on top of a hat. I love Kenny Loggins' music for soundtracks, but on both accounts here, I think Joseph Kosinski and Tom Cruise made the right calls.