The Life Aquatic With Steve Zissou Actors Went Through More Training Than You Might Expect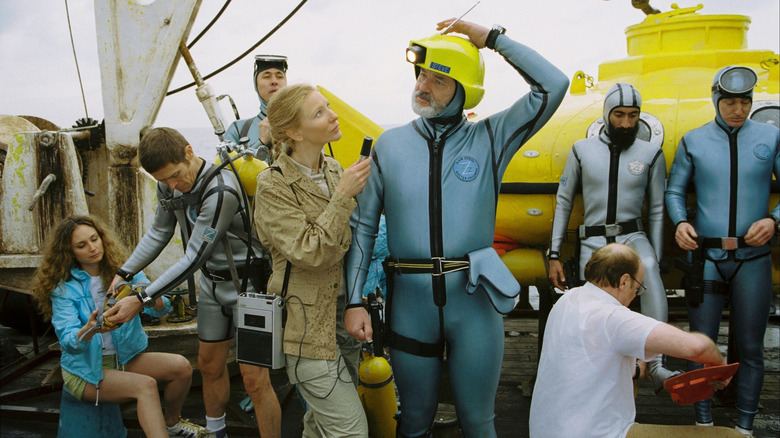 Walt Disney Studios Motion Pictures
Wes Anderson's films may be playful, but that doesn't mean they don't cost the cast and crew plenty of blood, sweat, and tears. "The Life Aquatic with Steve Zissou" is no exception. In fact, his 2005 Berlinale entry may have been the most demanding shoot anyone on set had ever taken part in. The choice to shoot on location rather than soundstages required an intense commitment from the actors and director, who had to be trained for life at sea.
"The Life Aquatic" stars Bill Murray as the titular protagonist, an eccentric oceanographer-documentarian at a lull in his career. He sets out in search of an elusive and formidable sea creature responsible for the death of a member of his crew. Zissou brings with him a fan who claims to be his son, played by frequent Anderson collaborator Owen Wilson, and a journalist, played by Cate Blanchett. What follows is an odyssey of trials and tribulations that finds its central characters on a journey that is just as emotional as it is physical.
Anderson told Criterion he was forewarned prior to the shoot to tell "a different sort of story" and not to "go film this movie on boats." In hindsight, the director admits "they were right, it turns out." Filming boats in the ocean created huge logistical issues that would sometimes cost entire days of shooting. The conditions were not only financially draining, but also exhaustive on the cast and crew. Luckily, they had a bit of help going into it.
Conditions and preparation were intense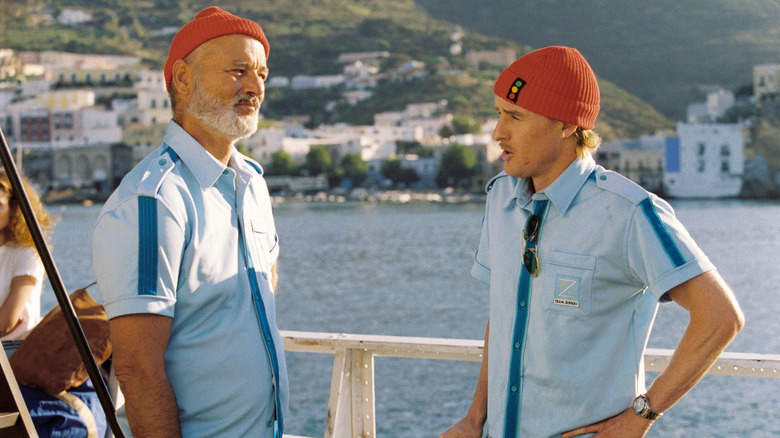 Walt Disney Studios Motion Pictures
Wes Anderson revealed during a Berlinale press conference that he and the rest of the cast and crew "learned how to dive a little bit" prior to shooting. The actors did even more intensive training, which continued throughout the length of the project. The director says he "learned a lot about being at sea, which can be hard, but it's very beautiful." This rings true in the film itself, both diegetically and behind the scenes. In a sense, the sea was its own character in the film, one the other actors had to practice with in order to grow comfortable. There's no question, though, that the sea is more unforgiving than the worst of divas.
Although the cast of "The Life Aquatic" included huge talents like Jeff Goldblum and Anjelica Huston, the shoot still took a toll on even the most seasoned of cast members. Bill Murray described the grueling conditions in an interview with Criterion, claiming to have developed a "bone chill" that lasted for months. This is not to say the actors didn't enjoy themselves. Willem Dafoe was so excited to work with Bill Murray and the other actors that it "didn't feel like a job" at all.
In the end, a beautiful film was produced and bittersweet memories were made. The film was definitely a learning experience for the director, who has since gone on to have years of continued success in his career. "The Life Aquatic" flopped at the box office and received mixed reviews from critics but has since developed a cult following among Anderson's fans. This is no accident: Every person on the team undoubtedly poured their heart and soul into the project, and everyone who loves Anderson for his ironic wit, dynamic characters, and quirky visuals can find something to love about "The Life Aquatic."