How The Production Of Attack Of The Clones Was Changed By Digital Filmmaking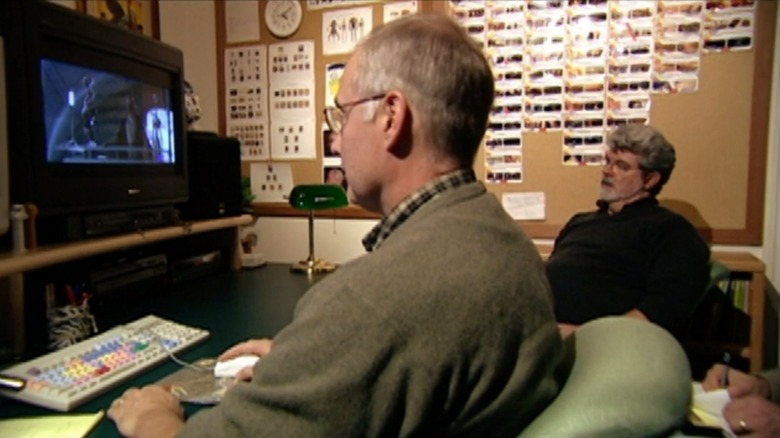 Disney+
Star Wars Celebration may be over, bringing an end to this year's joyous gathering of all the biggest "Star Wars" fans with many of the most talented artists either currently working on projects or who've done so in years past — but some of the most fascinating nuggets of information are still trickling in. Of the many panels featured throughout the sprawling event held in Anaheim, California (although next year's convention will shift locales across the pond to the UK), one of the most hotly anticipated ones involved celebrating the 20th anniversary of "Attack of the Clones." Though commonly regarded as one of the worst movies in the franchise, the prequel era as a whole has enjoyed something of a resurgence of late among fans who grew up with those films as their gateway into the beloved property.
The 20th-anniversary panel was hosted by Ashley Eckstein (the original voice actor of Ahsoka Tano from the animated shows) and included various talent such as actors Anthony Daniels, Temuera Morrison, and Daniel Logan, art director Doug Chiang, supervising sound editor Matthew Wood from Skywalker Sound, and visual effects supervisor and ILM chief creative officer John Knoll. Even "Obi-Wan Kenobi" stars Ewan McGregor and Hayden Christensen made surprise appearances later on in the extensive panel to the delight of all those in attendance. But chief among the topics of conversation was the widespread influence of "Attack of the Clones" in terms of its production process.
We recently covered how the Geonosis arena sequence in particular proved challenging in several ways, with Knoll also opening up about how significant of a role digital filmmaking played in completing "Episode II."
'I was pretty enthusiastic about the whole idea of switching to digital cinema'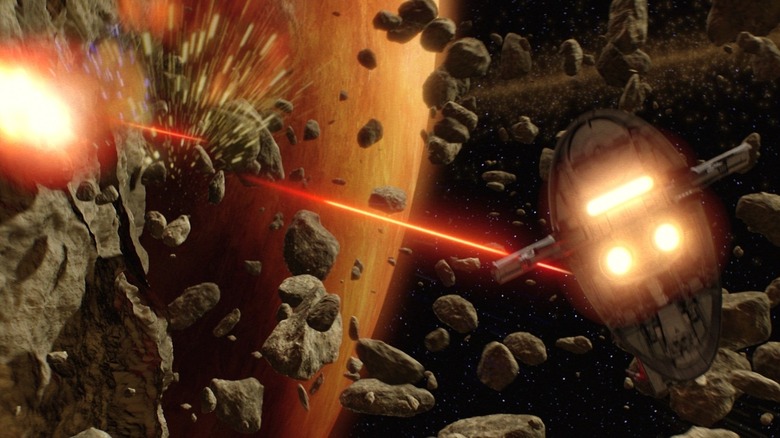 Lucasfilm
There's something to be said for how director George Lucas managed to completely revolutionize the moviemaking industry — not just once, but twice. Where the original "Star Wars" set the template for practical and special effects in transporting audiences to never-before-seen worlds, his prequel trilogy similarly proved to be a game-changer in terms of ushering filmmakers into a new digital age. Digital cameras and sharper resolutions completely altered the way that movies were made, with "Attack of the Clones" serving as ground zero for this technique. As John Knoll explained,
"We've been working with digital images for quite a while, at that point. It's just that they originated on film when we scanned them. But as soon as they were scanned, the process was identical. And in the still photography world, digital cameras were already a thing. And they were starting to be better and better and pretty competitive with film cameras — and better, in some ways. So I was pretty enthusiastic about the whole idea of switching to digital cinema for shooting."
As much flak as Lucas gets for many of his choices regarding the prequels, it certainly seems apparent that many of his crew were on board with his radically different approach to "Attack of the Clones." Even despite criticisms that the prequels retread old ground ad nauseam, it's equally true that they took a giant step forward in pioneering new ways to craft these movies.
'Everybody had to fine-tune their craft'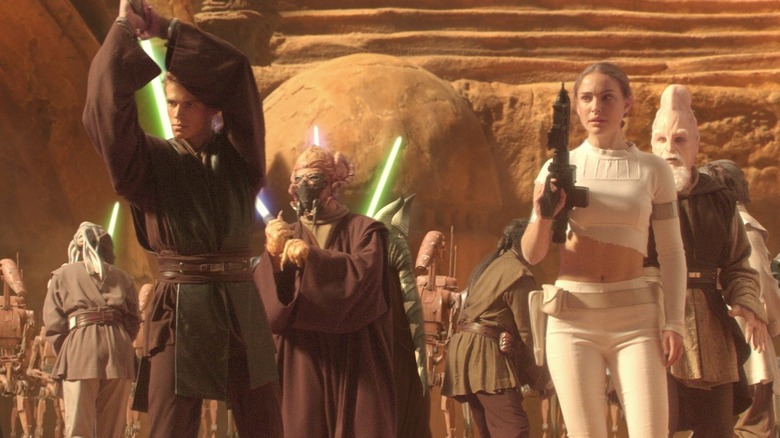 Lucasfilm
As with any ambitious production, the creative team behind "Attack of the Clones" quickly realized just how much the digital process would force necessary adjustments on their end, as well. Where the charming, throwback aesthetics of film grain also had the added bonus of covering up minute shortcomings in set and production design or makeup effects, digital cameras proved to be an entirely different beast altogether with their much clearer resolution ... even if that proved somewhat counterintuitive. As Knoll went on to detail,
"In theory, [digital is] lower resolution than film. But one of the things that we discovered was that you could see things more clearly with the digital cameras, even given that technically it was lower resolution. The first day, we were shooting a close-up of Palpatine in the Senate and it was a head-and-shoulders type of shot on the monitor. We pulled the make-up people over and we were all looking at the image on the screen thinking, 'This is like doing an ultra close-up.'

So everybody had to fine-tune their craft based on how the imagery was being seen. Art department had to put a little more attention to small details into the set pieces, because you could see faux finishes on sets. We had to put more detail into the models, because you could see all that with the digital cameras in a way you couldn't on film.
While the creative legacy of "Attack of the Clones" may remain decidedly mixed, its effect on digital filmmaking as a whole will continue to reverberate for decades to come. Revisit the maligned prequels with this in mind, and you might just find yourself appreciating them like never before.