The Battle Of Geonosis In Attack Of The Clones Was Quite A Production Challenge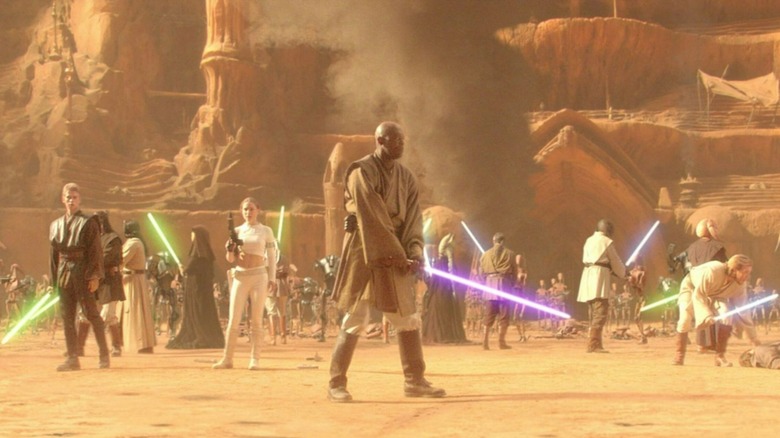 Lucasfilm
Few ongoing franchises could hope to have as much history and legacy to support annual conventions, where fans and artists can come together and learn brand-new tidbits about any and all facets of their favorite movies. "Star Wars," to put it mildly, is simply on another level when it comes to these sorts of events. Star Wars Celebration 2021 ended up delivering everything those in attendance could've wanted (and then some), debuting new footage for "The Mandalorian" and "Ahsoka" along with plenty of behind-the-scenes panels with many of the living legends involved. Whether it's getting the chance to hear actors like Temuera Morrison explain the origins of randomly improvised lines of dialogue that have taken on a life of their own or wandering the various exhibits packed with many of the gorgeous costumes featured in movies and shows, as /Film's Bryan Young can personally attest to, there's something for everyone at Star Wars Celebration.
To state the obvious, it's not every day that fans have the opportunity to listen to accomplished talent talk candidly about their craft in such a setting. But when it comes to a visual effects supervisor as universally respected as John Knoll (who is also chief creative officer of Industrial Light & Magic), the opportunity to learn even more about what went into creating the genuinely groundbreaking digital effects for a movie like "Attack of the Clones" is simply too good to pass up. Thankfully, /Film's Ethan Anderton felt the same way and was on-site for the special "Attack of the Clones" 20th anniversary panel, where Knoll talked about the tricky logistics of bringing the famous Geonosis arena set piece to life.
'There isn't enough time to get that done'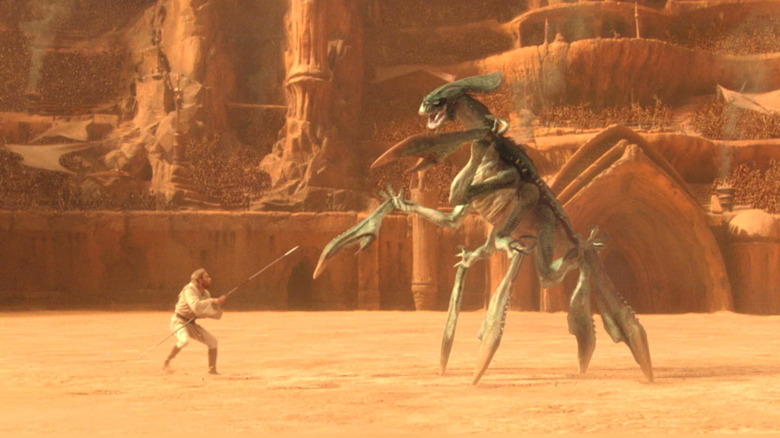 Lucasfilm
VFX artists might be some of the most underappreciated and overlooked talent in the entire industry, particularly when considering the responsibility they have in fulfilling a director and a studio's overall vision for any given movie. Regardless of one's personal opinion of the film, 2002's "Attack of the Clones" holds a special place in Hollywood history for director George Lucas pioneering the use of digital filmmaking, which has since become the status quo. A large part of that came about as a result of the "Star Wars" visionary's specific goal in mind with the visual effects work.
John Knoll certainly knows this better than most. When asked about his favorite and most memorable example of digital effects during the production, he immediately singled out one set piece in particular:
"The Geonosis arena was really a fun one. There was sort of an unfortunate side-effect by electing to want to do that with miniatures. That sequence sort of grew and was a little bigger than what I'd expected, but I'd already committed to building those miniatures for the whole thing. And we got the cut, it was 300 shots or something. When you're shooting an element like this, you can shoot about 2 elements a day. And when you think about 300 shots and 2 elements a day, there isn't enough time to get that done in a post-production period."
Combine impossibly complex VFX work with a terribly compressed schedule, and it's a miracle that the entire sequence looks even half as thrilling and fully realized as it does.
'I had to have crews running day and night'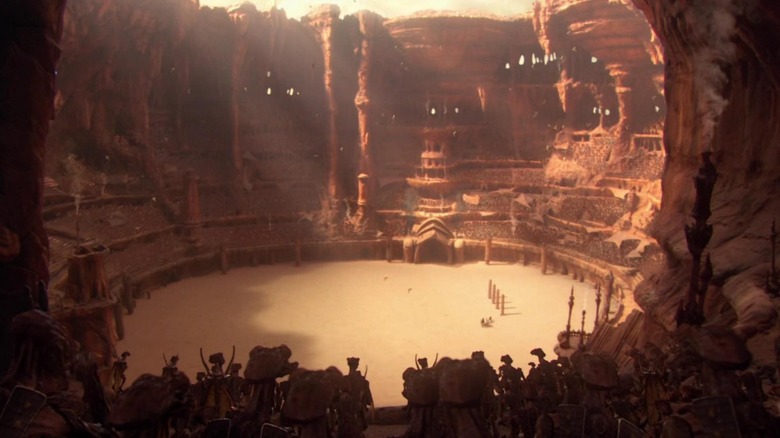 Lucasfilm
In order to accomplish one of the most dazzling experiences on the big screen in franchise history, an unimaginable amount of blood, sweat, and tears went into this one sequence alone. The creatures that Obi-Wan Kenobi, Anakin Skywalker, and Padme Amidala have to fend off in the gladiatorial arena would've been enough to pose a unique challenge for ILM, but the endless see of gawking onlookers in the stands, the last-minute arrival of all the other Jedi, and the extended battle sequence that follows are more than enough to send one's head spinning. At least part of this feat was accomplished through the use of miniatures, which Knoll explained further:

"We had built the miniature in 45-degree pine wedges, so it could be taken apart for camera access. But what we ended up doing, was we took all the shots that were look at this direction and gave that to one crew, but had another crew shooting the other direction, and then we had a third crew shooting on one of those at night. So, I had to have crews running day and night to be able to shoot all the elements of this."
Every single artist who contributed to this film can hang their hats on the fact that we're all still discussing it 20 years later. That's the kind of legacy that Star Wars Celebration keeps alive among multiple generations of fans, even those of us who've perhaps become spoiled by the advances in VFX technology in the years since.