First Ahsoka Footage Teases The Search For Ezra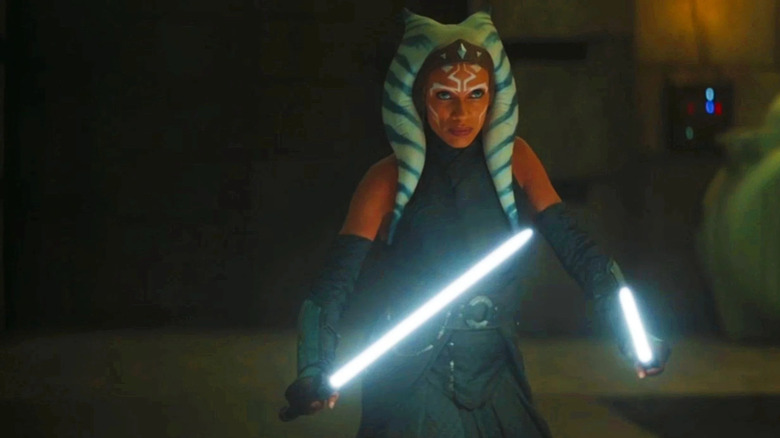 Lucasfilm
"Star Wars" Celebration is the gift that keeps on giving, and the latest tithings put Ahsoka Tano front and center. Ever since her live-action debut in the second season of "The Mandalorian," the hype for her solo outing has been building fast. The show is piloted by "Star Wars" fan, historian, and Ahsoka co-creator, Dave Filoni, and is set to bring Rosario Dawson back in the titular role. While the series has already begun production, Lucasfilm has been tightlipped about what exactly Ahsoka's latest adventure would entail — including what time period it will take place in. Luckily, her appearance in "The Mandalorian" offered a pretty huge hint — Ahsoka will be continuing her hunt for Grand Admiral Thrawn in the hopes of finding Ezra Bridger. Since Lucafilm can only keeps its secrets for so long, the Saturday "Ahsoka" panel finally offered fans a brief but exclusive look at what's to come. A mere 30-seconds of footage was screened, but Filoni teased that it offers clues of what's to come.
First Footage of Ahsoka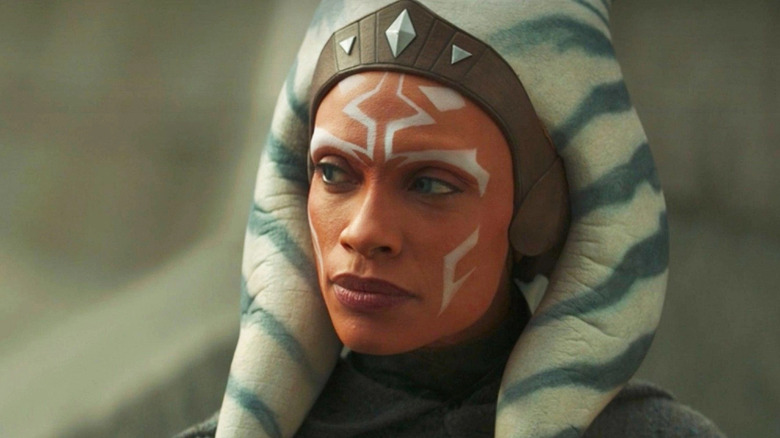 Lucasfilm
Filoni wasn't kidding — fans of Ahsoka's time in "Star Wars: The Clone Wars" and "Star Wars: Rebels" will be thrilled to learn that some familiar folks were featured in the teaser for Ahsoka. The footage confirms the return of Hera Syndulla and Sabine Wren, now in live-action glory! In the footage, Ahsoka is seen walking into a ship's cockpit and activating it. She's also seen walking down a path with ripples of wind blowing and sand swirling. She's then joined by Hera Syndulla, the green Twi-lek and revolutionary known from her time in "Rebels." She's seen from behind, walking to the same ship as Ahsoka, but her face is never revealed — likely because the casting for live-action Hera has yet to be revealed.
Two familiar characters can be spotted in the sneak peek: Ezra and Sabine Wren, whose faces are painted on a wall that Sabine is shown gazing up at. It's a live-action version of the Ghost crew mural and the footage ends there. Last year, Natasha Liu Bordizzo ("The Society") was announced to star as Sabine Wren, starring alongside Dawson, which marks the character's live-action debut after only appearing in "Rebels." She was last seen in the finale, heading out with Ahsoka to search the far regions of space for Ezra. Natasha Liu joined her castmates onstage at the "Star Wars" Celebration Saturday panel and teased, "I think you guys are going to be really excited about the journey she's about to have." Along with Dawson and Bordizzo, Ivanna Sakhno and Mary Elizabeth Winstead star in still undisclosed roles, and Ray Stevenson will appear as a "villainous admiral."
"Ahsoka" will hit Disney+ sometime in 2023.