The Morning Watch: The Action Of Everything Everywhere All At Once, Stranger Things Recap Rap & More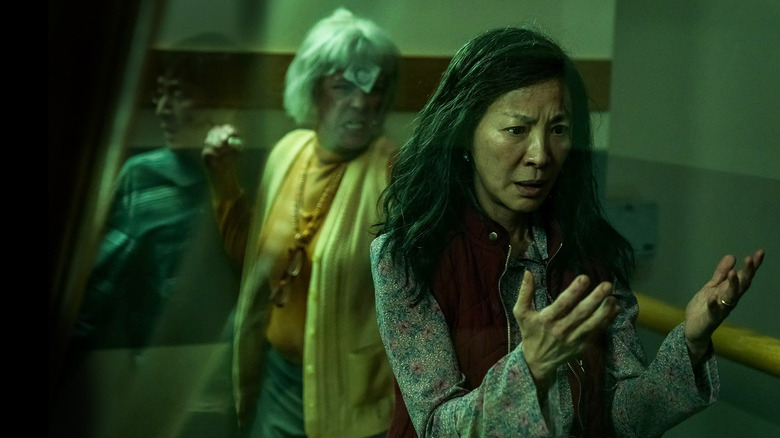 A24
(The Morning Watch is a recurring feature that highlights a handful of noteworthy videos from around the web. They could be video essays, fan-made productions, featurettes, short films, hilarious sketches, or just anything that has to do with our favorite movies and TV shows.)
In this edition, feast your eyes on this breakdown of how all of the remarkable fight scenes in "Everything Everywhere All At Once" were brought to fruition. Plus, the cast of "Stranger Things" joins Jimmy Fallon to give a recap of everything that's happened leading up to the premiere of season 4, performed as a rap, because of course it is. And finally, Seth MacFarlane of "Family Guy" and "The Orville" fame sits down to answer the most common questions asked about him on Google.
'I'm learning to fight like you'
Hollywood has developed a nasty habit of showcasing fight scenes by cramming fast edits to give the impression of heightened action, but "Everything Everywhere All At Once" directors Daniel Kwan and Daniel Scheinert (credited collectively as "Daniels") chose to film their sequences like classic martial arts movies, and let the physicality serve as the storyteller. 
Insider spoke with stunt coordinator Timothy Eulich and fight choreographers Andy and Brian Le to break down how the movie's most impressive action sequences were brought to life. Wire work (or Wire Fu, as it is commonly called) was utilized to allow Jamie Lee Curtis to perform a flying knee, or showcase the strength of Michelle Yeoh's pinky finger as her targets fly across the room. Brian and Andy Le also appear in many of the fight scenes, with the brothers serving as the assailants during the trophy fight, which also utilized wires for the impressive body movements.
 You may also be thrilled to learn that during the fanny pack fight, Ke Huy Quan did a majority of his own stunts, with Andy stepping in for the more dangerous moments. There's a reason people can't get enough of "Everything Everywhere All At Once," and the fight scenes are just the tip of the iceberg.
Hey DJ, turn this jam up to Eleven
As a wise chipmunk once said, "why do they always have to make them rap?" It's been a few years since we last saw the "Stranger Things" kids in action, and unless you're like me and did a full series rewatch in preparation of the fourth season release, you might have forgotten what the hell happened in Hawkins, Indiana. 
Never fear, the cast of "Stranger Things" appeared on "The Tonight Show Starring Jimmy Fallon" to bring fans up to speed by delivering a recap rap. Priah Ferguson who plays Erica Sinclair has a genuinely nice flow, but the real shock was Maya Hawke, who plays Robin, delivering the rap equivalent of ASMR. It makes sense though, as Hawke is also a musician with a stunning voice. Is there anything she can't do? (Well, outside of the obvious "Robin can't find a girlfriend as a gay teen in the 1980s" issue.)
Why Seth MacFarlane left Family Guy and more
The fine folks over at Wired had Seth MacFarlane stop by to answer some of the most commonly Googled questions about him. Did he work on Johnny Bravo? Yes. Did he draw "Family Guy?" Also yes. The questions start off pretty standard and harmless, but slowly move into the more absurd. "What does Seth MacFarlane look like?" gets a colorful response of "What are you, a f****** idiot?" 
MacFarlane is a skilled comedian in addition to his animation and voiceover work, and his improv skills are on proud display. He critiques the awful grammar people use to ask questions on Google, and he pokes fun at questions like "Is Seth MacFarlane nice?" — but the video is ultimately a sweet insight into the man behind some of the most popular comedy shows of all time.