The Orville: New Horizons Trailer: It's A Good Day To Risk Everything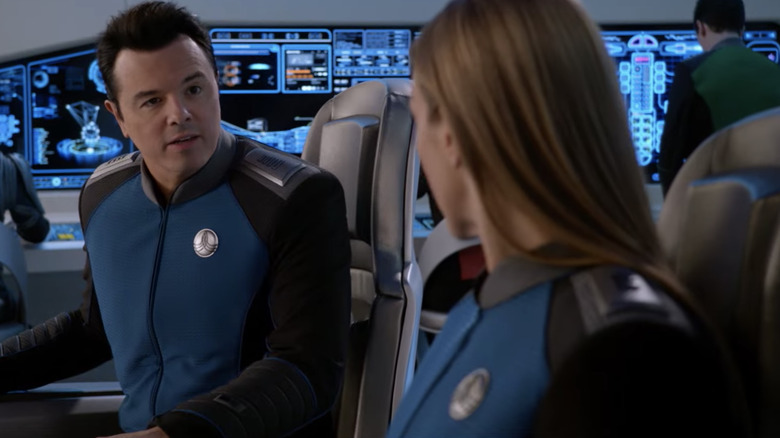 Hulu
Fans of "The Orville" have endured a humbling lesson in patience, but at long last, the wait is finally over. Seth MacFarlane's hilarious sci-fi adventure is returning for a third season, but with a few notable changes: It'll now stream on Hulu instead of airing on Fox, and it's been retitled "The Orville: New Horizons." The series is set 400 years in the future, following the crew of a not-so-top-of-the-line exploratory ship in Earth's interstellar fleet. Basically, the hour-long sci-fi adventure sees a crew comprised of humans and aliens facing the wonders and dangers of outer space, exploring strange new worlds, seeking out life and new civilizations, and boldly giving a fresh spin to a very recognizable premise. If this all sounds a bit familiar, then you're on the right track — "The Orville" is a loving homage and parody of "Star Trek," as a single glance at the crew uniform will reveal. While it started out just poking fun at the beloved franchise, over time it has evolved to a point of embracing and poking fun at the space adventure's tropes.
Back when it aired on Fox, the series ended with a restoration of the original timeline and left fans with a bit of a cliffhanger and an uprising just around the corner. But before "The Orville" could make its grand return, production on the third season was shut down due to the pandemic, and the considerable delay meant filming didn't wrap until August 2021. Now the new season is less than a month away from its premiere date, and Hulu has dropped a new trailer.
Our return is imminent
No proper space epic is complete until an alien species declares, "You will surrender or you will die." But despite the many looming dangers and world-threatening horrors that season 3 will clearly delve into, the extended trailer is packed with earnest, good-humored energy. Series creator Seth MacFarlane is back in the role of Captain Ed Mercer, joined by Adrianne Palicki as Commander Kelly Grayson, Scott Grimes as Lt. Gordon Malloy, and many more. Together, they'll be grappling with the Kaylon uprising and traversing some very dangerous territory with no one but each other to help them through. But no worries — Captain Mercer is keeping spirits high with positivity and a "Star Wars"-themed pep talk.
"The Orville: New Horizons" arrives exclusively to Hulu on June 2, 2022, with new episodes airing weekly on Thursdays. Below is the season 3 poster and official synopsis:
Set 400 years in the future, "The Orville: New Horizons" finds the crew of the U.S.S. Orville continuing their mission of exploration, as they navigate both the mysteries of the universe and the complexities of their own interpersonal relationships.