Akiva Schaffer Used Chip 'N Dale: Rescue Rangers To Do Some MCU Research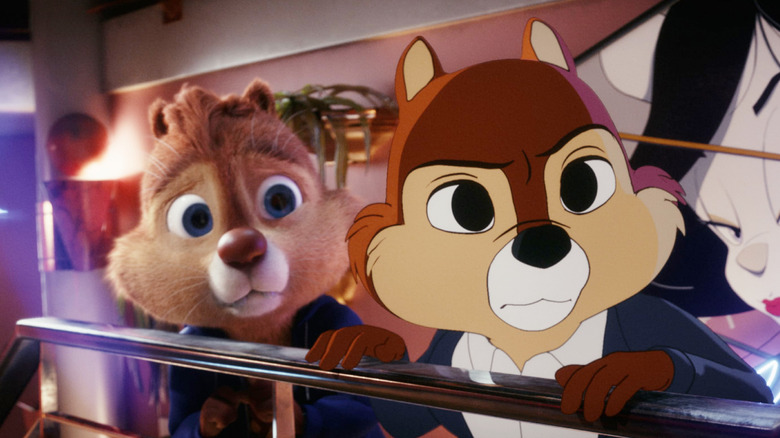 Disney+
There are movie reboots, and then there are movie "reboots." The latter, in this case, refers to film reboots that actively mock their own existence and the idea of reducing art to "IPs" and "content" while also successfully reviving an older franchise in the process. It's a fine needle to thread, and the results can just as easily be shockingly good (2012's "21 Jump Street") as they can be, well, not that (2017's "Baywatch").
Thankfully, director Akiva Schaffer's "Chip 'n Dale: Rescue Rangers" falls into the former of those categories. The film gets its name from the '90s cartoon TV show in which the eponymous chipmunks (first created by Disney in 1943) play detective with the aid of a ragtag team that includes a pair of mice (expert mechanic/pilot Gadget and the adventurous cheese-loving Monterey Jack) and a housefly named Zipper who only speaks in buzzes. In a meta twist, however, Schaffer's movie reboot takes place in a world where flesh-and-blood humans and animated characters live side by side, and the heroes and villains in the "Rescue Rangers" TV series were really just actors playing make-believe.
For as much as the "Rescue Rangers" movie presents itself as a successor to "Who Framed Roger Rabbit" by way of a getting-the-gang-back-together story, it's really a shrewd sendup of the modern animation industry that's unexpectedly intrepid in the way it satirizes Disney. (Although, there is some debate about the meaning of one of the film's biggest and possibly darkest gags.) But for Schaffer, it was also a chance to finally try his hand at making a live-action movie that goes heavy on the CGI, in the same way Marvel Cinematic Universe films do.
Rescue Rangers offered 'limitless possibilities'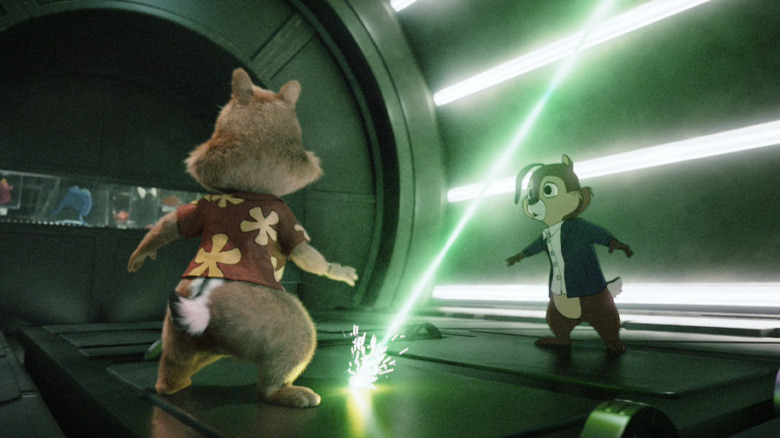 Disney+
No stranger to the director's chair, Akiva Schaffer got his start helming "Saturday Night Live" shorts and sketches along with music videos that feature him and the other members of his music comedy group, The Lonely Island (Andy Samberg and Jorma Taccone). He has since teamed up with his fellow Lonely Islanders on bigger projects, directing the cult comedy films "Hot Rod" and "Popstar: Never Stop Never Stopping."
Schaffer's most effects-heavy directorial effort prior to "Chip 'n Dale: Rescue Rangers" was 2012's "The Watch," a $68 million sci-fi action-comedy that also happens to be easily his worst movie. In his defense, though, the film was severely limited by a script he not only wasn't involved in writing, but also focuses more on serving up humdrum gross-out gags and crass jokes than making inspired use of its premise (a neighborhood watch group uncovers an alien invasion).
When it came to "Rescue Rangers," on the other hand, Schaffer told Total Film (via Games Radar+) he felt writers Doug Mand and Dan Gregor had already "cracked" the basic setup by the time he boarded the film. This meant he could come in and help flesh it out with the kind of irreverent humor and satirical jabs he's known for:
"... It was already planned that Chip was going to be 2D and Dale was going to be 3D throughout the whole movie and that it was kind of the 'Roger Rabbit' world of toons living among us where some are movie stars and some are just, like, the cow teacher at their school. That was already all in there. And that was a big part of what made me sign up to do it. It was kind of the limitless possibilities of that idea."
Akiva Schaffer isn't done learning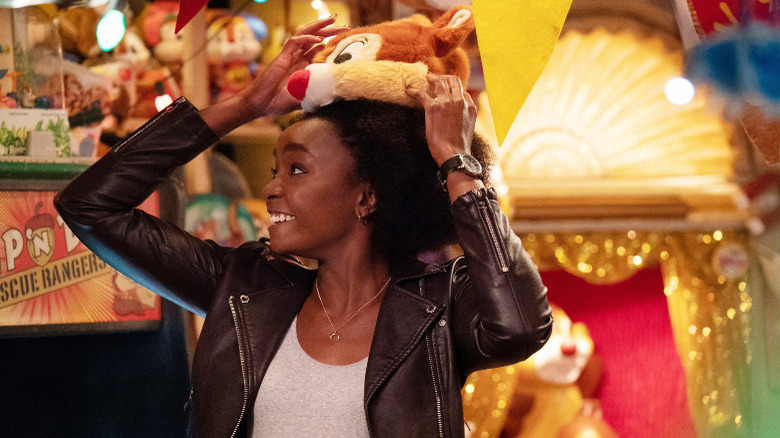 Disney+
"Chip 'n Dale: Rescue Rangers" has the most in common with "Popstar: Never Stop Never Stopping," so far as Akiva Schaffer's other directorial efforts go. They're both satires of pop art industries that ground their mockery with a more earnest story about ex-friends (John Mulaney's Chip and Andy Samberg's Dale in "Rescue Rangers") reconnecting after being driven apart by their egos and insecurities. Yet, if "Popstar" was too niche to catch on with the masses when it arrived in 2016, "Rescue Rangers" may have the opposite problem. Its insider-baseball comedy is so specific to the status quo of animation one does wonder if its deepest cuts (of which there are many) will land nearly as well in the future.
For now, though, it's a splendid romp for anyone who knows anything about the ways the animation landscape has changed since the days of the "Rescue Rangers" TV show and other 1990s Disney Afternoon hits. It also taught Schaffer some valuable lessons as a filmmaker:
"... I wanted to learn not just how animated movies are made, but how the kind of modern ones — like 'Doctor Strange' — are half-animated movies with animated characters and CG environments. All the modern tools of filmmaking for those kinds of movies are all the same tools we used for this. So I was excited to learn all that stuff."
Suffice to say, it will be interesting to see what Schaffer does next, armed with all that newfound knowledge. One just hopes he doesn't waste his time rebooting a property older millennials grew up on. After all, there's no way that could turn out to be any good, right? (*Cue everyone laughing until the credits roll*)
"Chip 'n Dale: Rescue Rangers" is now streaming on Disney+.