Shane Black Was Juggling A Lot Of Projects While Working On The Set Of Predator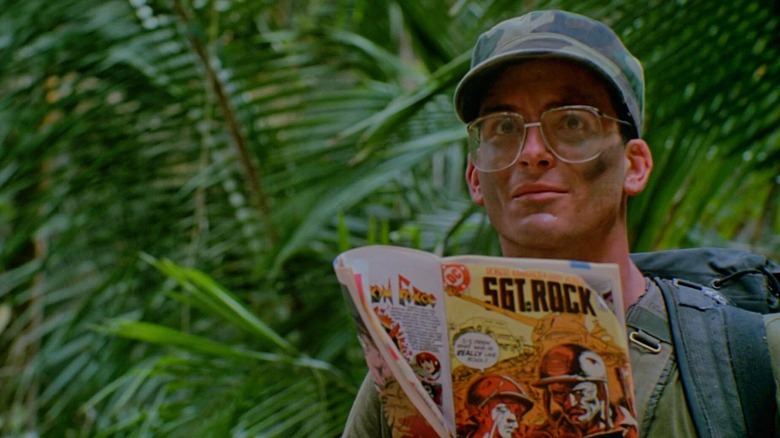 20th Century Fox
The credited screenwriters on John McTiernan's 1987 film "Predator" are brothers Jim Thomas and John Thomas, who would also work on "Predator 2," "Executive Decision," and "Wild Wild West." The story goes that they slipped the script for "Predator" (originally called "Hunter") under an executive's door at 20th Century Fox in order for it to be noticed. 
"Predator," for the uninitiated, is a military satire movie wherein the burliest, manliest men imaginable (Arnold Schwarzenegger, Carl Weathers, Jessie Ventura, Bill Duke) — all of them made of sweat and biceps — are sent go on a jungle-bound rescue mission with every type of gun known to man. While in the jungle, however, the bastions of testosterone find that they are being stalked and hunted by an intelligent alien creature who can turn invisible. The bulk of "Predator" is more or less a slasher movie, with Schwarzenegger in the role of the Final Girl. The film is a pointed takedown of ultra-masculine tropes of contemporary 1980s action movies ("Rambo: First Blood Part II," "Commando," etc.) presenting unkillable, violent soldier types with a scenario that they cannot — and mostly do not — survive. 
In the film celebrity screenwriter Shane Black plays a character named Hawkins, the "intellectual" of the soldiers in that he wears glasses and reads comic books. It turns out this acting gig was one of many that Black had going on at the time. Indeed, Black — split between shooting and writing multiple high-profile projects — was spread awfully thin.
Also, Lethal Weapon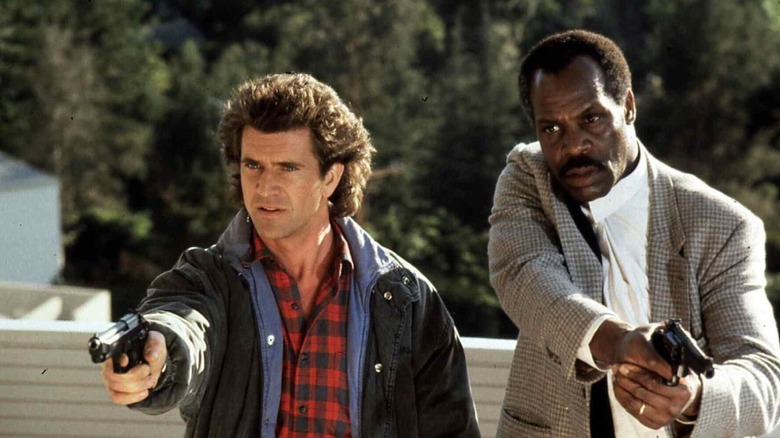 Warner Bros.
Black, at this point in his career, was in the middle of bursting onto the scene. He had just sold the script for the hit cop comedy film "Lethal Weapon," earning him a paycheck of $250,000, an enormous sum for a screenwriter. While Black was working on rewrites on "Weapon" for director Richard Donner, (every film undergoes multiple rewrites during the production process), he approached the film's executive producer, Joel Silver, about the possibility of acting in "Predator," another film Silver was producing. It's a well-known piece of trivia that Black, while hired as an actor, was also writing punch-up on "Predator" from the set; if there are any witty or quirky lines of dialogue that you like from "Predator," Black may have been the one behind them. 
In a 2018 interview with the Independent, Black admits that he wasn't much of an actor on "Predator," and, in addition to "Lethal Weapon," Black was also involved in production with Thomas Dekker's kid-friendly horror movie "The Monster Squad" (!):
"I honestly knew I was an okay actor, not necessarily a great actor. When I was on the set of 'Predator' in Puerta Vallarta, I had just sold the script for 'Lethal Weapon' and was doing a rewrite for 'Richard Donner. Then there was 'Monster Squad' coming out at the same time. So there were three projects, all at once, swirling as I sat there in Mexico. Two of them involved me as a writer, and only one marginally as an actor. I got the hint at that point."
Also, The Monster Squad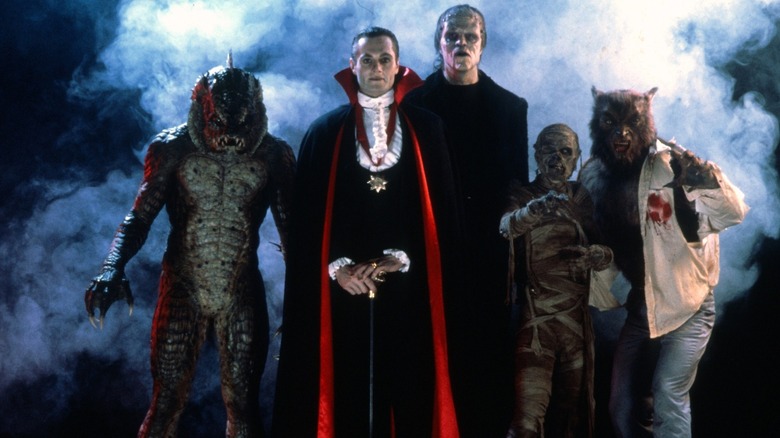 TriStar Pictures
It's 1987. "Lethal Weapon" was released on March 6. "Predator" was released on June 12. "The Monster Squad" was released on August 14. It was a busy, and very lucrative, time to be Shane Black. Most significant of these films was easily "Weapon" which made $65 million at the time, making it the eighth-highest grossing film of that year, and would spawn three additional sequels and a TV series. "Lethal Weapon" is often considered one of the linchpins in the "buddy cop" genre. 
For the record, the highest-grossing films of 1987, domestically, were "Beverly Hills Cop II," "Platoon," "Fatal Attraction," and "The Untouchables." There was more variety in cinemas back then. "Predator" was a modest hit, but gained a great deal of traction years later, eventually leading to a sequel, and a successful line of comic books wherein the film's central alien would do battle with the creature from Ridley Scott's 1979 film "Alien." "The Monster Squad" was initially a box office bomb, but has become a cult favorite in recent years.
The success of "Weapon" led Black onto a sequel, although he eventually left the project because he wanted to kill off one the film's lead characters — Riggs, played by Mel Gibson — and the studio refused. Nonetheless, Black was hired to write the 1991 thriller "The Last Boy Scout" for a then-unprecedented $1.75 million, the most a screenwriter had ever been paid before. Black would eventually also turn to directing, making "Kiss Kiss, Bang Bang" in 2005, and even "Iron Man 3" in 2013. His most recent film was a fourth sequel to "Predator" called simply "The Predator."