'The Predator' Finds Humor In Alien Mayhem [TIFF]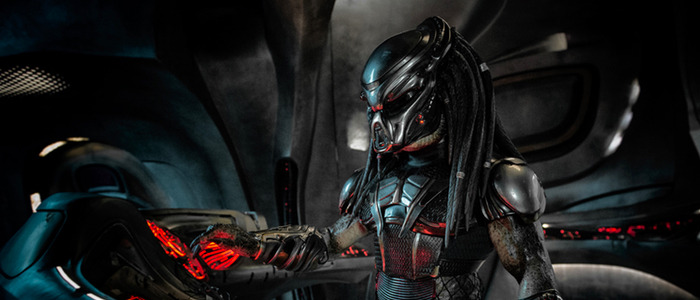 Who knew Predators could be so funny? Shane Black's The Predator takes the Predator franchise and turns into a full-blown comedy. Sure, there's action and sci-fi mayhem. But humor is the most constant factor here. And it doesn't always work.
While there have been a handful of amusing moments in the Predator franchise as a whole, no single film goes for as many wall-to-wall jokes as Shane Black's The Predator. Anyone worrying that Black wouldn't bring his trademark quips and witticisms to the script (the trailers have been considerably light on this element) need worry no more: The Predator is loaded with jokes. In fact, there might be too many jokes. In some respects, The Predator is like the Thor: Ragnarok of the franchise – the film that takes what came before and turns it all into a pretty funny gag. The Predator is so far removed from 1987's Predator that to compare them would be unfair. I only bring it up here so that we can move on.
The Predator finds a team of rag-tag military misfits joined together to battle everyone's favorite mandible-sporting alien trophy hunter. At the start of the film, sniper Quinn McKenna (Boyd Holbrook) runs afoul of a Predator ship that crash-lands in the midst of one of his missions. A secret military agency run by Traeger (Sterling K. Brown, stealing every damn scene he's in) finds out about this and scoops Quinn up. Traeger and his team have been tracking Predators for years. They've even gone ahead and officially named them Predators (one of the film's running jokes involves characters pointing out that "hunter", not "predator", would be a better distinction for the creatures). Traeger has also brought in biologist Casey Bracket (Olivia Munn), who goes gaga over the prospect of studying alien DNA.
In a whiplash-inducing opening sequence, Quinn gathers up some discarded Predator gear and mails it to his estranged wife and son. The son, played by Jacob Tremblay, has a form of autism, and is able to quickly figure out all the gadgets and doodads that come along with the Predator tech. Hard to believe? Absolutely. But that's the kind of film The Predator is. It doesn't have time to stop and think about any of this stuff. It just wants to get to the mayhem and the jokes. Which is does, rapidly. Black and company did extensive reshoots on The Predator before release, and the end result is a film with zero fat – but that's not exactly a good thing. The Predator is in a constant rush, to the point where you have to either throw up your hands and go with it, or disengage completely.
The first act is clunky, but things really pick up when Quinn hooks up with a bus full of rejects, all of whom have their own quirks. Trevante Rhodes is prone to chain-smoking and suicidal thoughts; Keegan-Michael Key compensates for his PTSD with jokes; Augusto Aguilera is a Bible nut; Alfie Allen is...well, I'm not really sure what his deal is – he's just there; and Thomas Jane has Tourette Syndrome. Key gets the most laughs of the group – but through his timing and reaction to things rather than the jokes his character tells, which are rather groan-inducing. Rhodes is incredibly cool and collected; a magnetic screen presence. And while Jane gives his character his all, the way the film constantly plays his Tourettes as schtick gets real old, real fast.
And what of the Predator? It's here, in all its deadly glory. While the first film kept the creature off-screen for a good portion of the proceedings, The Predator has its beastie front and center for almost the entire film. And it's not alone – later, a massive mutated Predator shows up as well, along with some Predator dogs – one of which turns out to be kind of cute and cuddly (I'm not kidding).
As for plot, there's a lot of mumbo-jumbo about gene splicing and evolution, but let's be honest: it doesn't matter. You know this, I know this, and The Predator knows this, because it treats all of these developments as afterthoughts. In fact, when The Predator does stop to slow down and dole out some story, it tends to get boring. You can practically sense the characters all checking their respective watches, waiting for this drudgery to end so they can get back to the action.
Black stages that action in a clear, highly-entertaining way. There are spaceship chases, and crashes. There are shootouts galore. Trucks flip in blasts of fire. The Predator's movements are swift and brutal, and Black revels in the gore. Limbs fly, guts splash, and heads roll. It sounds ghastly, but almost all of the violence is played for laughs. The Predator is no longer a scary unstoppable force. It's a punchline. There's also plenty of fan service – at least two classic lines from Predator are repurposed here, to (mostly) amusing effect.
Is this bent towards comedy a problem? Purists (do Predator purists even exist?) might find fault. Some may long for the franchise to return to its serious roots. After you exit the theater into the real world, the flaws of The Predator become more and more apparent. The plot doesn't make sense. A lot of the jokes fall flat. There's a pointless sequel set-up. But while you're watching the movie, it's hard not to get caught up in all the fun. Black and company are having a blast here, and it's infectious.
/Film rating: 6.5 out of 10