Filming Just Friends Almost Left Ryan Reynolds Frozen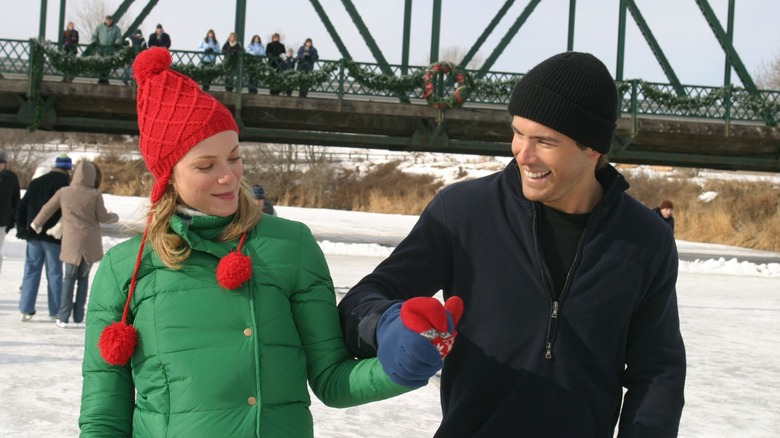 New Line Cinema
For many years, Hollywood didn't know what to do with Ryan Reynolds. Possessed of an infectious, smartass sense of humor, a swimmer's physique, and matinee idol good looks, he couldn't manage to find a project that was ideally suited to his talents. He was the romantic lead in several lightweight Hollywood comedies like "The Proposal," starred in intense indie/horror acting showcases like "The Nines" and "Buried," and tried out effects-driven blockbusters like "R.I.P.D." and "Green Lantern" before finally hitting the big time with films like "Deadpool," "Free Guy," and the memorable, memorable "Red Notice." Reynolds currently remains wealthy as the part-owner of Mint Mobile, Aviation Gin, and the Welsh football team Wrexham AFC. Acting is sort of a side hustle. 
In 2005, Reynolds was still a rising star, and was featured in Roger Kumble's film "Just Friends," a not-terribly-well-reviewed romantic comedy (it has a 42% approval rating on Rotten Tomatoes) co-starring "Stargirl's" Amy Smart. In "Just Friends," Reynolds plays Chris, an overweight high school kid who is secretly, madly in love with his best friend Jamie (Smart), and who is publicly humiliated when she admits she doesn't love him in return. She wants to remain "just friends." A decade later, Chris becomes a rail-thin, L.A.-dwelling, ultra-successful record producer who is on the cusp of dating a popular pop star (Anna Faris). Returning home for Christmas, Chris reconnects with Jamie, finding he still carries a torch, and spends the film attempting to be seen as more than a mere friend. It's a simple premise that can easily carry the charms of these talented actors.
The hometown in question was filmed in Regina, Saskatchewan, which Reynolds once described to Conan O'Brien as "the coldest place on Earth."
Regina, Saskatchewan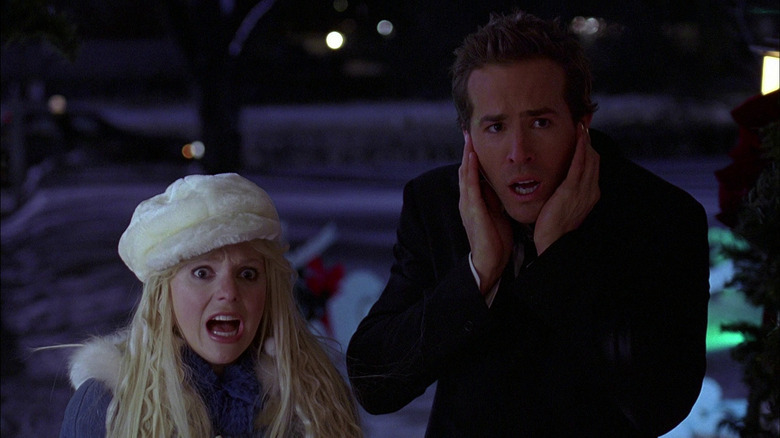 New Line Cinema
In a 2005 interview with Conan, Reynolds, himself from Vancouver, explains that Regina — the capital of its province — is particularly frigid. "Just Friends" takes place at Christmas, and Reynolds explains to O'Brien that the filmmakers required genuine snow. Reynolds recalls stepping off the plane into a day that was, in his worlds, -45 degrees.
This sounds like an exaggeration, but according to Toronto.com, Canada has experienced temperatures much lower. On February 3, 1947, the town of Snag in the Yukon Territory reached a temperature of -62.8° Celsius. That will freeze human skin solid in three minutes. The coldest temperature ever recorded in Saskatchewan was in the town of Prince Albert where, on February 1, 1893, it reached down to -56.7° Celsius. I suppose we should note that Reynolds may have still been exaggerating — according to Weatherspark, the average low in Regina during its coldest months (usually December and January) is typically only -1° Celsius, although it can get below -26° Celsius. The actual coldest place on Earth is the Eastern Antarctic Plateau, which can reach temperatures of -94° Celsius.
There is no information more fascinating than this. 
Cold shoots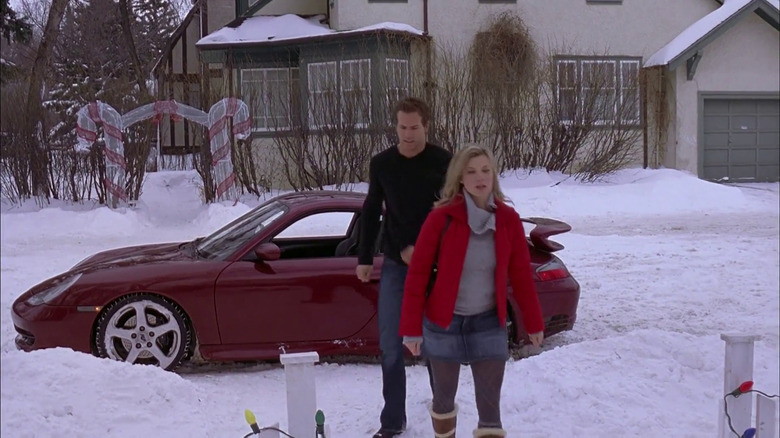 New Line Cinema
Reynolds, in his usual flip fashion, described the temperature as being so low he "couldn't feel his childhood," and that if you tried to throw a snowball, "you'd throw your hand with it." Reynolds also admitted something that he seems to acknowledge is a faux pas among Canadians: He's a terrible hockey player. For "Just Friends," Reynolds had to take hockey lessons for a scene wherein he plays the sport briefly. 
While the shooting of "Just Friends" wasn't nearly as harrowing as the stories from the set of "The Revenant," shooting in low temperatures can indeed be a chore. If shooting on film — "Just Friends" was shot on 35mm film — one needs to keep cameras above -35° Celsius, as that's the temperature at which polyester film stock begins to become brittle. It's also a good idea to keep your cast and crew warm. And while it may be harrowing, it certainly makes for better visual texture and authenticity; there are far too many low-budget Hallmark movies set in snowy climes, clearly shot in Burbank, California in June. Sheets of cotton are not snow. 
"Just Friends" is available to stream on HBO Max.