Yvonne De Carlo Couldn't Help But Cringe At Her Munsters Makeup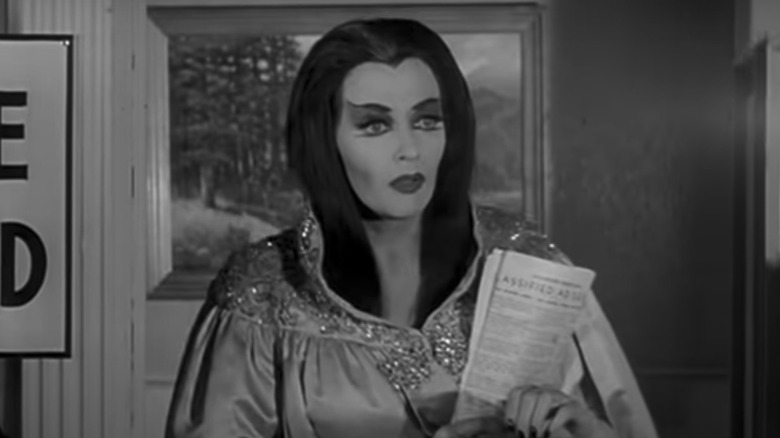 Universal Pictures
We're getting closer to the latest movie version of "The Munsters" from Rob Zombie, and it's time to take a look back at the old TV series that ran from 1964 to 1966 with 70 episodes. The cast included Fred Gwynne as Herman Munster, Yvonne De Carlo as Lily Munster, Al Lewis as Grandpa, Butch Patrick as Eddie Munster, and Beverley Owen as Marilyn Munster, who was replaced by Pat Priest after 13 episodes. The series didn't last long on TV originally, but it has lived on through syndication, spawning a number of films. The characters are still cosplayed by fans at geek and horror conventions, and Lily Munster is pretty! I say this because De Carlo didn't think she was in that makeup.
Goth wasn't really a thing back in the 1960s. Certainly you could find people who loved the aesthetic, but the subculture didn't really find its footing until the 1980s. There is far more appreciation for Lily Munster's makeup and costumes than back when the TV series was airing, but now it's just classic. I literally walked past someone yesterday who had very similar makeup (and was absolutely rocking it). De Carlo's issue with the makeup was strongest when it was seen in color, however, as it was in the film "Munster, Go Home!"
Bride of Frankenstein's monster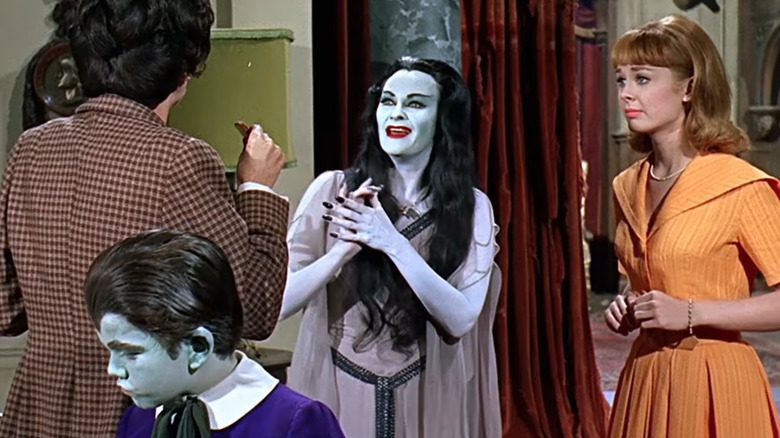 Universal Pictures
In James Bawden and Ron Miller's book, "You Ain't Heard Nothin' Yet: Interviews with Stars from Hollywood's Golden Era," Yvonne De Carlo was asked about being a part of the TV series. She said: 
"I'd wanted a TV series. But this? I wasn't sure. I had a hard time getting into the rhythm of it. Then director Joe Pevney suggested I play Lily as a sort of mixed-up Donna Reed character and not overdo anything. When I saw the first pilot in a screening room I cringed at my makeup. It took two hours of makeup to make me seem like that. It ran for two huge seasons, the CBSS quarreled with the creators about reruns and we got canceled. A movie in color in 1966 [Munster, Go Home!] showed off everything in reds and greens on my face. Boy, was I ugly."
I don't think anyone can look at De Carlo and use the word "ugly." Still, there was a look that was acceptable for "beauty" in Hollywood back then, and this wasn't it. Part of it, as she said, was when the show went from black and white to the color of the film. 
Reds and greens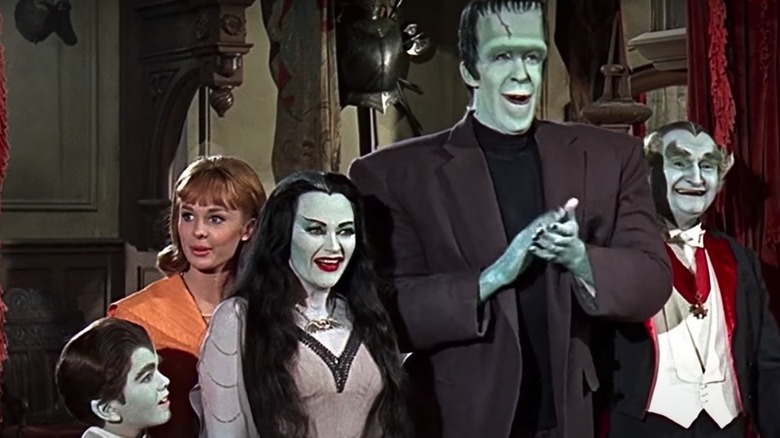 Universal Pictures
Color televisions changed a lot of things in the makeup industry, but in the beginning, bright colors were used everywhere. Plus, the green tint of everyone else's skin made Marilyn's non-monster status more obvious. In the black-and-white series, the differences were enhanced with the intense contouring, the clothing, and the winged and heavy eyebrows.
Yvonne De Carlo is right when she mentions the reds and greens of the film "Munster, Go Home!" It's not as flattering, and the decision to make Lily, Grandpa, and Eddie green didn't do them any favors. 
Makeup for black-and-white film is very different from what one would use for color film, though, and that might be what she's talking about on the series side. For instance, red would often show up as black. Grease paint or very heavy foundation (with a blue or lavender powder over it) would be used to cover any redness on the skin, which looked very blotchy. Lipstick would often be a gold color to simulate natural lips. Blue would sometimes be used for shadow and contour all over the face, depending on what the film picked up, giving a clownlike appearance. 
Although there aren't color photos that are readily available of De Carlo as Lily Munster when she was done up for the black-and-white TV series, but going by what was actually used, it probably wouldn't have been attractive. Whatever it looked like in person, however, it's still stunning on TV.