Ms. Marvel's Directors Want The Character To Have An Arc Similar To Spider-Man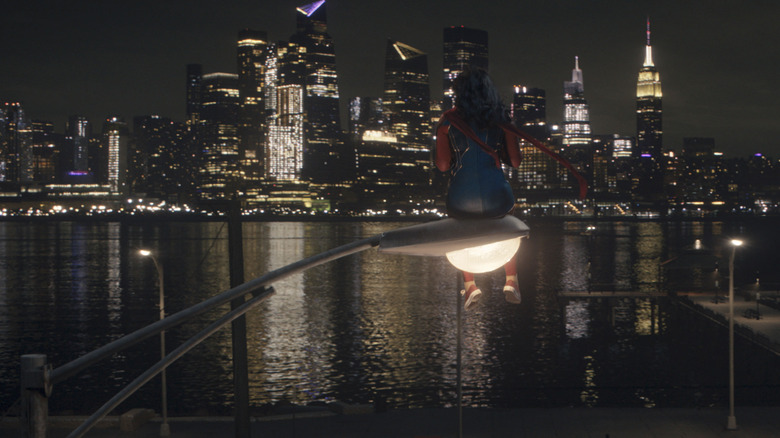 Disney+
A nerdy East Coast teenager discovers that they have superpowers. They attempt to maintain a balanced life by juggling the struggles of being a "normal" high school student with living up to the great responsibility of helping others, all while keeping everything hidden from their family.
Sound familiar? 
For many True Believers, that's the origin story of Spider-Man. But for a whole new generation of Marvel Comics fans, that's also the tale of Kamala Khan aka the magnificent Ms. Marvel. Since her introduction in 2014, Kamala has somewhat been touted as the modern day Peter Parker in many ways while still making an impact all her own. And now, she gets to do the same in the Marvel Cinematic Universe when "Ms. Marvel" launches on Disney+. 
But the show's creative team is still looking to the friendly neighborhood web-slinger for inspiration. In the latest issue of Total Film (via GamesRadar), director Adil El Arbi spoke about how their show starring Iman Vellani hopes to emulate the trajectory of Jon Watts' take on Spider-Man in the MCU:
"In the same way you see Tom Holland as Peter Parker evolve ... that's the bar, basically. For us, personally, it's a masterpiece of a movie, "Spider-Man: No Way Home." The bar is now so high. It just inspires us and also the other people involved in Ms. Marvel, to be like, 'What can we do to try to reach that goal one day?'"
Does whatever Kamala can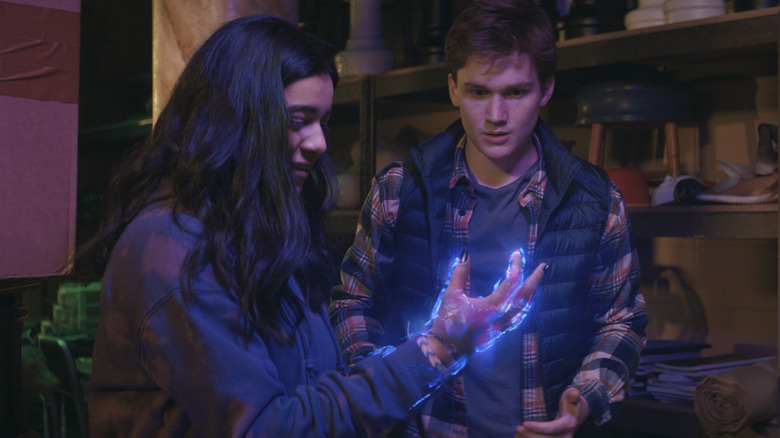 Disney+
While the filmmaker would probably love to reach the same successes and critical acclaim as Tom Holland's Spidey, El Arbi is definitely speaking more from a narrative perspective here. Peter grew so much over the course of his three headlining films. Of course, a lot of that growing also took place during his time with the Avengers, but his films really focused on the things that make him the most relatable. We got to see his relationships with his friends and his family, plus the trials and tribulations of young love, getting into college, and being a young hero that still has a lot to learn. Now, we get to see Kamala experience those things in her own way and, as the actor reveals later in the Total Film article, Vellani is just as excited to explore those areas as much as we are to see them:
'[Kamala]'s a fan [of the Avengers], just like us, and that's why we root for her when she meets Avengers in the comics. That's why we root for her when she gets her powers. Everyone can definitely see themselves in her. You don't have to be Brown or Muslim or Pakistani. It's about this Avengers-loving, fanfic-writing nerd who just happens to be a Pakistani-American Muslim girl. But she's awesome, and ultimately you just watch her grow and become this badass superhero."
Based on the early reactions to the show, it looks like El Arbi, Vellani, and the whole team are definitely on the right track. A lot of the buzz is already reminiscent of the reactions to "Spider-Man: Homecoming" when that first premiered in 2017, which is certainly promising. But you can find out for yourself when "Ms. Marvel" debuts on Disney+ on June 8, 2022.