Homelander's Suit Had Antony Starr Overheating Behind The Scenes Of The Boys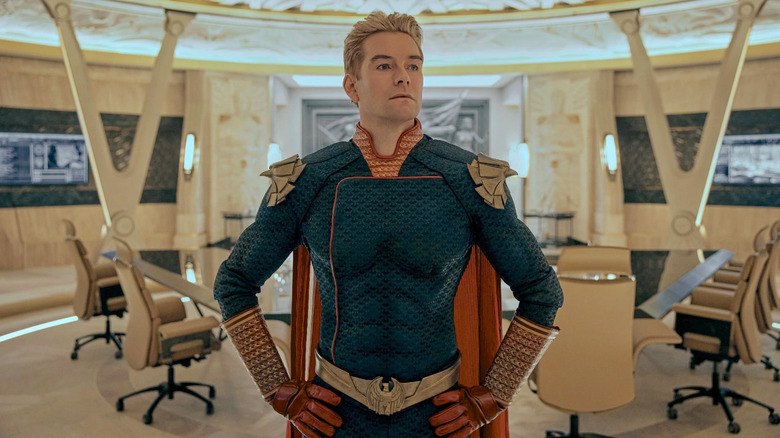 Prime Video
Get ready, because "The Boys" is finally set to return with its highly-anticipated third season! The delightfully irreverent series did give fans the animated anthology "The Boys Presents: Diabolical," to help us all get our fix during the wait between seasons 2 and 3, but soon the show will return in all its live-action glory. Based on the comic series of the same name by Garth Ennis and Darick Robertson — which you should definitely read — "The Boys" first hit Amazon Prime back in 2019. The show centers on a group of vigilantes who do their best to take down the so-called superheroes, who are actually the villains of the story. The Biggest Bad of all is Homelander, the Superman stand-in who leads the Seven (think Justice League, only corporate-owned and significantly less heroic). 
Portraying a superhero — or supervillain — is undeniably cool, but most people probably wouldn't consider how uncomfortable the costumes are. Homelander may be superhuman, but actor Antony Starr is a mere mortal, and that suit gets ... hot. Starr is absolutely incredible in the role, so much so that you'd never know how much he was sweating underneath his costume.
'The best thing about it is taking it off'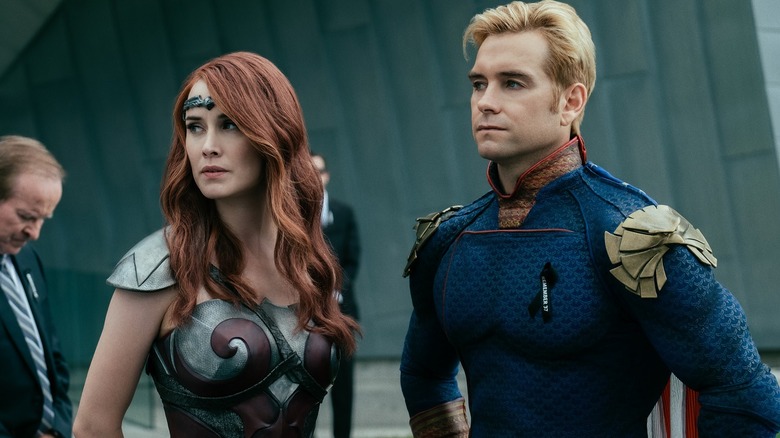 Prime Video
"The Boys" costume designer Laura Jean Shannon has done a fantastic job across the board, but these outfits still suffer from the same unavoidable difficulties as pretty much all superhero suits — they are historically very uncomfortable. Looking at Homelander's outfit, it's easy to see that it wouldn't take long to overheat. Starr told Entertainment Tonight:
"The uncomfortable bit starts at the neck and ends at the boots. The best thing about it is taking it off."
The crew does everything they can to keep the actor from getting too hot. There is even a cooling hose hooked up to the suit between takes that pumps cold air and water into it. According to Starr, the hose is actually quite efficient, but due to its loud battery pack, he cannot use it while shooting. 
That's not all Starr revealed, however. The actor also said that he'd happily switch costumes with Queen Maeve (Dominique McElligott). Starr explained:
"I've spent two summers in Toronto sweating my life away in that Homelander suit. Queen Maeve always looks cool and refreshed. So, I'd give that a shot."
Starr was obviously being playful, but there's no doubt that sweating through that costume all summer did have him looking longingly at costar McElligott's far less stifling getup.
A shared super-problem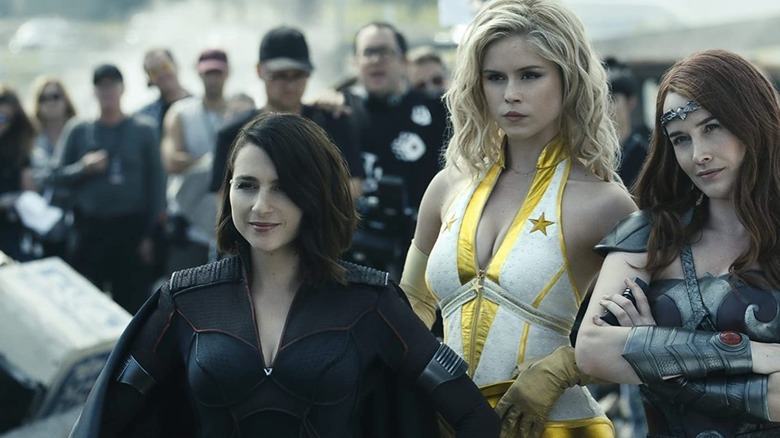 Prime Video
Starr isn't the only cast member of "The Boys" who's had struggles with his superhero costume. His costars shared some of their dislikes with ET as well. According to Chace Crawford (The Deep), "sitting down is just not fun," though he has gotten used to the suit over time. Erin Moriarty (Starlight) appreciates that she doesn't have to sweat it out like some of her co-stars, but admits that just going to pee is a 25 minute process and explained, "I've gone back to set and there have been articles of my costume that are a little wet." 
As for Jessie Usher (A-Train), the actor loves his chest plate, but hated what he referred to as "manties." Usher said:
"There were these tiny, little — well, they weren't really underwear because they would go on over the top of my underwear — but they had little hooks in it to, like, hold my shirt down, so that it wouldn't ride up. You know, if I ran, my shirt would come out from under my pants, so I had, like, these manties. They were like man panties and they were terrible, but we don't really use them anymore. Now there's a zipper system and all kinds of other stuff. Thank God. But the manties were my least favorite."
Meanwhile, Aya Cash (Stormfront) acknowledged that "everything" about her costume is uncomfortable, but also admired its "amazing" look and functionality. She also said, "We can handle the comfort level. We're just being little baby actors."
Form follows function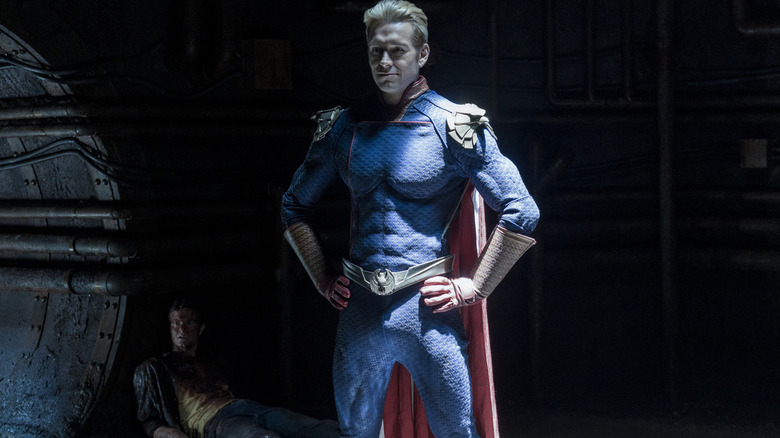 Prime Video
The dreaded super suit is an issue all too familiar to anyone who's brought a beloved comic character to life. Plenty of performers have had complaints about wearing their costumes, including pretty much every actor who's ever played Batman. Mark Ruffalo only had to wear a motion capture suit to portray the Hulk and that was quite uncomfortable as well. Even when there's no such costume involved, the process of transforming into a superhero is still extremely difficult. Consider how many hours both Rebecca Romijn and Jennifer Lawrence spent in a make-up chair to become Mystique in their respective "X-Men" films. I'm sure most actors wouldn't trade such a remarkable experience, but it's certainly not without its complications. Nothing worth doing is, right?
Starr has obviously made peace with the outfit, considering he's suited up as Homelander once again for "The Boys" season 3, which hits Amazon Prime in June. Homelander may be a narcissistic monster, but Starr still steals every scene he's in and fans can't help but love to hate him. Probably like how he loves to hate that costume.