The Marvelous Mrs. Maisel's Stars Suffered For The Sake Of A Hilarious Scene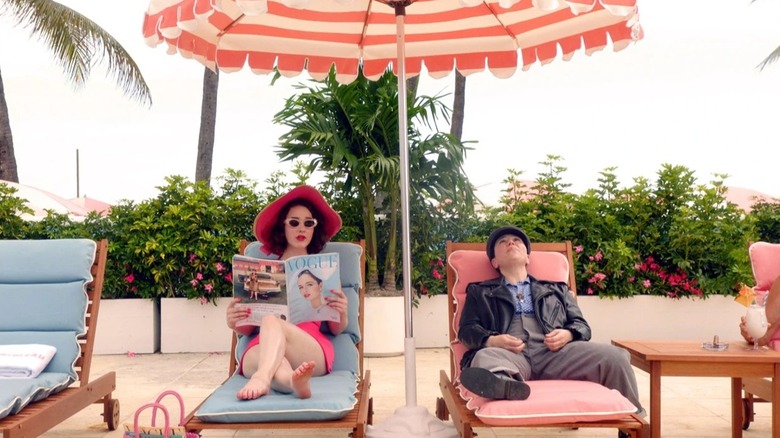 Prime Video
Filming on location can often be a double-edged sword. On the one hand, it can offer atmospheric immersion that pulls audiences in without the need for any effects. On the other, there's always the weather to consider. That's the lesson the cast and crew of "The Marvelous Mrs. Maisel" learned the hard way during the filming of one particular episode during season 3.
I know we're all still reeling from that emotional crescendo of a finale that included finally seeing Midge (Rachel Brosnahan) and Lenny Bruce (Luke Kirby) spend a romantic night together. It was a moment that recalled their first date night in Florida during the episode "It's Comedy or Cabbage." But sparks flying between the show's two comedian lovebirds wasn't the only reason for some heat during that episode. Turns out filming on location at the gorgeous Fontainebleau hotel in Miami meant also enduring the kind of extreme and unrelenting weather the Sunshine State has to offer.
Susie learns to swim the heatstroke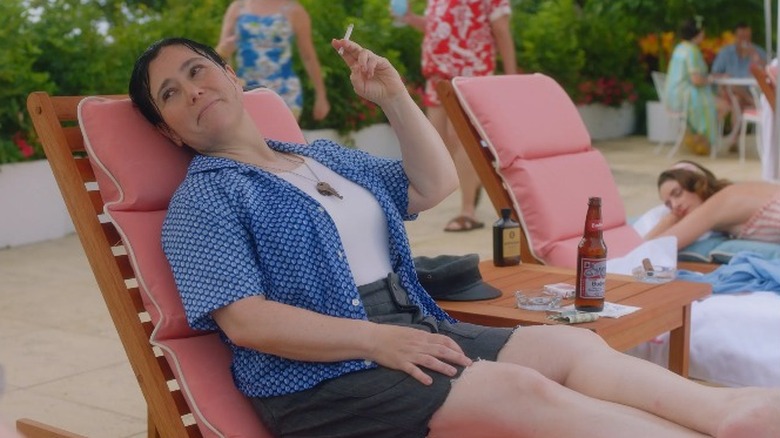 Prime Video
Fans might remember that the humid Florida heat was also an issue for Alex Borstein's character Susie Myerson. In true Susie fashion, she refuses to take off her leather jacket — even while "relaxing" poolside. The episode also saw her receive some pretty hilarious swimming lessons from Midge. But Borstein revealed to Glamour that however much Susie might have been suffering, the reality was far more hellish.
"That was the most awful, challenging day—maybe of all time. I can swim, but the weather was boiling. It was so much sun. I don't know if you've noticed, but I'm whiter than a f***ing ghost's a**hole. Both Rachel and I are so pale that I had to have a screen over the pool, and then between shots we had to have umbrellas and constant sunscreen. Even with all that protection I got heatstroke."
Borstein's tale of strife is made only slightly more ironic given that her character at one point endures what looks to be some pretty excruciating sunburn. Luckily the screen the actor mentioned and whatever other precautions were taken kept her from sharing such a dismal fate. But that doesn't change the fact that Borstein still spent two hours vomiting because of heatstroke: "It was just really nuts." On the not-too-bright side, at least something spectacularly comical came out of her torment. "I'm told the scene is really funny," Borstein continued, emphasizing that filming it was probably less so. But she wasn't the only one to feel the heat.
A sweltering (and wet) curse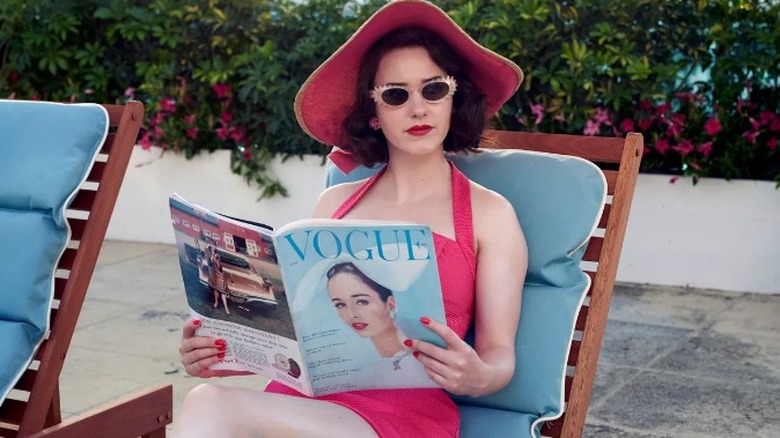 Prime Video
Although Susie's clothes might've made her more susceptible than others to the heat, few faired a little better. According to Brosnahan, there were plenty of other victims of heatstroke that also suffered. "So many people went down out there. Florida's rough, man," she told Glamour. But the heat wasn't the only problem apparently == torrential rainfall from monsoons also needed to be contended with.
"Miami was a little cursed. It was just so hot. Heat records were being broken while we were there, and Alex was just melting in her leather jacket, wool pants, and boots by the pool. We had a very limited time to get a lot done, and the weather was not on our side. There was either a monsoon or a million degrees and humid."
Because of the rain, the cast and crew were put into a serious bind: all the pool scenes needed to be consolidated into a single day. A monumental enough task without the added benefit of fending off blinding and debilitating heatstroke. And if that wasn't enough, the actors also had to deal with paparazzi there to document their agony. Though like her costar, Brosnahan took comfort in the absurd hilarity of those photos. "There are some really hilarious and awful photos in various states of heatstroke, where I'm fanning myself and look like I'm about to keel over," she said of the snapshots. "There's one funny one where I'm making a weird face while wearing a giant hat in a cape dress and fanning myself intensely." It's very much like Midge to roll with the punches and see the bitter comedy at her own expense.
Though what's perhaps the most marvelous thing about this whole anecdote is that at no point in the episode does anyone look as miserable as they probably actually were. That right there is the miracle of show business, and hopefully the next time the cast and crew of "The Marvelous Mrs. Maisel" shoot on location somewhere outside New York, hopefully it's somewhere less humid.