The Marvelous Mrs. Maisel Season 4 Ending Explained: They Laughed, They Cried, They (Finally) Kissed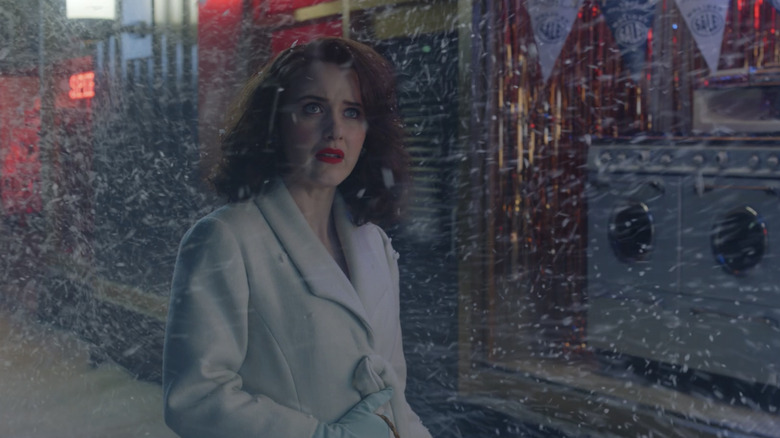 Prime Video
This post contains spoilers for season 4 of "The Marvelous Mrs. Maisel."
"The Marvelous Mrs. Maisel" is a comedy, right? Just wanted to double-check, after an hour of decimating a kleenex box. All things considered, this season leaves our leading lady in a considerably better place than the last, which ended on Midge (Rachel Brosnahan) sobbing on a tarmac, her dreams of international fame dashed. In the wake of the Shy Baldwin debacle, season 4 has been quite a tumultuous journey for our comedian — she got plenty of laughs, but most of them came from the audience of an illegal strip club. Money-wise, things are tight and when it comes to both her career and love-life, nothing is falling into place. And then there's that time she made Jackie Kennedy cry (a rough watch that's kinda hilarious in its own right). But messy moments aside, her ups and downs were all leading up to the final moments of "How Do You Get To Carnegie Hall?": Midge is on the precipice of greatness.
It's always been anyone's guess how exactly Midge would rocket into fame, especially since her journey thus far has been so incredibly messy. But no matter how many mistakes she makes, how many First Ladies she makes cry, or how many times she gets arrested, one thing has always been clear: Midge Maisel is hilarious. She's a star, constantly proving why she deserves a moment in the spotlight — so why is it that for every step she takes forward, she seems to take two steps back? Well after a season of watching her hide away in a strip club and irritate the hell out of her very dedicated manager Susie (Alex Borstein), someone decided to speak for the audience and help Midge get out of her own way. If you listen closely, you can hear the entire fanbase breath a sigh of relief and (for the millionth time this season) utter the words, "thank god for Lenny Bruce."
Laugh through the pain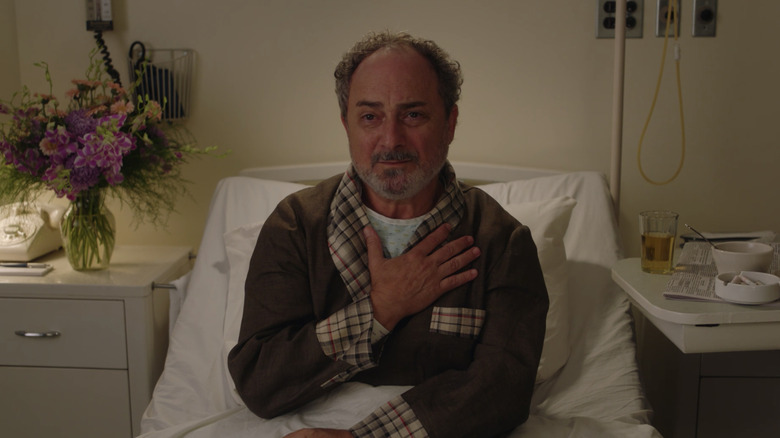 Prime Video
Before we get to the tough love, let's address the hard stuff. It would be cleaner to say that the finale is sad before it gets funny, but in reality, it's both all at once. The urgency of Moishe (Kevin Pollak) collapsing in "Ethan... Esther... Chaim" was lost on me, because I naively took it as another great "Maisel" gag. The news that his recently divorced son is having a baby with a woman he's never met is a lot to swallow, maybe Moishe just needed a quick nap! Alas, "Maisel" went a much darker route and opens the episode with the Weissman clan rushing through a hospital to hear the latest on Moishe's heart attack. This is the start of a remarkably sad episode, as Midge processes the men in her life falling apart and channels it into a stand-up act unpacking the weight of their grief.
As though the emotions circulating the episode aren't complicated enough, there's also the energy surrounding Joel's (Michael Zegen) news: he's having a baby. Midge isn't taking it super well, that her ex-husband will be giving her kids a new sibling, but she at least processes it quicker than the parents in question, who haven't had time to absorb their new reality. Joel was rocked to his core by the news while Mei (Stephanie Hsu) has just come to the crushing realization that fulfilling her lifelong dream of becoming a doctor would be much more difficult if she also became stepmother to two toddlers, plus a new baby of her own. Not to mention the fact that Joel assumes this baby means marriage and his parents assume Mei will convert to Judaism. But for the time being, none of this matters — they instead resolve to focus their attention on Moishe, tabling their decisions for the upcoming final season.
While I much prefer an ending that sees these two working things out, Mei becoming a doctor and the Joel/Midge romance staying in the rearview, things aren't looking great for the new couple.
Family dynamics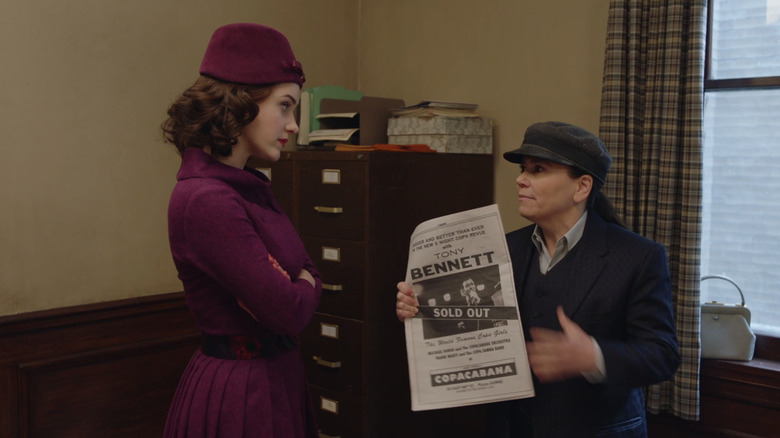 Prime Video
Towards the end of the episode, we're allowed to finally stop holding out breath as Moishe awakens, somewhat recovered but with the caveat of avoiding salt whilst literally everyone in his life frantically hovers around him. It's quite touching, especially as we're reminded that this family unit isn't obligated to keep this close. After all, Midge and Joel are divorced (for the second time), so the Weissman's and Maisel's may share grandchildren, but they aren't technically in-laws anymore. But the love is much stronger than any legal connection, as proven by Abe (Tony Shalhoub), whose panic about Moishe might very well exceed Shirley's (Caroline Aaron) and leads him to pen a touching obituary, that he reads aloud to his very alive friend. Thanks to that and his heart-to-heart with Shirley ("If Rose goes first, I will be there to help"), we'll never again doubt the love holding this family together.
With Moishe's health no longer a point of crisis, Rose (Marin Hinkle) decides to go to war with the Matchmaking Mafia, sending out crisp and carefully penned notes declaring, "I will not stop!" And because she's Rose Weissman, mother of our dearest Midge, each war declaration is rose-scented for dramatic effect and even her new enemies can't help but take note of her elegance. As for Joel, his father assures him that Mei will be welcomed into the family as his new wife — so long as she converts. And once again, we find ourselves wondering — while Joel is going around telling everyone about his intention to marry Mei, has he taken a second to let her in on his plans?!
Speaking of family, we're finally beginning to see the fruits of Susie's labor — Susie Myerson and Associates is real! Susie is building something for herself. Sure, it's not your average management agency: two children are chaotically running rampant, an "undiagnosed schizophrenic" magician lives on the couch beside a very unamused comedian, and those two mobsters who once kidnapped Susie are now her apron-wearing landlords ... but hey, what marks success better than an overwhelming environment? Regardless, Susie has come a long way from following Midge to the Catskills with a plunger in hand. She's no longer treading water whenever her first client isn't around because frankly, Midge has made herself into more of a complication than a star. She's turning down money left and right, having made herself so impossible to book that even when a miraculous gig comes through — a sold out week of shows at the Copacobana! Opening for Tony f***ing Bennett! — Susie has no choice but to turn it down. So much for changing the business, right? 
In a previous season, Susie would be the one to talk sense into Midge — she's certainly tried! But she ultimately resolved to let Midge's stubbornness win, because she refused to hear reason and Susie has more than just her to worry about. The two loan shark mobsters in her living room aren't exactly breathing down her neck with threats, but their presence is certainly alarming. And she has two other clients to worry about — both of whom will actually let her book them. So if it's the backseat Midge wants, she certainly has it. But not everyone is willing to let her get off scot-free.
You paid attention?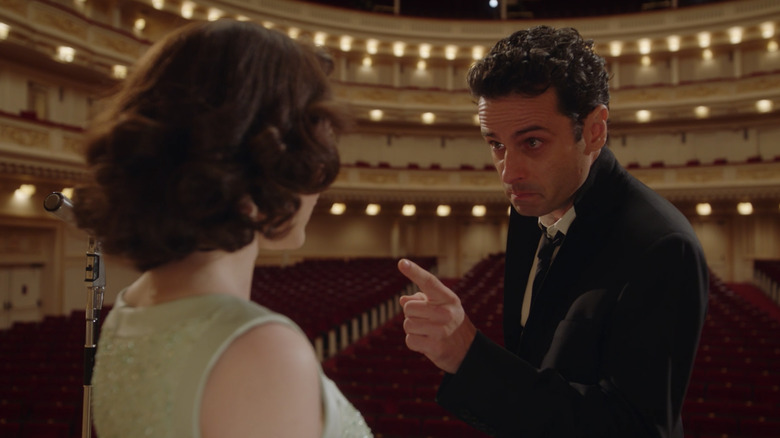 Prime Video
This brings us to the highlight of the hour. After a slow-burn buildup of four seasons, some very blue things go down in a very blue hotel room. 
The thing about sexual tension as potent as what sizzles between Lenny and Midge is the fear that once they act on it, it won't meet our expectations. But who were we kidding? Luke Kirby and Rachel Brosnahan have spent the past four seasons nailing onstage comedy acts — they know a thing or two about delivery! And deliver they certainly do. Midge returns to Wolford — a club that she's transformed from a sleazy strip bar to a ridiculously elaborate burlesque show — for her very funny act about death and grieving. She pays a touching tribute to the invisible, silent power of female nurses, then heads backstage where Lenny Bruce awaits with an apology for that time she scraped him off an NYC sidewalk and he lashed out at her. It's pretty solid, as far as groveling goes, especially since he comes with the gift of an incredible gig: with him selling out Carnegie Hall, Tony Bennett needs a new opener and he talked her up. Before she can offer an answer (which we later learn is a ridiculously resounding "no"), we learn that the classy strip show isn't snazzy enough to be legal. I guess no one told the police about Boise's fizzy pink drink because the place gets raided — a scene very familiar to Lenny, who whisks Midge off into the night.
It's a f***ing miraculous thing, and it happens so very suddenly. One moment we're in a chaotic police raid, the next they're running through the blizzarding streets of New York and finally, they're up in Lenny's hotel room, drink in hand, sitting opposite each other with a bed in the background. Dear reader, I gasped. Just last season, these two peered into a hotel room and considered turning their friendship into more, but something held Midge back. And now we know exactly what. Before they cross the room to one another, Midge has one simple request: "I need you to look me in the eye and promise that you will never, ever forget that I am very, very funny." And she means it. After a brief jest to laugh it off, Lenny goes solemnly serious too, and only then do they finally spend a night together. But because the good can't come without the harsh, all of this is capped off by a sobering moment: Midge wanders into Lenny's bathroom and finds his heroin stash.
Wise up, Mrs. Maisel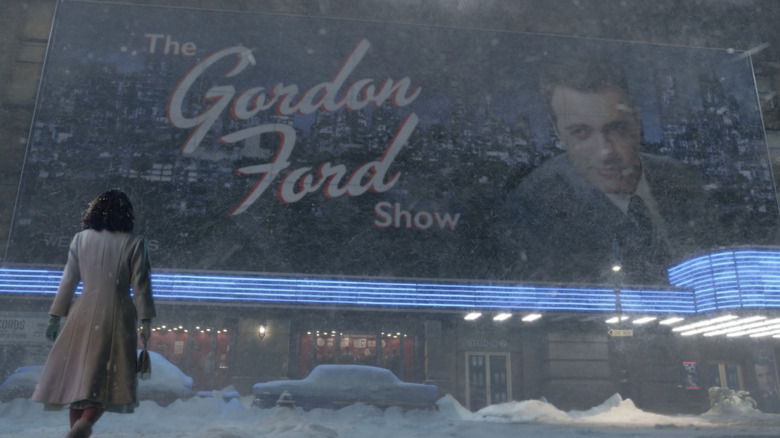 Prime Video
For our troubles, the finale of the episode is none other than Lenny Bruce: Luke Kirby takes center stage as the comedy legend on his grand night at Carnegie Hall, one of the most memorable nights in his career (forever memorialized on YouTube). Afterward, Midge goes backstage to offer her congratulations but instead of relishing in the festivities, Lenny pulls her aside, pulls her up on the stage, and hits her with some hard truths. 
Like us, Lenny is invested in her career path. He wants to see her succeed: he's borne witness to the magic she unleashes onstage and he's watched her get better and better with each season. But he had some distance, before now — after booking her at the Copa only to hear that she turned it down without another thought, he finally stares right into the insanity of her self-sabotage. It's cathartic to watch him unleash his wrath on Midge because it's the very same anger we've been simmering with all season — it's one thing to turn down an insane Croatia gig, but another to stick to her guns while Susie is doing everything in her power to keep Midge's career alive. Especially when golden opportunities are suddenly making themselves available. Midge learned to embrace failure already, back in season 1 when she hid away in the "party circuit," after bombing early in her career. But this time, as Shy's opener, she tasted success then found herself crashing back down to reality. But as sad as it was to watch her fail, it's worse to see her give up trying entirely. Lenny says what he must: "Don't plan. Work." But he also says something else, and it's not just directed at Midge.
"What a f***ing pedestal you put me on," he says, then goes on to explain some of his anger from a few episodes ago. "I'm not the stand-up messiah." Sure, he floats in and out of this show like her guardian angel but just as Midge insisted of herself a few scenes ago, Lenny is first and foremost a comedian. "Don't you forget that i'm a comic too. Don't you dare look at me as someone to be pitied or helped or fixed." He emphasizes that he wants the laughs as much as she does, and all the failure and baggage of fear and reputation don't supersede that. He reminds her that in the comedy business, there's a short window for success and if she misses it, that dream falls apart. Maybe it's the fact that it comes from Lenny — because she does put him on a pedestal and that the bag she found in his bathroom hints that he knows a thing or two about running our of time. Or maybe she just needed to hear all this said aloud.
The stage is set for Midge's endgame, as she absorbs the truth laid out by Lenny and walks the snowy streets of New York alone. She finds herself squinting up at a billboard that seems to read "Go Forward" but better yet, says "The Gordon Ford Show." This might be Midge's next stop — finally getting booked on Gordon's show, which Susie said would rocket her career to the next stage. But to do so, means taking gigs outside of the strip club — at places like The Copa, where bookers can see her shine. It means leaving her comfortable nest and actually working for this dream. And if that means making more mistakes and getting fired, then so be it. The final act is about to start and there's no room left for her to fail, lest she "break [all of our] f***ing hearts."