Alex Borstein Thinks Her Marvelous Mrs. Maisel Character Is A Bit Of A 40-Year-Old Virgin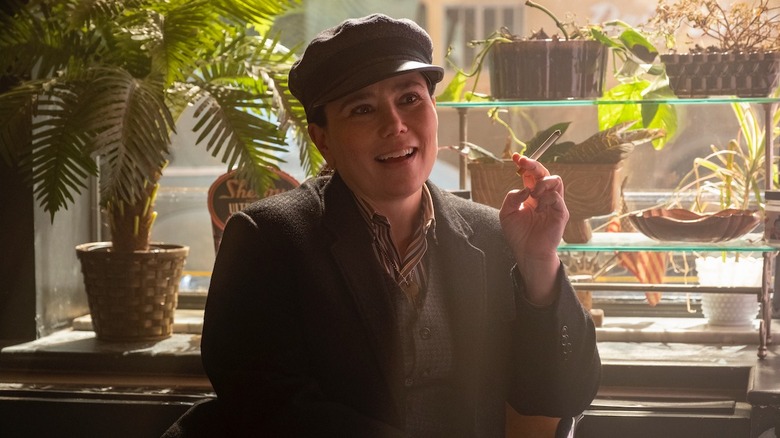 Amazon Studios
It seems just yesterday that we were all biting our collective fingernails waiting for season 4 of "The Marvelous Mrs. Maisel." But after the paradoxically generous and coy release schedule of two episodes a week, the fun has abruptly ended, and now — not unlike Midge Maisel (Rachel Brosnahan) — we have been left somewhat alone in the dark wondering what's next. For many of us, the answer is to preemptively binge all four seasons. What better way to cope with what will inevitably feel like an eternity waiting for the release of the final season (it hurts to even type, I know) than to bask in past laughs and tears?
One of the biggest things you notice in any rewatch of "The Marvelous Mrs. Maisel" is the evolution of the show's beloved, idiosyncratic characters. The show might be about Midge's rise as a comic, but the presence of Susie Myerson (Alex Borstein) makes it just as much about the duo's navigation of show business in New York. With a new office for her burgeoning management business and a new client in magician Alfie (Gideon Glick), season 4 revealed Susie as a rising star in her own right. Her stirring eulogy for Jackie in the episode "Everything Is Bellmore" even revealed an altruistic side to the normally all-business Susie, with the scene also serving as the show's heartfelt dedication to the late actor Brian Tarantina who played him. But it also gave us a curious peak the character's interests outside of making Midge a star — specifically, the question about the existence and nature of Susie's love life.
No time for romance in the life of Susie Myerson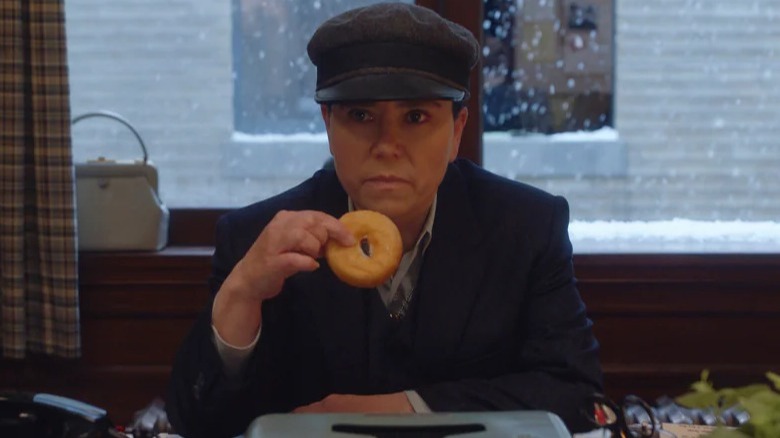 Amazon Studios
"The Marvelous Mrs. Maisel" has revolved around Midge's love life about as much as her side-splitting stand up routines do. Season 4 was no different, except in that our hero comic found herself unceremoniously becoming the dreaded "other woman" thanks to another man's infidelities — which leads of course to a hilarious bit onstage. But what about Susie? As we saw after Midge tried to take her to a lesbian club, she isn't too keen on questions about her romantic life. Alex Borstein told Page Six that despite Midge's assumption, even Susie finds herself unsure of what she wants, or if she wants anything at all:
"I feel like Susie doesn't know. I feel like Susie has never taken the time or had the luxury of figuring that part of her life out. I think she is a bit of a 40-year-old virgin. ... It's a show about a time when people didn't deal with [sexuality] if they didn't want to, aired in a time where everyone wants to talk about it, so it's interesting."
While the episode "Interesting People on Christopher Street" might've raised interesting questions about Susie's love life, it makes sense as Borstein pointed out that her character just hasn't had time to consider it. From the moment Susie entered the show, she's shifted her entire life to rotate around Midge's career as a comic. After all, Midge herself has continuously struggled with the sexist views society has about women who don't consider their sole purpose in life to be to find a man and raise a family. It might be unclear what Susie's romantic interests are, but it's crystal clear she believes her purpose in life is to keep putting exceptionally talented people like Midge onstage.
Susie has eyes only for showbiz ... and Midge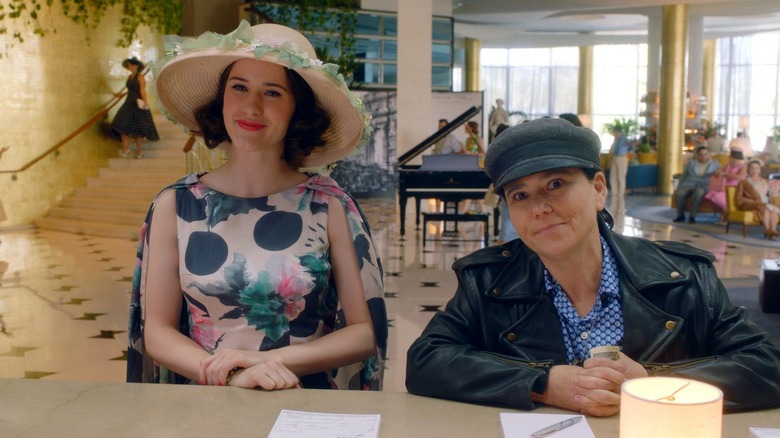 Amazon Studios
According to Alex Borstein, that's who Susie is in love with the most: the talent. Turns out there's always been a love story at the heart of "The Marvelous Mrs. Maisel." Namely, it's the one between a killer comic and her stalwart manager. As Borstein further explained, at this point in her life, Susie only has eyes for Midge:
"But it's platonic. She is in love with this woman, with her mind, with her talent, with her chutzpah but I also think she wouldn't pass up a night with Lenny Bruce. I think Susie would sleep with talent whatever the package."
That's a coincidental choice of words given what happens in the middle of the episode "How Do You Get to Carnegie Hall?" one rainy night between Midge and Lenny Bruce (Luke Kirby). So maybe there's time enough yet for Susie to get lucky before the season 5 finale. But the spirit of Borstein's words ring true given how much she is committed to Midge. The duo's relationship has always been more than just manager and talent, especially because both of their growing individual successes are owed to them starting out together.