It Took A Total Re-Write To Make Witness An Oscar Winner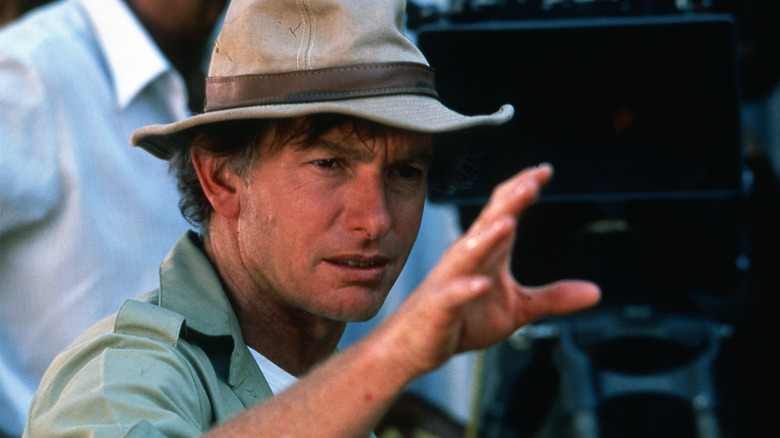 Paramount
Peter Weir's "Witness" is a firmly established classic now, but it took critics by surprise in 1985 for a lot of valid reasons. Though Harrison Ford was a bona fide movie star thanks to the "Star Wars" saga and two go-rounds as Indiana Jones, he had yet to shed the matinee idol stigma (keep in mind that "Blade Runner" was a box-office flop in 1982). Peter Weir was the leading light of the Australian New Wave via triumphs like "Picnic at Hanging Rock," "The Last Wave," and "Gallipoli," but he was a poet trying his luck in the prose world of Hollywood. Most superficially, but notable all the same, was the film's release date: February 8. After all, Weir was hot off directing Linda Hunt to a Best Supporting Actress Oscar in "The Year of Living Dangerously." If "Witness" were anything special, Paramount would've released it two months earlier or held it until the fall for awards consideration.
Paramount played it perfectly. Though two prominent reviewers – The New Yorker's Pauline Kael and The New York Times' Vincent Canby – were unimpressed, the studio had the all-important upturned thumbs of Gene Siskel and Roger Ebert working in their advertising favor. "Witness" was a word-of-mouth hit. In its fifth week of release, it unseated "Beverly Hills Cop" from its nearly three-month-long perch as the top-grossing film in theaters. Over the next few months, its understated virtues grew increasingly apparent to audiences and Oscar voters. By the end of the year, it was a major awards contender. In early 1986, the film earned eight Academy Award nominations. It would go on to win two: one for Best Film Editing and the other for Best Original Screenplay. How it earned the latter is nothing less than the story of how it became a masterpiece.
Just another cop movie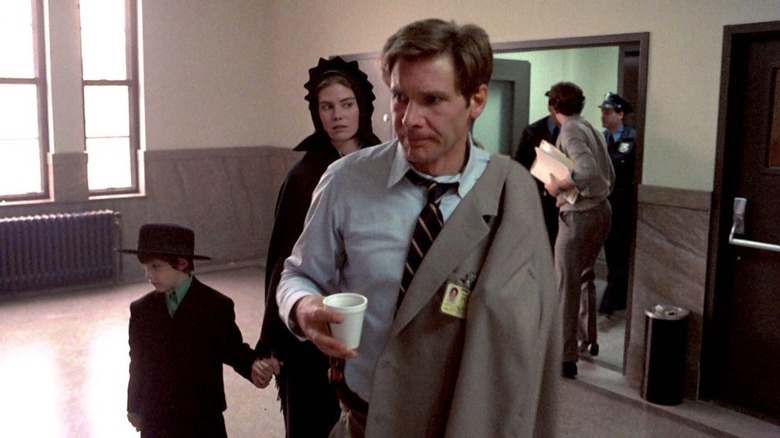 Paramount
There wasn't a more unhip screenplay floating around Hollywood in the early 1980s than "Witness." William Kelley and Earl W. Wallace derived their story from a 1970s "Gunsmoke" episode they'd written in the 1970s. The hook — a Philadelphia detective is forced to hide out in an Amish village when a young boy from said community fingers one of his fellow cops as a murderer — had promise, but the 182-page screenplay, which delved deep into the religion's proscriptive culture, was too unwieldy to earn a studio greenlight. Producer Edward S. Feldman, whose most recent credits were the decidedly non-prestigious "The Sender" and "Hot Dog... The Movie," optioned the script and immediately ordered a pared-down revision. 20th Century Fox passed because they were not in the market for "rural movies." Feldman promptly shot the screenplay to Harrison Ford, who climbed aboard. Alas, even with one of the biggest names in the industry attached (who'd starred in three of the studio's most successful movies of all time), Fox passed again.
Feldman had better luck with Paramount, home to Ford's other blockbuster franchise, but he struggled to find a director. Peter Weir initially passed on "Witness" because he was knee-deep in the development of "The Mosquito Coast." Feldman moved on to John Badham, who, riding high after his 1983 two-fer of "Blue Thunder" and "WarGames," deemed the project "just another cop movie," and opted to make the box office disaster "American Flyers" instead. Badham ultimately did Feldman a huge solid. A proficient craftsman whose style, with the exception of "Saturday Night Fever," tended toward the generic, Badham would've absolutely made "just another cop movie." Feldman's perseverance was rewarded when Weir's "The Mosquito Coast" deal fell apart, allowing him to join a production that was all but ready to shoot.
Hollywood poetry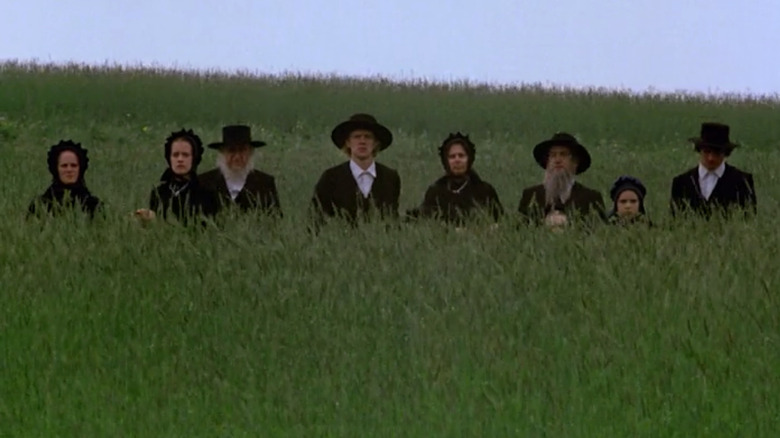 Paramount
The role of studio workman was not Weir's preferred method of directing. He was a full-fledged auteur accustomed to having substantial influence on the writing of the screenplay. And while he loved the material, he had strong opinions on how "Witness" should flow as a story. When Weir sent Kelley and Wallace a significant rewrite, the "Gunsmoke" scribes were stunned. Per a fascinating Cinephilia and Beyond article by Sven Mikulec, Weir said, "I put more Amish ambience in it. And I took out the overt part of the love story—I thought it was rather tacky." He also toned down some of the violence at the end. This did not go over well. Weir recalled: "The writers thought I was so destroying the piece that one of them said to me, to my astonishment, 'Don't you want to be walking up the steps at the Dorothy Chandler Pavillion to get your Academy Award?'"
Ironically, thanks to Weir's contributions, Kelley and Wallace would be the ones walking up those storied steps (along with Kelley's wife, Pamela, who co-conceived the story). Weir, nominated alongside the Cinema God likes of Akira Kurosawa ("Ran") and John Huston ("Prizzi's Honor"), wound up losing the Best Director Oscar to Sidney Pollack for "Out of Africa." Though the writers ungraciously failed to thank Weir, let there be no doubt that it was his storytelling instincts and visual poetry that transformed a clever thriller into a captivating piece of genre poetry. At least Ford was grateful. He followed up "Witness" by starring in Weir's "The Mosquito Coast" (which Ford considers his finest hour as an actor).