Harrison Ford Called The Mosquito Coast His Best Film Role — Here's Why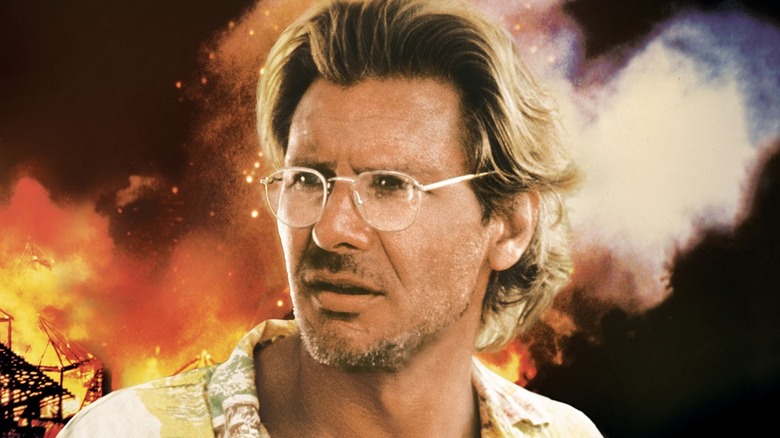 The Saul Zaentz Company
When moviegoers think Harrison Ford, most probably think of Indiana Jones or Han Solo. If you're inclined to think outside the franchise box, your mind might also naturally drift toward Richard Kimble from "The Fugitive," which we previously spotlighted as one of Ford's best non-franchise roles. There are even people on this earth whose favorite movie of all time is "Air Force One," which featured Ford as the President, punching bad guys off his plane. It was one of a legion of "Die Hard" riffs that followed post-1988.
However, it's a role in a lesser-known 1986 film that Ford once cited as his favorite. Sure, you may recognize the title, "The Mosquito Coast." You may have seen the movie's VHS or DVD cover on the shelf back in the day, with Ford's sweaty, stubbly, bespectacled face staring back at you — his hair scraggly, his tropical shirt tattered. If you're an Apple TV+ subscriber, you may have even watched "The Mosquito Coast" TV series, in which Justin Theroux takes on the starring role of Allie Fox, originally played by Ford.
Be honest, though: have you ever watched "The Mosquito Coast" film? It co-starred Helen Mirren, a young River Phoenix, and André Gregory of "My Dinner with Andre" fame. Peter Weir directed it, based on a novel by Paul Theroux, uncle of Justin Theroux. The movie was made on a budget of $25 million, but it only grossed $14 million at the box office. Despite being a financial flop that relatively few filmgoers have seen, here's why Ford was so enamored of "The Mosquito Coast" as an actor.
"Full of Powerful Emotions"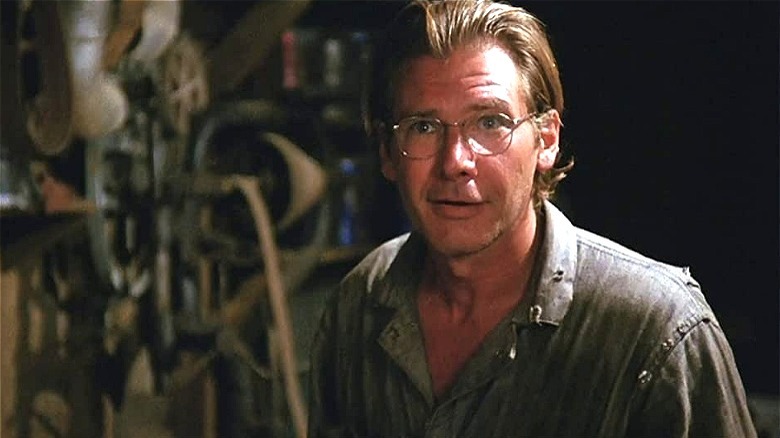 The Saul Zaentz Company
In "The Mosquito Coast," Ford plays a disillusioned inventor who absconds to the Honduran rainforest with his family. Scripted by Paul Schrader, the film shows the dark side of the American dream and the fractured idealism that lies at the end of it for some people.
Speaking with Gannett News (via ScreenRant), Ford said back in the day that the Allie Fox role was the best he had read since "Witness." It paired him up again with Weir, who directed that 1985 film, too, and it was undoubtedly a nice break for Ford after filming "Star Wars" and "Indiana Jones" movies from 1977 to 1984.
Ford has spoken about "The Mosquito Coast" elsewhere over the years. In a 1992 interview with Entertainment Weekly (by way of IMDb), he said:
"It's the only film I have done that hasn't made its money back. I'm still glad I did it. If there was a fault with the film, it was that it didn't fully enough embrace the language of the book. It may have more properly been a literary rather than a cinematic exercise. But I think it's full of powerful emotions."
More recently, The Ringer shared some other interesting quotes, where Ford discussed "putting on the clothes" as Allie and playing an unlikeable character who is mentally unstable:
"I remember when we did the scene when Allie Fox tells his family that they can't go back to America because it isn't there anymore. Peter stopped me and said, 'You're playing this like the guy's crazy.' I said, 'Well, Peter, he is crazy. He's completely f**king nuts.' "
Ford also praised Phoenix, who would go on to play the young Indy three years later in "Indiana Jones and the Last Crusade."
Evidently, 2021 marked the first time that Ford had rewatched "The Mosquito Coast" in 35 years. If it's been that long for you, or if you've never seen the film, it might be worth checking out.