Jennifer Connelly's Top Gun: Maverick Character Isn't New To The Franchise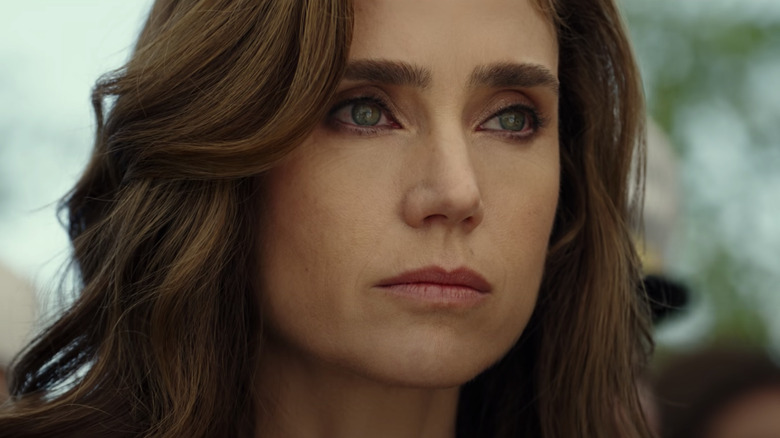 Paramount Pictures
In "Top Gun: Maverick," Tom Cruise's high-flying character, Pete "Maverick" Mitchell, has got a new love interest riding with him on the back of his motorcycle. As it turns, though, that character, played by Jennifer Connelly, is an old flame who has been part of Maverick's backstory since 1986 when the original "Top Gun" movie flew into theaters.
A few things have changed for Maverick since audiences first got to know him in '86, which is understandable, given how much time has passed. The long-delayed "Top Gun" sequel was originally set to bow in the summer of 2020; its first trailer came all the way back in December 2019, before the pandemic obstructed its flight path. Now, it's finally incoming and we have confirmation that Connelly is playing Penny Benjamin, a character referenced in the first "Top Gun" movie. 
Here's how /Film's Ben Pearson described the character in his "Top Gun: Maverick" review:
"Jennifer Connelly plays Penny Benjamin, the admiral's daughter at whom Maverick made a pass in his younger days. Penny is now the owner of a San Diego bar called The Hard Deck, which serves as the local haunt for all of the pilots attending the Top Gun school. She's a single mom who has a good relationship with her teenage daughter, and despite Penny having had several romantic entanglements with Maverick over the years ending in heartbreak, the two of them can't seem to stay away from each other. Connelly brings a welcome warmth and a grounded sense of humanity to a cast full of larger-than-life characters; a nice date scene on a sailboat proves she has interests and hobbies all her own, and there's plenty Maverick can learn from her."
On-again, off-again
In the original "Top Gun," Penny Benjamin is first mentioned by Maverick's friend, Goose (Anthony Edwards), the father of Miles Teller's character, Rooster, in the sequel. Their commander, Stinger (James Tolkan), reprimands Maverick for his "history of high-speed passes over five air control towers and one admiral's daughter." Later, Goose's wife, Carole, played by Meg Ryan, says to Maverick, "He told me all about the time you went ballistic with Penny Benjamin."
In the video above, you can see an on-set interview with Jennifer Connelly (courtesy of FilmIsNow), in which she explains a little more about her character's history with Maverick and her hobby of sailboating. Right off the top, she says:
"Penny Benjamin is actually mentioned in the first film. She's someone that has had a kind of on-again, off-again relationship with Maverick over the years. It started the first time when they were quite young. And you get the sense that they sort of come together, they have this sort of fiery romance, and then it falls apart. But then they keep coming back to each other. They have some things in common in that she's a racer herself. She races sailboats. But when we meet them in this film, they're at different points in their lives."
In "Top Gun: Maverick," Tom Cruise's character seems to have lost that lovin' feeling for his other old flame, Charlie Blackwood, played by Kelly McGillis. Ryan isn't back, either, which may betray a certain double standard when it comes to women's age in Hollywood versus that of men like Cruise and the returning Val Kilmer. However, it's nice to know Connelly's character, Penny Benjamin, has her own off-screen history in the "Top Gun" franchise, at least.
"Top Gun: Maverick" is in theaters on May 27, 2022.