What Excited Obi-Wan Kenobi Villain Moses Ingram The Most About Joining The Star Wars Universe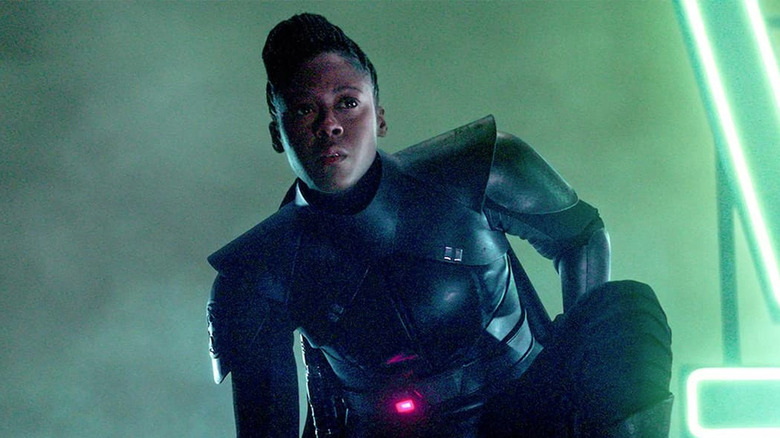 Lucasfilm
It's been almost 20 years, but Ewan McGregor is finally returning as Jedi Master Obi-Wan Kenobi. With his return in the new Disney+ series — and the return of Darth Vader as well — comes the introduction of a few new characters. Moses Ingram joins the fray as Reva, an inquisitor working under Vader, and determined to bring Kenobi out of his self-imposed exile on Tatooine.
Though the reunion between Kenobi and his fallen apprentice is a huge talking point for the series, Reva will hopefully be seeing quite a bit of action as well. Her arrival has stoked excitement in fans hoping for a closer look at the world of the Inquisitors — and it's an excitement that Ingram, a "Star Wars" novice herself, shares ahead of the new series.
'It's fun to be bad'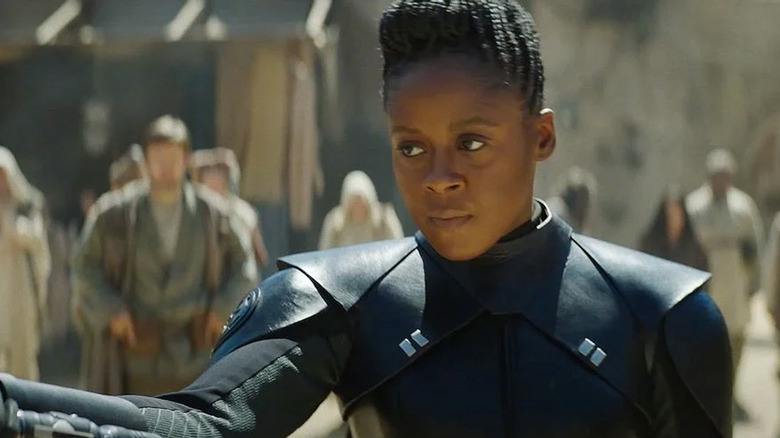 Lucasfilm
Like most projects under the Disney banner, there's a fair amount of secrecy involved — and that was a huge key to gaining Ingram's interest in "Obi-Wan Kenobi." At a press conference attended by /Film, Ingram revealed that her excitement about the "Star Wars" project had nothing to do with its place in the franchise. In fact, when she first learned about "Kenobi," she had no idea that it was a "Star Wars" project at all:
"I didn't know that it would be 'Star Wars.' I think when I read the script, that was the thing that attracted me the most ... it was edgy and fun and cool ... I was surprised. I mean, from what I knew of 'Star Wars,' I didn't realize it was that dangerous. It felt dangerous, what I was reading."
Despite her surprise, Ingram confessed that she "couldn't say no" to the project either way. Not only was "Kenobi" edgier than expected, but her character, Reva, seemed like a fun challenge too. "I think I was most intrigued by her fervor for what she does," Ingram explained. "She's really smart and she plays the offense and she's always ten steps ahead." It didn't hurt Reva was a disciple of Vader, which meant Ingram would get to join the Dark Side:
It's fun to be bad. Also, I feel like the weaponry and the stunt work, once you get to a point where your body is confident doing the moves, that plays into it as well as the costumes. Suttirat [Anne Larlarb], our costume designer, did such a good job: Building something that when you step into it, it lends itself to a feeling.
Pulling her weight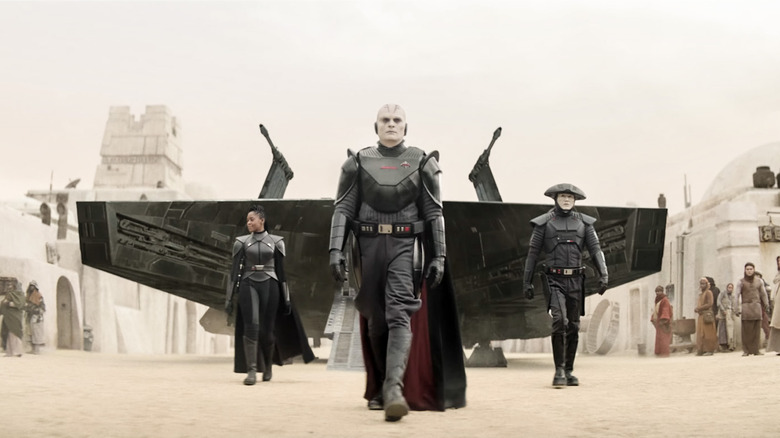 Lucasfilm
The intensive Jedi training was another welcome surprise for Ingram — especially since, as a new cast member, she'd be training with McGregor, who had several years of lightsaber stunt work already locked down:
"We trained for about four months before we ever even got to set: The every day regular strength and cardio, and then three days a week of Jedi school on top of that — which at the beginning, was a little intimidating because I come in, and we're doing lightsaber work and of course he's [McGregor] been doing this for years. So he's like flipping it and wielding it and I'm like, 'God I'm never gonna get it, I'm terrible!' But you know, if at first you don't succeed, try and try again."
Judging from Reva's lightsaber work in the "Kenobi" trailers, Ingram put in a lot of work to reach a similar level of expertise. The actress may not have known much about the inner world of "Star Wars" before her casting, but she's certainly become a part of the family since:
"I so enjoyed just going to work every day. I feel like we had such a great working atmosphere, and there were so many lifelong 'Star Wars' fans who were like living their dreams by working on this series. It's really nice to be a fly on the wall for other people's experiences of the thing as well. It's by far exceeded my expectations in the most beautiful way."
Obi-Wan Kenobi premieres May 27, 2022 on Disney+.