Channing Tatum To Star In Adaptation Of His Children's Book The One And Only Sparkella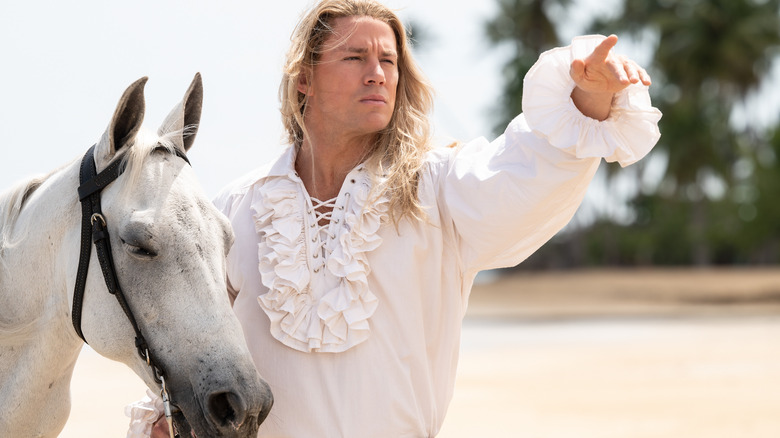 Paramount Pictures
I'm going to level with you all: I'm just petty enough to advocate the idea that people should only ever be allowed to be exceptional at one thing at a time. Professional athletes making millions of dollars as the most talented in the world within their area of expertise? That's all well and good, but they better not have otherworldly skills with some other hidden talent or model-worthy good looks on top of it all. That seems fair, right?
And then there are people like Channing Tatum. The talented movie star with leading man looks and charisma to spare hasn't only been enjoying a busy past few years, stealing the show in everything from the Coen brothers' underrated "Hail, Caesar!" to Steven Soderbergh's "Logan Lucky," his hilarious cameo in "The Afterparty" series and, most recently, co-leading the throwback rom-com "The Lost City" along with Sandra Bullock. He even starred in his own directorial debut with this year's "Dog." From raunchy adult dramas ("Magic Mike 3" is, indeed, becoming a reality!) to family-friendly road trip movies about lovable canines, is there anything this man can't do?
Well, we can apparently cross off yet another accomplishment on Tatum's résumé. You see, the multi-hyphenate also wrote a children's book published in May 2021 called "The One and Only Sparkella," described as "a charming ode to self-esteem and father-daughter love." Now, according to Variety (via The Wrap), the actor is gearing up to turn this into a live-action film that he'll also star in and produce. Because why not?!
Channing Tatum can't be stopped
Variety reports that the still-untitled adaptation of Channing Tatum's own book will be written by Pamela Ribon, a credited writer on other animated movies such as "Moana," "Smurfs: The Lost Village," and "Ralph Breaks the Internet." Tatum will star as the father at the center of the story, though no further information just yet on who will play his character's daughter. The story would seem to be ripe for future adaptations as well, as Tatum's "The One and Only Sparkella" was only the first in a three-book deal with publisher Feiwel and Friends. A follow-up, titled "The One and Only Sparkella Makes a Plan," is already set to hit bookshelves on May 31, 2022.
Given how successful he's been at everything else he's done to this point (we'll just pretend his ill-fated "Gambit" aspirations never happened), there's no reason to believe this won't end up being a sweet and heartwarming little tribute to his own daughter. Here's the official logline for the adaptation of "The One and Only Sparkella":
"A live-action take on the magic of Sparkella that sees a father and his daughter fall headlong into the infinitely surprising world of her imagination."