How To Watch The Lost City At Home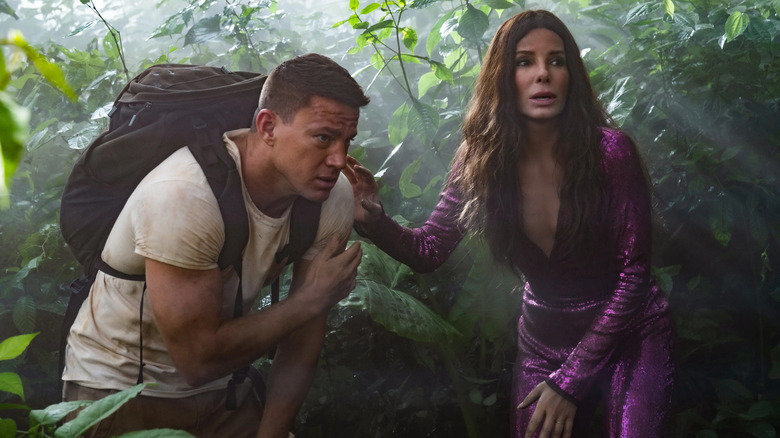 Paramount Pictures
Times, they are a-changin' — when it comes to release dates, that is. As of today, you can now watch the new Channing Tatum and Sandra Bullock comedy "The Lost City" at home, and we're here to tell you where.
"The Lost City" was released to stream on May 10, and is available exclusively on Paramount+. If it seems like the film quickly progressed from theatres to VOD, that's because it did. The film — which was directed by sibling duo Adam and Aaron Nee, who wrote the script alongside Oren Uziel and Dana Fox — premiered in the United States on March 25, 2022.
The comedy stars Bullock and Tatum as the film's leads, with "Harry Potter" alum Daniel Radcliffe rounding out the cast as the movie's snarky yet hilarious villain character. According to the official website, the synopsis reads:
Brilliant, but reclusive author Loretta Sage (Sandra Bullock) has spent her career writing about exotic places in her popular romance-adventure novels featuring handsome cover model Alan (Channing Tatum), who has dedicated his life to embodying the hero character, "Dash." While on tour promoting her new book with Alan, Loretta is kidnapped by an eccentric billionaire (Daniel Radcliffe) who hopes that she can lead him to the ancient lost city's treasure from her latest story. Wanting to prove that he can be a hero in real life and not just on the pages of her books, Alan sets off to rescue her. Thrust into an epic jungle adventure, the unlikely pair will need to work together to survive the elements and find the ancient treasure before it's lost forever.
The Lost City and the short theatrical window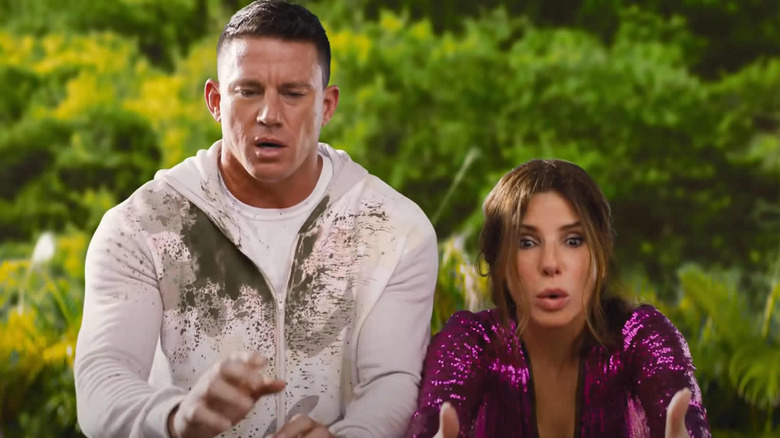 Paramount Pictures
"The Lost City" is far from the latest film to take advantage of the shorter theatrical window. The traditional window, which you probably remember from agonizingly waiting for your new favorite movie to arrive on VHS or DVD, previously required a 90-day stint in theatres before a film could be taken out and move on to being distributed for home viewing. During the pandemic, many studios renegotiated those terms down to just 45 days.
Interestingly enough, this renegotiation wasn't exactly a loss for studios. Studios make a killing — or not, depending on the film — during the first week of release, and opening weekends really can make them a pretty penny. However, with each week of the film's theatrical run, the theatres start to take more of a cut than the studios. Therefore, it's actually advantageous for studios to agree to a shorter theatrical run and then — shocker — funnel their releases onto the streaming platforms they own. "The Lost City" is a Paramount film, hence why it's now available on Paramount+. And now that it's available to stream, you better not miss it. Seriously. 
"The Lost City" will be available on Digital and Paramount+ May 10, 2022 and on 4K, Blu-ray and DVD July 2, 2022.