How The Sea Beast Connects To Master And Commander And Game Of Thrones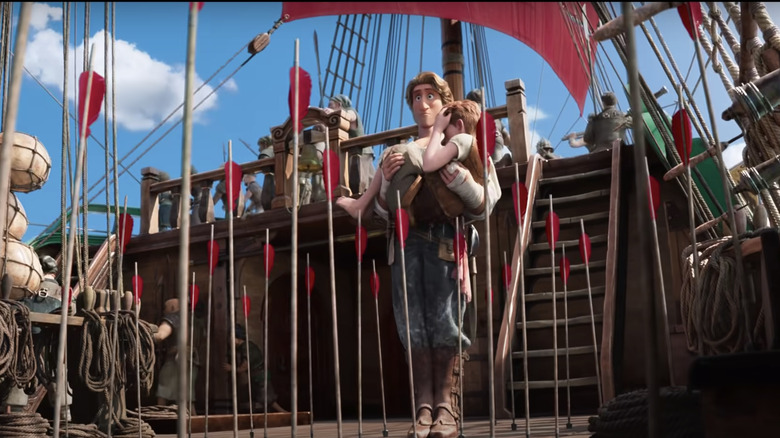 Netflix
The new Netflix original animated feature "The Sea Beast" won't set sail until later this summer, but the more I learn about the new project from Chris Williams, the more excited I am to see the adventures of sea monster hunter, Jacob Holland. A 25-year Disney veteran, Williams made the leap to Netflix to try his hand at something new and have the chance to explore a whole new world. "I couldn't help but see parallels between the story I was working on about characters sailing off into unfamiliar worlds and my own journey into the unknown," Williams said during a press conference attended by /Film. 
"The Sea Beast" centers on the heroic Jacob Holland, a living legend in the world of sea monster hunting who has a deal with the royal family to keep the seas free of monsters. During his most dangerous venture yet, things are complicated when Holland discovers a little girl named Maisie has stowed away on his ship in the hopes of monster hunting for herself.
Part kaiju movie, part swashbuckling adventure, and all around thrilling adventure comedy, "The Sea Beast" is the culmination of Williams' love of monster movies, and '80s adventure flicks shown through the lens of the real life monsters that map makers used to illustrate to indicate unexplored areas. As a period piece, Williams knew that he needed to consult experts to bring his vision to life, and make sure that he was honoring a world with as much respect and authenticity as possible. Well, as authentic as you can for a film featuring larger than life sea monsters that can swallow ships whole.
The Sea Beast strived for accuracy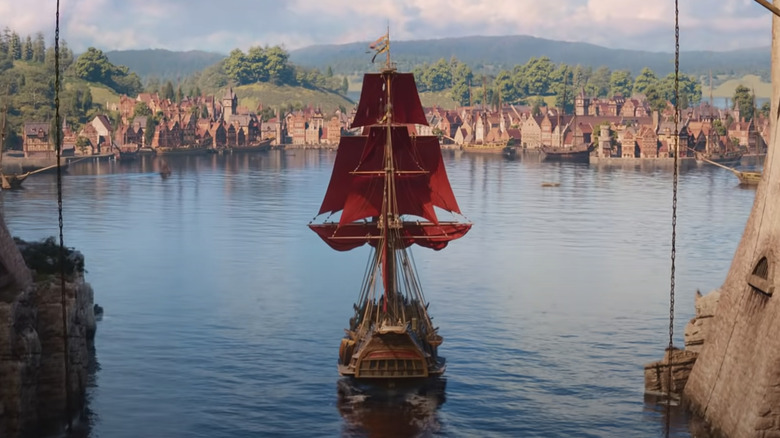 Netflix
Williams said he had done a lot of his own work on tall sailing ships, knowing that he'd need to incorporate them into the story, so he met with experts on life at sea, including Tall Ships America board of directors member, Gordon Laco. If Laco's name sounds familiar, it's because he served as the adviser to the production of "Master and Commander: The Far Side of the World," considered by many to be one of the most accurate portrayals of life at sea. Laco has also served as a historical advisor on over 60 film and television productions, so he was the perfect person to call upon. 
"I was just so inspired by Gordon's knowledge and his passion and I really wanted to do right by [him] and a lot of the people that we talked to who really cared a lot about these ships in this era," said Williams.
The "Sea Beast" creative team spent time learning about the inner workings of ships, wheels, weaponry, toilets (seriously), naval tactics, armaments, and extensive rope work. In fact, ropes were one of the most difficult aspects to animate. "My experience on 'Moana' taught me that even a handful of ropes can be a big challenge and our ship had literally hundreds of them, many hundreds of them," said Williams. All of this education paired with the paintings of N.C. Wyeth helped set the stage for the aesthetics of "The Sea Beast."
Authentic costuming courtesy of Westeros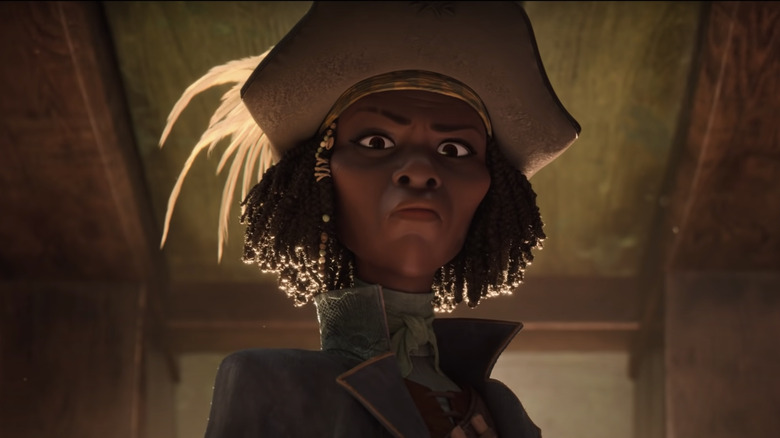 Netflix
Maritime motifs were scattered throughout the costuming and in the architecture because as Williams said, "In this world, there is an obsession with the sea and power over the ocean represents true power." Throughout these different collaborations, Williams was able to provide a space for a variety of creatives to feel comfortable bringing ideas to the table:
If people are able to disagree with each other respectfully, then it can give rise to these amazing moments. And they're moments that I live for when dissenting points of view come together and they collide and they create something new, which is that third better idea that would have never have seen the light of day had there not been space provided for open debate. That to me is the essence of what should be happening in a story room.
Williams said he wanted to capture the "dynamic feeling" of N.C. Wyeth's work, and the way he successfully captured fantastical worlds of open sea. While Laco was able to help with the ship, the team called upon costume designer Michele Clapton of "Game of Thrones" fame to help design the characters' costuming to include authenticity. "You'll see salt stains on Jacob's pants and all the hunters have these metal rings on the backs of their belts that allow them to tie off to the ship," Williams said. "It's little details like that, that we didn't shine a light on, but it really makes the world feel more realized and more plausible."
"The Sea Beast" debuts on Netflix July 8, 2022.