Harrison Ford Had Some Presidential Help Preparing For Air Force One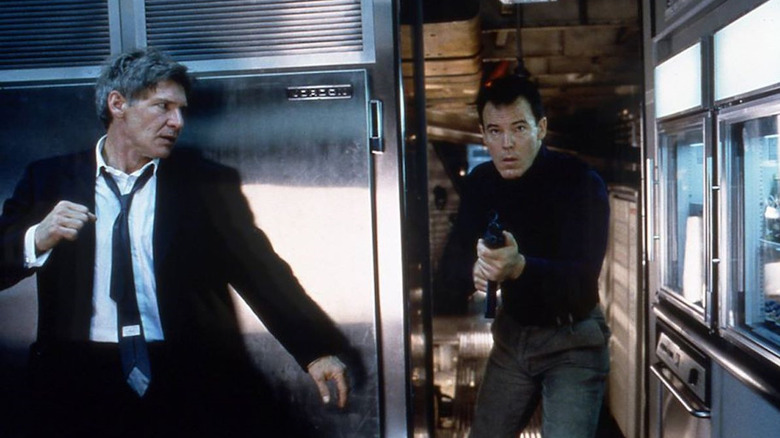 Sony Pictures
Ah, "Air Force One." That fine bit of '90s pulp escapism, complete with across-the-board actioner performances (Glenn Close! Paul Guilfoyle! Dean Stockwell! William H. Macy!) punctuated by Gary Oldman's neo-Soviet baddie Egor Korshunov — chronologically performed back-to-back with his sci-fi agent of chaos Zorg in Luc Besson's "The Fifth Element" — and the greatest movie president of all time, Harrison Ford's stiff-upper-lipped James "Get off my plane" Marshall. Not to mention, Jerry Goldsmith's main theme that should have also served as the "Avengers" theme, to be honest.
For the uninitiated, the film, a Wolfgang Petersen special, follows the American president, a decorated Vietnam vet and chopper pilot, as he valiantly attempts to reclaim his official plane following its hijacking by terrorists loyal to an imprisoned Russian general. It's the movie that radicalized an entire generation of adolescents to taunt their siblings and "GoldenEye 007" video game opponents with "We don't negotiate with terrorists." And it turns out to have gotten a boost from the commander-in-chief himself.
Speaking with Charlie Rose – who calls Ford "a vessel for America's heroes" — the "Blade Runner" star revealed that thanks to an impromptu birthday dinner, he got to hitch a brief ride on the chief executive's customized Boeing 747-200B — for prep, you understand. No escape pods were deployed, and no terrorists were harmed in this flight.
Just asking the President for a tour, as you do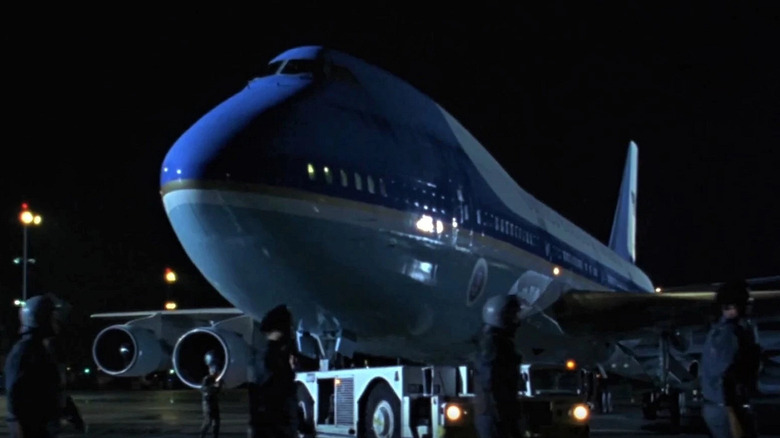 Sony Pictures
By the time "Air Force One" came around, Harrison Ford had long-had his pick of the litter when it came to scripts and projects he wanted to do. But sometimes fate strikes in one's favor, as it did when he landed the part of Han Solo in George Lucas' "Star Wars" — an upgrade from his original gig feeding lines to actors auditioning for the role. This time, fate struck again when Ford "stumbled across the president and Glenn Close (who plays Vice President Kathryn Bennett in the film) sitting next to each other at a birthday party for the president" in Jackson Hole, where The Clintons — that's President Bill, First Lady Hillary, and daughter Chelsea — would occasionally retreat to for R&R. He told Rose:
"And I asked Glenn if she would play the vice president, which was written for a woman, by the way, and I asked the president if he could arrange for myself and my fellow filmmakers to have a tour of the airplane. Both of my desires were accomplished, happily."
The tour paid off handsomely as Ford's executive commander Marshall deftly navigates the nooks and crannies of both fuselage and cockpit to disable a few baddies on the big screen, saving the democratic republic, and thrilling moviegoers looking to escape the summer heat in 1997. It's a solid suspend-your-disbelief action picture — who cares if the real Air Force One doesn't have escape pods or bulletproof interiors? Indiana Jones fistfights Dracula at 30,000 feet; that's cinema, baby.